Alan G Parker, the writer has kindly agreed to take some time out of his busy schedule to speak to me today. Alan is the bloke responsible for keeping the iconic flame alive on the late 'Sid Vicious' and 'Nancy Spungen'.He was given the title Sid's Official Biographer by Sid's Mother before she died. Alan has also been a consultant at EMI Records since 2000. He has three books published on Sid Vicious - Sid's Way (Omnibus Press), Vicious: Too Fast to Live (Creation Books) and his latest No One Is Innocent (Orion Books).
Alan has spent years researching Sid and Nancy, even living with Sidney's mother at one point, he now finds himself in the middle of editing his first movie 'Who killed Nancy'.
 It seems like your dreams really did come true Alan.
I wanted to catch up with him and find out more.
Hi Alan thanks for agreeing to be 'Mudkissed' today, let's get the ball rolling with some background information. 
Mel - Yet again I find myself interviewing a fellow Northerner - what made you leave your 'Northern' roots and head down to London's bright lights?
Alan – I think it's just something you've got to do if you're going to make it in our business, it's very difficult remaining true to your roots, because the work doesn't come to you until your established. Once I had an agent down here I was off, I think also that I never actually fitted in too well in Blackburn, I always felt like it was not part of me, or I wasn't part of it! I guess I'm a Maida Vale boy trapped in a Northern body!!
Mel - What was your first job and how did this then lead onto your chosen career path? 
Alan – Well, I had a fanzine (4000 Holes from Blackburn, Lancashire) for ages, which in turn led me to promoting my own nights at King Georges Hall, up there. That got me on first name terms with a lot of bands, so I started going to London, just to get my name known, then writing for Spiral Scratch and ultimately Record Collector. By which time the phone rang and it was Anne Beverley. 
Mel – What was the phone call about? 
Alan – Just to see if we wanted to work together
Mel – I read you had an obsession with books of all kinds and like me you love biographies. Who are your favourite writers and favourite book? What's on your bedside cabinet (reading material)? 
Alan – Favourite book would be hard-work, my place is like a library! I love Charles Dickens and Lewis Carroll. I guess if I was name checking books at the minute, I'd be somewhere around Heroin Diaries (Nikki Sixx) and The Other Hollywood (Legs McNeil). Check those both out they are incredible. And, of course, The Dirt (Motley Crue) because rock n' roll stories don't get much better than that…    
Mel - Alan your renown for your books on Sid but you have written others, such as (a biography of porn star Traci Lords titled Hardcore Superstar.)What others gave you such pleasure *smiles*? 
Alan – I enjoyed doing The Great Train Robbery Files (Abstract Books), because I knew Bruce Reynolds for years, and his son Nick, they are both great fun to work with. The book on Slade Cum On Feel The Noize (Carlton Books) was a privilege, because I loved that band from 1973, and I was only 8 years old! I guess doing the Stiff Little Fingers: Song by Song   (Sanctuary Books) with Jake was cool, because that never felt like work! It was more like two mates just hanging out. And Traci's book was fun for all the right reasons!!! 
Mel - What were you like as a teenager and what record would you say had the most impact on you? 
Alan – I was a music kid from the get go, I loved all the glam bands, Slade, Sweet, Mud, The Arrows, Elton, Mott the Hoople and The Rollers too, I got a paper-round and thus a huge singles collection. If any one single album did change my life it was 'Flame' by Slade, because there isn't one bad song on that album, every second is amazing! Me and Our Kid shared a bedroom and you couldn't see the wallpaper for Slade pictures!!  
Mel - Alan you're a huge 'Stiff Little Fingers Fan' and I was told you "would die for them" is this an accurate description of your feelings for the band? How long have you been a 'fan'?
Alan – I was a fan from 1979, the day I bought 'Suspect Device' they changed my life, they are way more important than many other punk bands, to me anyway. I first met them backstage in 1980, and I just knew one day that I'd be involved. Fast forward a bit and of course now they are all on speed dial, which is crazy, but there you go! I have been working with them since 2000 on various things, and I love it, in the documentary 'Still Burning'  (Fremantle Media) which my good friend Don Letts directed, I said I would take a bullet for anyone of them and I meant it.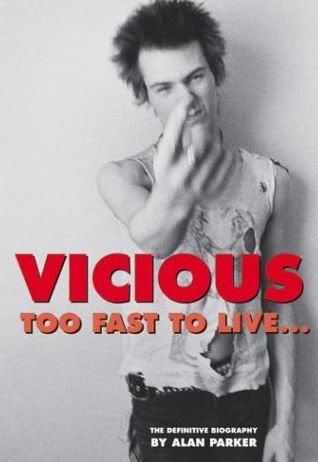 On Sid Vicious 
An interview with Alan wouldn't be complete without the Sid questions, let's go back to the beginning.
Mel - How long have you held a fascination for Sid? 
Alan – He was just my favourite Sex Pistol because he looked so cool, like the James Dean of Punk, you don't even need to know anything about Punk to know who Sid is, he's become the poster boy for the blank generation!
I guess I was about 14 when I first wore a Sid Vicious T-shirt.  
Mel - Can you remember what you were doing when the news of his death broke? 
Alan – Easy, I was watching the Nine O'Clock News on BBC1 with my Mum, and out of the blue news broke, right at the end of the show, the next day I went into town and bought 'The Biggest Blow' on 12" single, which I had already but I felt I needed to do something.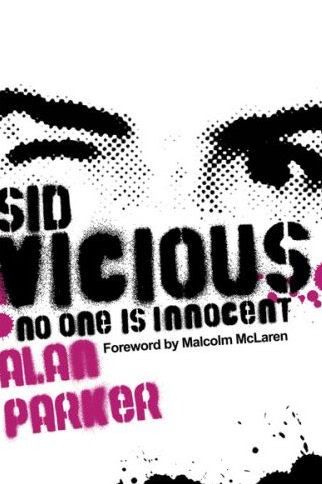 Mel - Did you feel driven to write the story of Sid's short life? Did you think the full story had yet to be told? 
Alan – I think being asked by his mum was a real badge of honour, that always felt good.
Beyond 'No One Is Innocent' (Orion Books) there will be no more books from me about it, that's my last word on the subject, doubtless someone will do another book though, our industry works that way, nothing much is left alone for too long. I think by the time my movie 'Who Killed Nancy?' (Moxie Makers/Soda Pictures) opens every word I have left on the subject will have been said.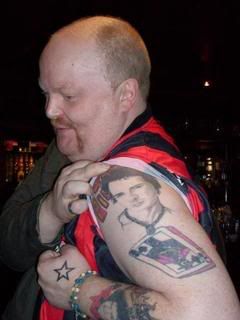 Mel - I noticed a while ago you had a 'special' tattoo done on your arm, would you like to share this with our readers, of course I am talking about the Sid portrait. Who did this tattoo for you and do you plan to get anymore? 
Alan – My first Sid tattoo was done by Goz at Eagles Wings in Blackburn. That was the one Anne Beverley paid for, and I had it for years. Brian 'Sixth' Jackson has the original drawings Goz did for that tattoo, because I wanted him to have it. More recently I got a new Sid portrait tattoo at Diamond Jacks in London, and it was much better, everyone commented on it, so I made the decision that two Sid tattoos was one too many, in the last few months Diamond Jacks have turned the old one into a Nikki Sixx/Sixx AM tattoo, which I thought was quite fitting because Nikki is a huge Sid fan anyway. Like, it came full circle. 
Mel - Which is your favourite quote/memory of Sid's?
Alan – I love the 'My Way' promo video, I guess everyone does. And I guess my favourite quote was the one the late Tony Wilson always used to use, because he had heard Sid say it; "I'm not interested in impressing the man in the street, because I met the man in the street and he's a cunt!"  

Mel - Did you ever visit Sid and Nancy's final resting place? And what is the story behind Sid's ashes? 
Alan – I have been to Nancy's grave where Sid's ashes are scattered, which was done by Anne Beverley, Howie Pyro, Eileen Polk and Jerry Only. I've stood in the room at 63 Bank Street in NYC where he died, and visited all his homes. I think I pretty much did it all, it's commitment on a new level.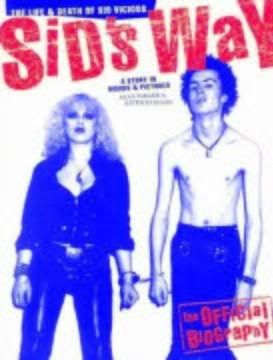 Mel - What was the experience of living with Anne Beverley 'Sid's mother like? Did she give you anything 'special' which belonged to 'Sid'? 
Alan – I've got some great Sid items from Anne, including autographs, key fobs, rings, I never got the suicide note, that's another urban myth, like my all time favourite one which is that I live in Sid's old flat in Pindock Mews, Maida Vale, which, for the record is utter fucking rubbish. Anne was fun, and we had many laughs, I do miss her.  
Mel - Recently you were interviewed at the Proud Gallery in Camden where an exhibition of previously unseen photos of Sid were being held. How did you find this event? What involvement did you have in this and what might Sid have to say about it all. Do you think he would enjoy being an iconic figure, photos on T shirts, mugs, and badges, books the whole works? 
Alan – The Proud Gallery thing is cool, and I was involved in collating it, we planned the whole thing for about 2 years on and off, so it's nice that it happened finally. It's still on till August 14th for anyone who hasn't seen it, in Camden. From what all his friends tell me he loved the fame, so I guess he would really enjoy what's going on in his absence.
Mel - If you met Sid at the pearly gates what would you say to him? 
Alan – Thank you! I pretty much owe half my career to you, so cheers for opening that door.

The Movie ' Who killed Nancy'

Mel - Let's talk about your latest adventure into film making. Tell me more about the movie.
Alan – Well, I was first asked about doing a movie in 1999, but the TV Company who approached me couldn't get anyone to put the right amount of money up. That's the trouble, films cost money, and in most cases lots of money! I spent years working as a backroom boy with Don Letts, so I got to understand the industry much better. It was Ben Timlett (my producer) who actually got the wheels moving on 'Who Killed Nancy?' (Moxie Makers/Soda Pictures) not long after the publication of the last book, which I think finally tells the whole story correctly.  
Mel - Did you liaise at all with Nancy's family on the movie? Did you ever read their book 'I don't want to live this life' by Deborah Spungen? If so what was your opinion? 
Alan – I have read Deborah's book many times, and I love it. We did speak once on the phone, about 3 years ago, but it wasn't much of a conversation. When we got the green light on the film, I didn't think it was worth another call. At the end of the day I just want to have a shot at proving something, which I've always thought was an injustice. 
Mel - What is your favourite scene in the movie? 
Alan – We are still deep in the edit at the minute, so I can't really say, last week we managed to get our interviews down from 5 hours 32 minutes to 4 hours! So we still have a long way to go, but we do have some incredible stuff, and it looks like the DVD will be full of extras!! 
Mel - The cast is certainly authentic, filled with people who knew Sid and had stories to tell, in addition to the 'Sex pistols Experience' playing parts. Out of all the people who brings this film to life telling their tales of Sid? 
Alan – That's a tough one, because we have an incredible cast. I think it's just great that so many of Sid's friends actually wanted to do it, we got an incredibly good response across the board. They are all stars in my book. 
Mel - When is the movie released? And when is the premier being held? Are there any 'special guests'? Any Sex pistols attending? Are there plans for the movie to go onto DVD soon? 
Alan – Fingers crossed, the movie opens in London in October, close to Nancy's anniversary. But our schedule is tight, so it might be later. Premier will be in the west end of London somewhere, we are talking to three cinemas now. Who knows regarding the band, I've said before, it's not a Sex Pistols movie, it's about events that took place after the group had split. At the moment the DVD is looking like February 2009, but there will be an EMI Records soundtrack CD this year. 
Mel - Where did the filming take place? Did you use any of the original locations such as 'Pindock Mews'? 
Alan – We filmed all over London and New York at various locations, and of course we made a quick trip to Swadlincote, where Anne used to live. 
Mel - Do we finally find out just 'who killed Nancy' in room 100 at The Chelsea Hotel? 
Alan – I think we get as close has any human being is likely too! We didn't leave any stones un-turned, and we discovered more new information than I personally thought we were going to. 
Last but not least 
Mel - I know you attended the 'Sex Pistols' reunion gig in London, did you meet the band? If so how were you received? And what did you think of the gig? 
Alan – Over the years I've met all the Sex Pistols, sometimes for interviews and sometimes on a personal basis, which might be in a pub, at a recording studio or even in their homes. I must say that I like Glen best, which I guess some fans might find ironic, he's just such a nice guy, and Paul is fun too. I don't think anyone is going to get very close to Steve, he just seems that way, he can be incredibly charming and that's a good quality in anybody. John I had a real laugh with on more than one occasion in a recording studio years ago, while I was there with SLF, and for me that is the best memories. I really enjoyed the gigs in 1996.
 
Mel - Besides the movie is there anything else in the pipeline which you are able to talk about? 
Alan – I have just signed a deal to do a major rock biography, but I can't say who yet due to contract. I will make an announcement as soon as I can at www.myspace.com/aparker01 that much I promise. Beyond that we have many plans going on behind the scenes and I'm happy to say I have an incredible agent. 
Mel - One morbid last question which songs would you chose to have at your own funeral? 
Alan – God, not a clue? I guess some good ones, might as well make sure everyone else had a good day!   
Thanks Alan for being so candid and talking me today - When should I expect the invite to the party?? 
To contact Alan and keep up to date with his news check out his myspace page www.myspace.com/aparker01