I got in touch with Zoe Street Howe while I was writing the "Typical Girls?" review, and she's been good enough to answer a few questions for us.

Den - Could you tell us a bit about yourself as an intro?
Zoe Street Howe - I'm based in the heart of London which is a place that still brings me out all poetic & misty-eyed - as does Liverpool where my mother's family are from, very much the motherland. I'm a music writer, alternative music DJ & experimental musician. I'm a Scorpio, I'm not a typical girl, I love my husband Dylan, I love cats, I love records, I love good music radio (hard to find, which is why I started doing my own some years back with an ex Radio Caroline DJ/producer called Johnny Reece. I don't know if we're much better!). I was brought up amid stacks of vinyl from my dad's eclectic & quite prodigious collection, & spent my youth with headphones on going through them all to pick out my favourites. Which were mainly The Beatles & The Who - I wanted to be Pete Townshend, & part of me still does.
I also used to be a professional actor from an early-ish age, & photographic model - I'm proud to say I worked several times with the incredible photographer Nadav Kander, which is something I consider myself very fortunate to have experienced. But I've always written & spun discs from being pretty tiny, so my destiny always lay in celebrating music, & bringing a bit of justice & love to some unsung heroes while I'm at it!
Den - How did you first discover the Slits?

Zoe Street Howe - I was aware of them as a band, as I was into punk for a long time, but I properly gave them my ears when someone (my old pal Trevor Penton to be precise) gave me a punk compilation for my birthday. I listened to it on my walkman (stone age stuff this! heehee) non-stop on the bus, and the real stand-out track was the Slits' cover of "Grapevine". I just thought it was the coolest, most unusual thing I'd heard, and unlike anything else, really. Even now, little stands up to that track.

Den - What else were you listening to then?

Zoe Street Howe - A lot of punk and reggae, new wave stuff, mainly because I was broadcasting a punky reggae radio show on Sky and elsewhere (RTI FM, Radio Seagull etc) at the time, called the Pogo Sessions (latterly known as Paranoimia). Great fun! But listening to the Slits got me into listening to Afrobeat again (I used to listen a lot as kid), free music, free jazz, dub reggae - listening to them really opened things up for me.

Den - How old were you when "Cut" came out?

Zoe Street Howe - Minus one month! I was born four days before the release of the single "Typical Girls" in October 1979!

Den - You've done some music with Viv Albertine ... did you know her before you wrote the book?

Zoe Street Howe - No, we met through the book, at a time when she was not really speaking about the Slits, so I must have just been very lucky! Since then she's been more vocal about the past, so something was unlocked I suppose. We got on very well, really clicked in many ways. I used to play drums and piano and percussion and she gave me the confidence to get back into it, as did Keith Levene who was a real inspiration to me too. Viv often says that our meeting proved a catalyst for getting her to pick up her guitar again after all these years, which is lovely!

So yes, we worked on some demos of her excellent solo material earlier this year, with my husband, the drummer Dylan Howe, producing and also playing. And since then we have worked live as a duo, which has been great! Very quirky and fun. I play a mean toy xylophone :), and also played bits of drums, percussion, keyboards and provided backing vocals while she played guitar, of course, and sang. Its something we will do more of too. 
Den - Are you working on any other writing projects?

Zoe Street Howe - Yes! I am writing a book about the children of rockstars and people in the music industry, how they are perceived, and the reality ... it will be pretty frank but respectful and not without humour ... I am also going to be writing a biography of a pretty big current star but I can't talk about that yet!
Den - Who have you found the most interesting to write about so far on the rockstars' children book?
Zoe Street Howe - I think everyone has been incredibly interesting in different ways, Alice Cooper's daughter Calico is great, she is a real character, as she should be! Spends a lot of her time covered in fake blood on stage with her dad having mock-fights & being "beheaded" whilst dressed as Britney Spears. Blimey. Makes a change to going fishing together, I guess.
But I also find the differences between Julian & Sean Lennon really interesting. In fact I'll be reading (sorry for the plug!) the extract about the Beatle kids, particularly Julian & Sean, at this event called Talking Musical Revolutions at the Boogaloo in North London on September 15th, if anyone wants to come down! Its a Beatles-themed spoken word event organised by Gavin Martin & John Robb.

Den - Is writing your current full time occupation?
Zoe Street Howe - I'm fortunate to be able to say yes, & I thank my lucky stars every day!
Den - If you had the chance to write a biography about anybody you wanted, who might you choose?

Zoe Street Howe - Well, now that I've written about the Slits (!) there are so many amazing & fascinating people out there who I think deserve to be written about, but I have long been interested in writing about James Chance, just such a brilliant character, & I still find his music with the Contortions so exciting.
Den - Best bio you've ever read?
Zoe Street Howe - I really enjoyed Pat Gilbert's "Passion is a Fashion," the Clash book, read that some years ago. My mind has gone blank. The new one on the Slits is quite good (hoho). Oh, and 24 Hour Party People, which is a Tony Wilson bio ... kind of. Loved that.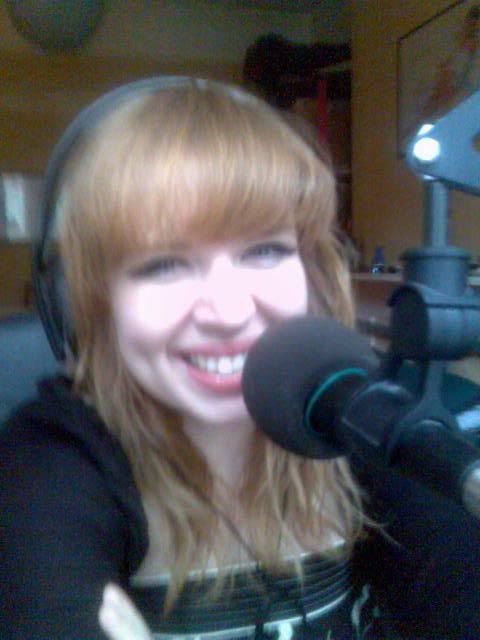 Den - What's really ringing your bell these days musically?

Zoe Street Howe - I am still rather retro in my tastes! I listen to a lot of James Chance and the Contortions, Blurt seriously blow me away, Toots and the Maytals and the Who always ring my bell and have done since I was a kid, but as for new stuff there's some interesting sounds coming from the direction of Lydia Lunch and my brilliant pal and sax man extraordinaire Terry Edwards in the shape of Big Sexy Noise... So generally think experimental, a bit free, a bit wild and witty, i guess. I also love the simple beauty of Elbow's music, and I'm also listening at the moment to the live album Fela Kuti made with Ginger Baker.
Den - Are you doing any radio at the moment? I'd love to hear one of your shows...
Zoe Street Howe - I've had a break from radio for a bit as there was so much happening with the book & I really had to knuckle down! But I am hoping to return to it soon as I do miss it.
Couple of things to maybe mention - the Slits are touring thru October, dates on their myspace, & its likely I will be tying in some readings & book signings (possibly with a Slit or two) on the days of the regional gigs, so eyes peeled,
www.myspace.com/slitsbook
.
Plus the Slits have a new album out - "Trapped Animal"

Den - Thanks, Zoe, that's great - impeccable taste too!
Interview by Den 04/01/09