Kurt Dirt and The Love Rats - 9.07.08
Cafe Saki

, Rusholme, Manchester

My first experience of seeing

Kurt Dirt and The Love Rats

play, was after seeing the New York Dolls in Manchester on the 3rd July '08. Whilst hanging around The Academy foyer before the Dolls gig i noticed some interesting looking people handing out flyers for an 'unofficial New York Dolls after show party' which they were gonna gig at (clever huh)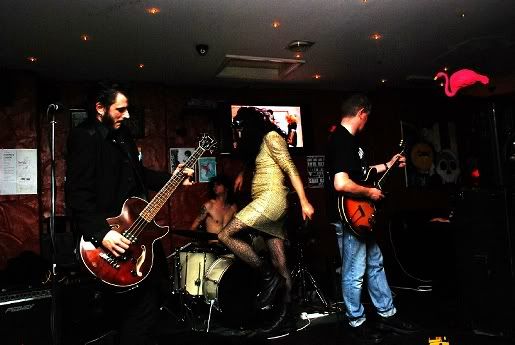 So with nothing better to do after The Dolls gig, we (Darren and I) caught a taxi to Retro Bar round the corner... and had our little cotton socks well and truly blown off by 'em! When we found out they were doing another gig the following week at Cafe Saki in Rusholme we knew we'd be there too. I only mention this because, they had to do it to me a second time to really get me on board the Good Ship Love Rat.. Anyway, they did it!

So as we now set sail, let me introduce you to Jimi... He loves to hit drums and it's great to watch him do it. He's constantly seeking a way into a good time. Give him a microphone during the gig to hear "you lot don't fuckin realise, this is so good it'll make YOU famous"..... he makes you wish you were 22 again, at least for the night, he fuckin loves it.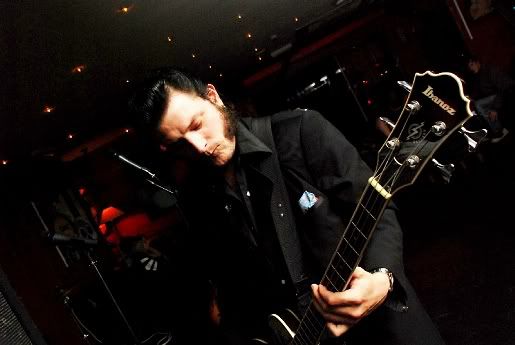 As for Danny Ace, he's a quiet kinda fella that lets his Gretsch do the talking... He's obviously frustrated with the chaotic nature of the band but his ability added to this frustration makes for something quite wonderful and puts some welcomed chemistry into the mix. See him carry out live music's biggest NO NO by stopping the song and making the band start it again cos he's not happy with them.. it's the equivalent to Oliver Hardy 'staring into the camera'...

Medicine Stu, a very affable guy offstage, totally oblivious to the outside world on-stage! He has a great approach and his attitude towards the music is genuine and heartfelt.. he really gets off on his band and is a great ingredient..  and all this without a fucking care in the world... He also writes great reviews.

Earlier, whilst ignoring the support band and ordering a round, i see to the side of the stage... is that Sid Snot?.. nah.. he ain't throwing cigs into his mouth and missing, plus he's dead and was only a fictional character on TV.. aah, i recognise him from his myface profile pics, its Kurt Dirt.. but where's his sequin dress? where's his Fishnets and Docs? where's his wig? a slight feeling of disappointment wells up.. But, nothing is missing as he comes on stage later, his cheeky black coat, big black wig, black fishnets and boots topped off with some Vegas/Elvis Sunglasses look great, he saves the sequin dress moment for later... and yeah, once revealed he looks cool as fuck (Although his lipstick skills are matched by that of any small child that's been eating jam with a big wooden spoon)... But don't think its all image folks, this is the real deal.. He's everything you want and exactly what you need in a frontman these days (or is that front person?).. anyway, he's awesome! and very funny too.

Kurt Dirt and The Love Rats are an amazing live show and easily engage with the crowd, the visual element is as important as the music, they hold the audience in their dirty little hands and touch them in places that can only be pointed out on a courtroom doll. Songs like 'I wanna be your mannequin' say a lot about what Kurt loves and/or hates.
Everywhere you look in the crowd, you see smiles from ear to ear, hold up a mirror and you'll see one there too and this is like a breath of fresh air..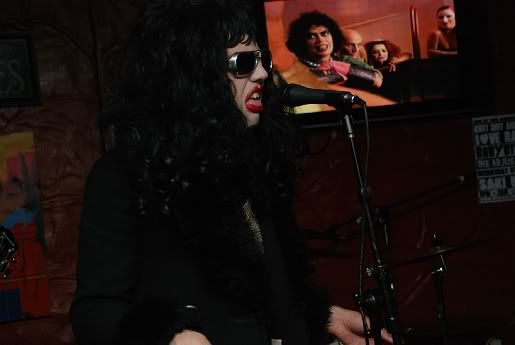 If you wanted to compare Kurt Dirt and The Love Rats with other bands from the past, you could, but if you spend any time looking for similarities with other groups you'd be missing the show and guilty of taking things too serious. Let's just call it punk, as in, anything goes... Enjoy. If you chat to them afterwards they will apologise about how bad the gig went (huh?) the thing is, i don't think they realise how fantastic they are RIGHT NOW! Thank God.
NOW is the time to see Kurt Dirt and The Love Rats! Manchester has given birth to a nasty little butterfly... A Band that said to us "wow! you're the first to 'come back' to see us!" Any time lads..