Well today finds me drowning in nostalgia...I went on a trail of my wild,wild, wild youth in Liverpool.
First my optimal reason for taking the train down to Scouse land was to buy tickets for the new 'Eric's musical which is planned for September at The Everyman Theatre. (I managed to get tickets for the opening night) 'Eric's The Musical A brand new musical written by Mark Davies Markham (Liverpool born author of West End hit Taboo) and directed by Jamie Lloyd will open at The Liverpool Everyman Theatre in September 2008.'
I then thought as a bonus I would dive into the World Museum and check out the new exhibition ' The beat goes on' - displaying 60 years of music in Liverpool, then as the icing on the cake I planned a trip down Mathew Street - the home of many a drunken punk night at Eric's and The Grapes pub ( famous for me meeting Generation X at the bar on Aug 27th 1977)
My excitement drew close as I made my walk down the cobbled streets of Mathew St where a new sign is displayed which states 'Welcome to Mathew Street, the birthplace of The Beatles' hhhmm no mention of Eric's anywhere.
More to my dismay, where was Probe records, where Pete Burns used to growl and spit his venom ? Once he sold me a Spitfire boys single ' Mein Kampf' the look on his face was enough to burn a hole in my already holey jumper, he could be such a bitch. Ahh there it was the steps to Probe Records, only to find it was now 'Ted Baker' store. I stood for a few minutes trying to take it all in, remembering how it all used to be...going in to read the fanzines, not got enough money to buy much, trying to outstare Pete, seeing who was hanging out.
I spot another known place the Flanagan's Apple bar, Deaf School used to rehearse their once upon a time ?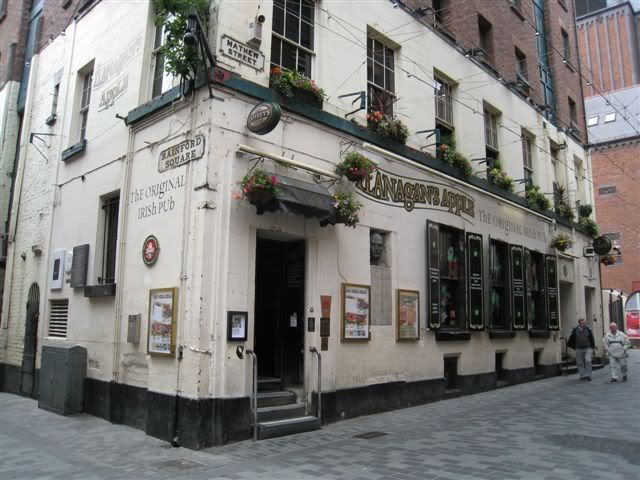 It's still an Irish bar, thank god for some things staying the same, and low and behold across the street is the world famous 'Grapes pub'. We venture in for a well needed beer, inside are framed photos of the beatles (where was the punk memorabilia?), apparently the beatles used to hang out here. Americans seem to flock in and out take in the scenery then wander out, it has changed since 1977 and seems to have expanded. I take some photos then wander outside.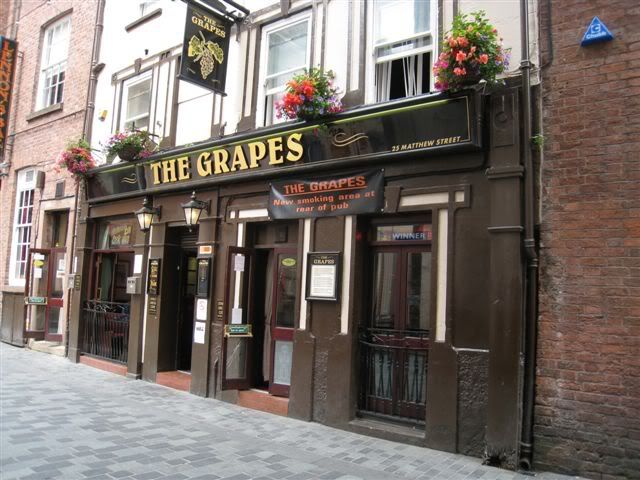 Where was Eric's ?? I could barely recognise the street, as it now has modern shops such as Vivienne Westwood, where once was a piece of derelict ground, with a tall Lennon statue, no longer is there.We took some photos on the Cavern site, and I had to ask someone did they know where Eric's used to be. (excuse the footwear, had to wear comfy walking shoes)
I got pointed out to the place which is now called 'Audio Club' bet it doesn't hold a candle to Eric's. I take my shot and reminisce to myself with a hint of sadness at no mention of the greatest club on earth.