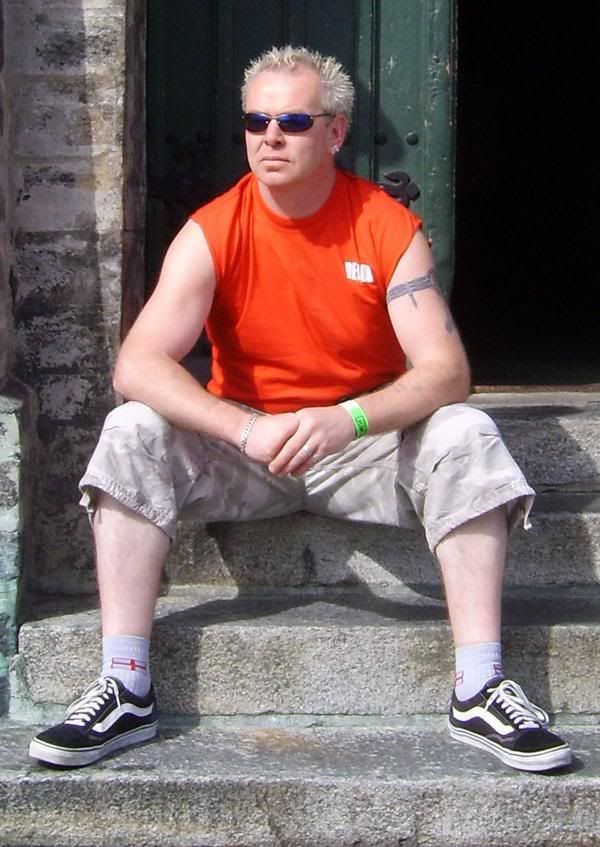 Well, what better way to break the ice and get the ball rolling than by interviewing my fiancé, big Mr Andy K, frontman for Demob. I will of-course be professionally subjective and unbiased. AAwwww aint he sweet !!!

LORRAINE: This coming Friday . July 4th, sees Demob play a 30  year celebratory gig in the Town Hall of their home town of Gloucester. Former guitarist and original member, Terry Elcock,  has claimed that the current line up is no more than a 'tribute band' and does not cite you as an original member, but as a late addition operating as a 'megalomaniac' from behind a PC. Could you put the record straight and tell us when and how you first became involved with Demob?

ANDY: In 1978 I had left the army after completing my training when my mate and fellow original member Mike Howes asked me if I'd be interested in joining Demob, to which I asked him "would the others have me?". Of course they did and I entered the ranks of Gloucester's first sons of punk band. We were a 6 piece band and the first know multi-racial punk band in the country (if that is incorrect I'd like to know who was) also I was at the first rehearsals, first photo shoots and first gigs which are all documented and photo's are available for all to see.


LORRAINE:Could you tell us a little about the current line up?

ANDY:  The line-up as it stands is as follows: Marcus Harley - Drums, Steve Dehtair - Bass, Gregg Holland - Guitar. and yours truely on vocals.

Marcus has played drums since he was about 8 years old and has played in several bands

Steve who originates from and still lives in Wales played in a very good punk band call Dogzuki who I am a fan of but unfortunately they have not been active for sometime due to musical indifferences, which in laymens terms means they fucking hated each other.....only joking :-)

Gregg, the new kid on the block, originates from west London and I have to say has made a great difference to the band. He can actually play consistently and doesn't need speed due to his natural talented fingers.

LORRAINE: Following the  landmark 30 year gig, what are the immediate plans for Demob?

ANDY: many thoughts have gone into the way forward for the band but due to the split with the ex original guitarist and a couple of other hiccups, we have decided that the rest of this year will be about restructuring ideas and writing the new album ready for a spring release in 2009

2009 will also see Demob set off into Europe on tour. Promoters are being contacted and it is hoped that we can do a few one or two week tours in Europe. Also we will be planning a month in September coast to coast USA tour to promote the new album over there. We already have a label interested in putting it out over in the US but more news will be revealed in due course. However, Demob will only be playing 5 UK gigs in 2009 all dates are yet to be revealed.

We are gonna be releasing a re-recording of the classic singles songs; Anti-Police, No Room For You along with Kids Are Making A Stand and No More Talk, these songs will be produced on vinyl 7" only and a limited edition, we will be doing 4 split singles with 2 US bands and 2 UK bands but more on that later.

LORRAINE: What do you see yourselves doing in the longer term?

ANDY:  I think we are looking at the prospect of doing an abundance of studio work along with a sensible amount of gigs. I'm personally looking to work with some friends on a project which I have always wanted to do and that's to record a personal street punk album with musicians of my choice from near and far, but Demob is my first priority when it comes to music!

LORRAINE:Your music appeals to wide audience encompassing the punk, skin and oi movements. While the scene is pretty mature and unified in the UK, the growth of punk and oi across Europe and the States has bought fresh segregation and fighting. With you, yourself, being half Polish, do you see any way forward to this?

ANDY: I think the way forward is simple but to those childish, immature idiots who want to keep the scene in the gutter it's made so difficult. People in the scene have to be seen to distance themselves from the thugs and racists, stand firm on what you believe but don't get involved in the anti that all these so called lovers of the scene are doing. Most of the problems are done in ignorance and some in frustration, to the latter I can sympathize, but  I can see the problem getting worse before it gets better, but  I am hopeful  that there is a way forward.

LORRAINE:There is  marked difference in the styles of the older more melodic punk bands and the new younger offspring. What do you see as the common denominators in the punk message and is the voice of the ageing punk still relevant?

ANDY: I was once asked to sum up punk rock in one word and my answer then is still the same now "LIBERATION" !To me liberation, freedom to do, be, say, these are still the things I believe unite and uphold the very foundations of punk rock, so if you're a 1976 punk or 2008, it is still Liberation that enables us to say we are the free and we always will be. Onward and upward, forward we go and if anyone, who like back then,doesn't like it then fucking tough, we are here to stay!

The second part to your question "is the voice of the aging punk still relevant? 
.. absolutely yes! Never forget your roots because if you do, like a  tree with no roots, you will fall and not grow and end up on a log fire, metaphorically speaking.

LORRAINE:You recently had 'Once Punk Always Punk' tattooed on your lower back by my good self no less. Any plans for more tattoos and if so what and why?

ANDY: Yes, yes, yes, yes and you're doing them all :-) The once punk always punk tattoo on my lower back is a statement I'm proud of, it is what I am and always been, even when I was out of the scene for 23 years, I think I have more than made up for it :-) but it's something that has shaped my life and made me the Andy K everyone knows and I'm not ashamed to say that.
My next tattoo is going to be a band name which will go on my right shoulder. This band has been an inspiration to me personally and each of their albums has got better. But, the best thing about them is that they are proper, decent mates with a passion for what they do. They have a 'don't give a fuck' attitude and they would never be afraid to say so either, they are none other than Argy Bargy, top band, top songs, top blokes,. job done.

LORRAINE: Following the gig in Gloucester you are headlining the following night at the Bridgehouse 2 in Canning Town, do you think you may get tired out? Do you get many women chasing you? What do you nean I am moody and drink too much? That's it, it's over. I'm outta here!!!!  :-D

ANDY: We are playing in Kettering the thursday night before Gloucester so yes I will be tired, but I have a woman who will soothe my brow and regenerate me before the weekend is out :-)  As for women chasing me, well they'd fooking catch me wouldn't they, but I am spoken for so sorry girls not this side of eternity and I want to keep my balls.

Thank you for the interview now get my tea on and fetch my slippers and pipe woman.

LORRAINE: On your bike son!!! ( forced laugh) . Anyway, I will be an age correcting your bad grammar and speiling!!!