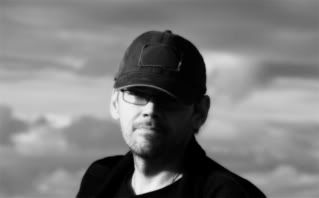 My good friend Dwayne Mourner as he likes to be known has agreed to come out of his hideway and seek an audience with 'Mudkiss'. He is responsible for some of my 'Digital Art' works as we like to refer to them, or as some may say "airbrushed photos".
 
However many creative ideas flow through him are usually tinged with a wicked macabre sense of devilment and eroticism .You either love them or hate them ! but they always evoke a reaction.

He has created quite a selection of art works and displays them on Flickr and his own web site www.dwaynemourner.com, which he is currently updating. Dwayne enjoys his solitude and concentrating on his 'Skeleton art works'. He has such series as Melancholic Machinery, Visionary Garden, Overture, and lot's more to come.
Dwayne in his own words: 
"I was born in 1966 in Germany, as the son of an architect and an actress. I had a normal childhood, getting into music at the age of 16, first instrument was the legendary Roland sh-101 synthesizer, besides this a keyboard I used an electric shaver, an acoustic guitar, a bontempi organ, and a  tiny toy sampler from Yamaha.
I changed all that stuff in 1984 with real instruments and experimented with sounds and melodies. In 1987 A.Toxique joined me and the band Septic Artwork was born, at this time I called myself N.Narcotique. Septic Artwork made a few cd's, self produced, just 25 home made cd's and artwork. We even sold one sealed with pieces of meat...laughs)
), a few live appearances in Germany and France. We split in 1992 and I began doing songs alone for a few years. I also worked for a few companies  mainly  in the IT sector.
They needed websites, company logos etc, through this I used photoshop and as I am always in need of a visual form of expression I started in 2000 with creating something that was 'beside the norm'. To be more expressive of what I wanted to create I called myself 'Dwayne Mourner', so as not to be schizophrenic I buried N.Narcotique at the same time. Since then I have learnt a lot more on how to get the ideas from my head into a visual form. Today my artwork goes hand in hand with my music creations, idea for idea, life, death and the connection between it."
 
We are going on an 'MSN' chat with Dwayne to see if we can unlock what makes him tick.
Mudkiss says: Hi let's go - When did you first get the idea of using skeletons in your art pieces?
Dwayne says: You start with a tough question. I started from scratch that was with cyphera. I had material to work on which was almost perfect, and then I saw that image of the crocodile skeleton... I used it... and since then I am quite addicted to bones.
'Cyphera'
Mudkiss says: why are you so fascinated with bones?
Dwayne says: Because... They are on one hand personal without showing someone... nearly everybody who is looking at a picture will automatic identify them self with the skeleton
Mudkiss says: Yes so true and they are so unique - do you choose your models for their looks, personality, and body shape? What do you look for initially?
Dwayne says: Expression... I like to work on images, mostly self-portraits with a huge amount of expression, and if I see something like this, the idea for a fitting scene is born.  
 'XIV Deux Amis'
Mudkiss says: So you chose to take a person's self portraits and then work on them this way? Do you ever take photos yourself - or indeed create these skeleton images using your own portrait?
Dwayne says: I hadn't done that before... I am crap at taking photos, I must confess... maybe someday, if everybody is gone, I will use my own old face to create something with bones.. *laughs
Mudkiss says: Oh you must do, let everyone see the master in his own creations....what have been the titles of some of your series? Like for example visionary garden etc.
Dwayne says: Those titles just came into my head.. some of them are already used somehow by others.. like 'the visionary garden'.. you know, I would have tons of titles in German, but not many would get the sense of it.
Mudkiss says: what is your latest project ex human is that the title?
Dwayne says: I am running 3 massive projects at the moment.. exhuman, hamletmachine and psychomachia (14).. these will take a lot of time as I have very specific ideas of it.
'Les Revieves Intenses De L'Amour'

Mudkiss says: Wow 3 projects all at once...can you tell me what the ex human one is about ? do you have one specific model ? what is the hamlet machine and psychomachia that sounds fascinating....you really are doing so much creative work and you know I am a big fan as well as a good friend of yours x
Dwayne says: exhuman consists of 14 images.. as well as psychomachia does... exhuman should be a surprise.. so shhhh... psychomachia is a very old story about the battle of the soul... the 7 sins against the 7 virtues... and hamletmachine will be a illustration to heiner mueller's book.. its macabre... but fascinating .
Mudkiss says:: oh I can't wait to see them - readers can see a lot of your good work here but is this new collection even better ?
Dwayne says: You saw the cover for exhuman.. what do you think?  I think I get better and better with the time... even I sometimes like to do something different.. like my last set 'overture'
Mudkiss says: yes the ex human is fantastic...I do actually think you get better, your learning new techniques all the time. When you say the cover what do you mean? will you be publishing a book ?
'Behind your mask'
Dwayne says: hmmm.. no, I don't think I will publish a book... I say cover as the times comes nearer to do exhibitions, and these could be used for the adverts... its a kind of cover, and the story inside. It's like a book if you want to call it like that.
Mudkiss says: Oh your web site you have a new layout and design...is this now ready for viewing - I'm sure you didn't update the new images ....we are missing out on some of your finest works of art
Dwayne says: I am still not satisfied with the gallery... I am working on it. - Its quite a long term process just to get a few images up... and the new design will not be the last for sure
Mudkiss says: oh yea that sounds really interesting...your talent is wasted...you should publish, did it never cross your mind? I know you're kind of shy and introverted but you shouldn't let that stop you! Are you ever completely satisfied with the results of your work? Or do you think it could be better?
Dwayne says: I am not ever 100 percent satisfied, but this is a kind of motivation that keeps me going... that's why I don't try to get my work shown... its just not good enough... and I am not the guy whose creating wild surreal stories to get his images published..
Mudkiss says: you're so modest...you have a large fan base on flickr, You also have a MySpace page but you don't seem to use it, why is this?
'Amite! '
Dwayne says: I had a very bad experience with MySpace... so I deleted my account... but as I recognized that still some search engines go to this page, I recreated it before someone use it for shit. I know about 5 people who really like what I am doing... with you 6 ... that's not large... but it's not what I want to do... I do my art mainly to get my head clear.
Mudkiss says: when you say clear you head what do you mean, do you have dreams, visions? MySpace is how we met, must have been 12 months ago now...and you've done a lot of good work for me - and now Mudkiss, to which we are eternally grateful for.
Dwayne says: I have visions all the time... I like to explore people and study ... I think its a thing with introverted people anyway... and if I got through the city, I see every second a new image I could do... and this can be a pain sometimes.
Mudkiss says: Well it's also a blessing. So when can we expect the completed works? of these latest images? Is it just with the one model or are you seeking more models ? hint hint
Dwayne says: I hope this year... but I don't force it. Most of these project ideas are already over a year old... it shall be perfect. Mel, you know I will do some things with you xx
'conrad, mon ami'
Mudkiss says: If someone wants to have any work done i.e a banner for there web site or a photo can they contact you via your e-mail?
Dwayne says: yes... I do as much as I have time for and if I like it... I don't need brave ladies with knitting ware or high gloss models without emotion. Erotic is a important piece of my works, beside exhuman I plan a version called 'inhuman'
Mudkiss says: So tell me more what is inhuman? you did an animal photo of mine and that was cool - is it along the same lines??
Dwayne says: no... its like the exhuman, but exhuman is more bones that skin and inhuman with be the opposite with a opposite model
Mudkiss says: so more skin? oh an animal with human bones?
 'l'au-revoir silencieux'
Dwayne says: More skin, yes... maybe I take them by myself, and it will be me
Mudkiss says: oooh how exciting, can't wait to see them - hope I get a first preview
Dwayne says: You get my dear, thank you mel... take care xxxx
Mudkiss says: Thanks for the chat we will do it again soon…..*winks* bare (play on words) me in mind for your next project!;-)                                             

Dwayne's Skeleton photos of me 
BAISER D'AME (The Soulkiss)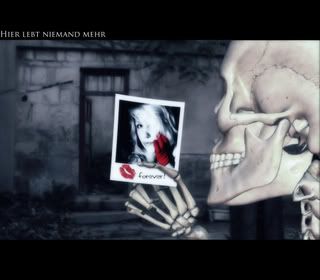 HIER LEBT NIEMAND MEHR (No one lives here anymore)
Check out Dwayne's fantastic set of digital art on Flickr
http://www.flickr.com/photos/dwaynemourner 
Or Dwayne's own web site
The Melancholic Machinery & Visionary Garden