Humanfly – Awesome Science [Released 11th February]
This may be construed a bold, nay foolish claim, my first review of 2013, very likely a contender for album of the year 12 months hence, such is the magnificence of 'Awesome Science.' Humanfly's fourth release finds the band in full Galactic prog rock mode, intricately intense before sweeping and soaring in equally mind blowing measures, this an album (as true prog should be) unafraid to adopt a theme before developing and progressing to the greatest of extents, witness the near fifteen minutes of aural bliss constituted within "The Armour of Science ,"a meandering mass of effects laden twin guitar shredding heroism.  If handful of chords and a hook your bag…..jog on…., but for those who revel in musical complexities and rejoice surrounded by guitar / keyboard / rhythm section minutiae, look no further. 
A wide range of moods and tempos explored throughout, "The Apple that Never Fell" emphasising harder edges, perhaps harking to earlier hardcore leanings, in complete contrast "Poetry of Light" adopts World Music ambience in and amongst fleet fingered fretwork, while the more dulcet tones of "Golden Arrows" reveal almost Ozzyesque vocals before yet more breath taking cadences. Influences from 70's prog glory days litter and raise their mellifluous heads although never engulf, instead 'Awesome Science' forges an atmospheric, individualistic otherworldly path, destination…… forever ensconced in the brain as the rest of the sonic year unfolds. Review by Andy Barnes - www.facebook.com/HUMANFLYBAND
The Joy Formidable - Wolfs Law
This is the second album from this Welsh power trio and follows on from the success of their debut. They produce an all encompassing sound which sounds a hell of a lot louder than just three people. It must be said at the outset that the production on the album is brilliant and the sonics of the music deserve to be heard on an impressive and expensive sound system.
The album opens with the first single " This Ladder is Ours" which proves a great opener and certainly deserving of its lead single status. It sets the benchmark for the album with its crunching guitars fighting against the sweet sounding vocals of singer Ritzy Bryan. It has a big epic sound but manages to still maintain a strong sense of melody with the chorus. This is certainly not the only song on the album which has single potential, so the record company may struggle in picking which of the other tracks to release. "Tendons" in particular has a great arena rock sound. As the song progresses it builds in to a swell punctuated by an epic chorus. This song, along with the album closer "The Hurdle", has the feel of the final song at a festival headlining set. They have a real power which would sound great under a cold star lit night. A number of comparisons have been made between the Joy Formidable and Muse where it is clear that the time supporting that band on tour has had an influence. Songs such as "Cholla" and  "Forest Serenade" have the same other worldly bombastic sound. Particular credit has to be given to Drummer Matt Thomas whose style has been described as "Octopus Drumming". Certainly on this album the drums are huge and it gives a great sense of power and strength to many of the tracks, but in particular on "Bats".
Importantly the band do, however, seek to stretch their sound on the album and this ensures it doesn't become too formulaic. The song "Little Blimp" brings a good change of pace and style where it actually starts with quite a funky guitar riff. This is a much simpler and straight forward song and provides an important break in the album. It is nice to see a side of the band which is not so intense but actually having a bit of fun. A different dynamic is also provided by "Silent Treatment" where again the simplicity of the song is important. This has a restrained guitar melody which allows the pure vocals of the song to really shine. It has a much gentler pace and rather than being space age sounding, actually provides space within the song to allow the melody to really breathe.
Finally, the song "Maw Maw Song" probably deserves a review all to itself. The title is somewhat intriguing and vague but once you hear the song, at least you will know how to pronounce it. It will also stay in your head for a long time and at a quiet moment you will find yourself humming it out loud. The song actually starts with an oriental sound but in fact this is more like four songs in one. It is a real mish mash of both styles and tempos. It is certainly a brave move but actually shows the real capabilities of the band. It is also what makes them unique, compared to many of the dull bands around today as very few would have the confidence or ability to carry this off.
The whole album totally engulfs the listener and it makes for a genuinely interesting listen. With a bit of luck the singles will continue to attract some more mainstream attention, which will encourage more people to discover a band who are trying to make a sound beyond the normal indie formula. Review by Paul Hastings
Lowlands - Beyond 
Lowlands are somewhat unusually an Italian roots rock band led by an English born singer-songwriter. It is clear from the outset, however, that  their inspiration is from mid America. The album is actually produced by ex Soul Asylum keyboard player Joey Huffman and this is perhaps a good indicator of the type of sound they are going for. The first song "Angels and Visions" is actually quite different to the rest of the album where it has a modern quite aggressive sound using a megaphone sounding vocal. It is a brave opening sound and the danger is that it may not appeal to some fans of the rest of the album.
The following two tracks however are more reflective of the roots rock sound where they have a cleaner all american/ modern Tom Petty type sound.The chorus of  "Hail Hail" with its ode to Rock N Roll theme is a good upbeat song. The vocals are particularly impressive and whilst at first brings to mind perhaps Soul Asylum, after a few listens it shows strong  resemblance to Johnny  Rezeznik of the Goo Goo Dolls. The song "Ashes" begins with a slower/reflective style and is a good change of pace and builds in to a Springsteenesque ballad. This is followed by one of the strongest songs on the album, "Waltz in Time" which again has a modern americana rocking feel but with an added "pop" shine which is similar to the commercial turn that the band Marah followed on their sadly under rated album "Float Away".Having built up a good head of steam on the album there follows two relatively slow paced ballads. Whilst both songs are good and display a more emotion driven sound, by placing both tracks together it does take the momentum out of the album. This may, however, have been more effective a track listing on a good old fashioned album where they would work better as a closing track on the A side and an opening side B. The remaining CD includes the title track "Beyond" which has a country, reflective sound and where the title itself echoes the imagery of the song.  It is a real americana song which leaves you dreaming of open roads and warm evenings.
The band are able to demonstrate their more "rocking" sound on "Down on New Street" and "Keep on Flowing". The first of these is a great song which like many of today's bands displays a love of The Boss. It opens slowly but gradually builds in to a great mid paced rocker with the classic tale of a long lost girl. This has a great commercial feel to it and with it's Goo Goo Dolls feel could very easily be an American radio cross over hit. The final track "Keep on Flowing" is also an upbeat rockier effort and it is this style which could really bring the band more commercial success. It is credit to the band that they are very successful in achieving a great American Roots rock sound (indeed I had to check again that the band were indeed based in Italy and not the States). They have a strong sense for commercial and polished sounding tracks and it would perhaps be good to see a greater sense of 'danger' or unpredictability. That would certainly help them to appeal to fans of more raucous bands such as Marah or Two Cow Garage. However, if you like your Americana type roots rock with the commercial feel  of a band such as the Goo Goo Dolls then this is definitely an album for you.  Review by Paul Hastings
The Loyalties - Til The Death of Rock N Roll
The Loyalties are something of a supergroup within the Glam Punk ( or Glunk as its affectionately known as to some of its fans). It contains members of some great former and current bands such as The Yo Yos, Wildhearts, Black Halos, Amen, Sorry and The Sinatras and Ginger. A list of bands that has produced some of the best rock music available over the past 20 years or so.
The album opens with the intro/funeral march and its a bugle calling you to what presumably is the death of rock n roll. This intro leads straight in to the title track.  This great opener immediately signifies that the death of rock n roll is still someway off. There is a great mid song break declaring " The Last call for Rock N Roll" and with bands like the Loyalties around the death of Rock N Roll will thankfully be some time away. These guys are the  embodiment of a rock band as they state in the song, even though they've "been drunk a thousand times, they always made the show".
The death theme continues with songs such as "The Will to Kill" and " Death Girl" but there is nothing moribund about this album.  "The Will to Kill" in particular is a great song and possibly the best on the album. It is actually a duet with a female singer which is really effective. The male/female voices joust on alternate lines before joining together for the catchy chorus. Its a pity more bands don't try this as it creates a classic punk "love song' all be it based on death! The song "Death Girl" somehow manages to produce a catchy opening which really just consists of a list of fatal diseases that the girl in question could be! The band often use a  dual vocal technique on songs and this, combined with the catchy choruses, really gives them a great sing a long quality. This is certainly true with  "Carry Me Love" which is probably the most commercial sounding song on the album and would sound great blasted out on a car stereo. This is something which is a throw back to the aforementioned Yo Yos. The Loyalties really benefit from having more than one great singer in the band and there is no reliance on a dominant frontman to lead the band. Its a great mix of talented individuals who form to create a great band.
For those after some straight forward Punk Rock they are more than catered for with songs like "I'm The Blues", "Whisky Under The Bridge" and "To The Flames". These bring a punk attitude and sense of edge to the songs but importantly they never sacrifice the actual tune behind the song. There is always a melody underpinning the sound and this shines through the overall raucous approach. On "Whisky Under The Bridge" there is also a great guitar solo with a really clear tone. It is easy to regard these tunes as just simple punk rock but the skills of the band in terms of musicality and song writing should not be underestimated.
The Loyalties really shine on the songs where they add a touch of "Swagger" to the sound and this is particularly evident on the tracks " Meat In the City" and "Ashtray Empty". The lyrics on the first of these really need to be heard to believed but its fair to say they probably wont appeal to the Vegetarians out there. "Ashtray Empty" begins with a great opening, bringing in drums, bass and a great guitar line. Its perhaps unusual to remember an ex girl by her cigarette butts and yellow fingers! but its a brilliant song. The song "One Reason" starts with a live crowd recording and then has a chant along vocal with a sing along chorus and will definitely get a crowd jumping and dancing. It's a reminder that all the songs on this album are designed to be played loud, fast and live. They are perfect for a packed gig at a proper rock n roll club with plenty of drinks, a sticky dance floor and questionable toilets!
The album concludes with "Epilogue/ Rock & Roll Over (and die)". The song references some classic songs with lines such as "No room at the heartbreak hotel" and "No seats on the mystery train". The lyrics show the band really knows its rock history and this probably explains how they are capable of producing such a solid and fun album. There is no faking it here, this is a band who genuinely love music and live the rock n roll life. This is the longest track on the record but it doesn't feel like it, probably because you don't want the rock n roll to the end. In fact, it will only end when the CD finishes and then only until you start the album again. Given this is an album with a death theme at its core it is amazing how upbeat it feels and, somewhat ironically, full of life and vitality! One thing that is clear is that as long as bands like the Loyalties are producing brilliant albums like this it will thankfully be a very, very long time until Rock N Roll dies. Review by Paul Hastings
Emperor The Stag - 'Speedwell Drive' EP [Stop Thinking Records]
Following up well received April single 'Swan', Emperor The Stag are back with their first EP - five songs of solid indie rock demonstrating that they are a band who have really found their sound. The distinct, low register vocal of Nick Webb sits comfortably over a backdrop of guitar and rhythm section that calls to mind noughties indie tropes.
The watchword for the EP is production, with every strum, tap and lyric captured clearly and allowing the listener to fully appreaciate each track without ditracting fuzz, overbearing reverb or other distracting stylistic choices. This is simple but effective work that lets the the music speak for itself. As for the songs themselves, ironically titled opener 'Farewells' collates interesting, unusual rhythms into a short running time, while longer sprawling tracks 'Red Admiral's Daughter' and 'White Car Never Comes' are more meditative and straightforward foot tapping repectively. Middle track 'LEAD' also stands out for a simple acoustic guitar line that anchors a spaced out sonic landscape - reminiscent of early Coldplay (you know, before it stopped being cool to think they were good).
There's a lot here that demonstrates that Emperor The Stag will be around for a while yet, with plenty more for the band to discover about their own direction as they work on an upcoming full length. There's a lot of potential here, and we're looking forward to seeing what comes next. Review by Jared Jones - www.facebook.com/EmperorTheStag
Cult of Luna – Vertikal (Indie Recordings)
It has been almost five years since Swedish noiseniks Cult of Luna released their last album, Eternal Kingdom, in 2008. Since then, they've accumulated a good fan base, dropped a live DVD and book, all the while laying down foundations for Vertikal – their sixth album and the first after signing with Norwegian label, Indie Recordings. CoL are not your "run of the mill" metal band and their music cannot be dipped into at leisure like the metaphorical Hob Nob in the proverbial cup of Typhoo. If you're not inclined to sit through their releases in one blast then you're not getting the full experience. Fortunately, the themes are interesting enough to compel and a quick shufty around the internet reveals the group have this time drawn from "themes of machinery, repetition, and clear, linear structures honed to the visual imagery of Fritz Lang's expressionist science fiction film Metropolis."
'The One' kicks off proceedings with a quiet instrumental lament, not dissimilar to the start of Blade Runner, before ejaculating into 'I: The Weapon', which the band have been streaming via SoundCloud in promotion of the album. It's the closest you're going to get to a "single", with a balls-out heaviness that bobs and weaves betwixt mathy mid-tempo textures. The staggeringly oppressive nineteen-minute opus, 'Vicarious Redemption', will test the fortitude of the most die-hard of metallers. There is an underlying beauty in the ambience though and it's here the listener will make the Metropolis connection. Mechanical whirring juxtaposes itself against a melting pot of grindcore riffery, dub-steppy electronica and scowling, dictator-esque vocals. Definitely not one you should play to your grandmother over Sunday dinner then?
Talking of dinner, there is much food for thought in the imagery that Vertikal creates, which I applaud. It's extra mileage for the buck when a band takes you out of the game and plonks you into your own constructed scenarios. For example, the warbled synthetics of 'The Sweep' had me "sweeping" through the insides of a computer matrix, and the start-stop nature of 'Synchronicity' is akin to sitting in a steel tub being beaten continuously with a crowbar. 'Mute Departure' brings a sinister simmer to boil, set inside a scorched earth high-rise dystopia…
If the forty-five second interlude, 'Disharmonia', was inserted into any Radiohead album post-O.K. Computer, you'd never know the difference. Its inclusion on such a brutal record is an unusual but quirky one, serving as the sole melodic excursion throughout its sixty-minute duration. Following on is my favourite of the lot, 'In Awe Of' – an epic slow-burner that showcases a renewed technical ability for the band. Not that Vertikal departs radically from previous CoL entries, far from it. The album is rounded off by the atmospheric croon (if such a description can be employed here) that is 'Passing Through', which ebbs away into a wall of dreamy, yet harrowing, guitars. This latest offering from Cult of Luna marks a new beginning for them in many ways, but still retains enough of their trademark proggy sound to the whet the whistle of their fan collective. While not exactly a true contender in the grand scheme, the musicianship and song-writing is solid. Admittedly, it does get a bit repetitive in places but I think this all part and parcel of the concept. If you take your metal gloomy and full of treble, you can leave your tip at the table. Review by Brett Dunford
Surgery without Research -Vengeance (Research and Destroy Records)

Five-piece punk outfit from Romney Marsh, Surgery without Research, have been shaking things up in their camp to get Venegance, the band's eighth outing proper, done and dusted. After much procrastination over the track listing, it finally dropped this month on their Research and Destroy label. And just by looking at the stats – thirteen tracks clocking in at only eighteen minutes – you know it's about as punk as you're going to get.
With brow-lofting titles such as 'Police are Liars' and 'Paedophile Scum', this mini-album is exactly what it says on the tin. A dozen-odd short, sharp shocks designed to electrify the audience at live shows and drive home their personal "anti" message.

The sound is a little muddy but the tracks themselves are all a mohawked rocker could ever ask for. Frontman Andy H. sounds like a super-charged Ray Winstone after doing a gallon of Red Bull and the other guys hold the beat together as best they can with little to fault. From the opening stomp of 'Power like God' to the closing blast of 'You Wish', Vengeance drags the listener through the riot-torn streets of England, past burning cars and amid sweaty mosh pits. Essential beer-soaked British punk fare, I'd say. Review by Brett Dunford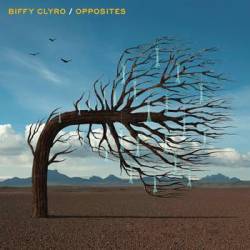 Biffy Clyro - Opposites
"Drip, drip, drip, drip". In BBC's sitcom Grandma's House, Simon Amstell is confronted by his wannabe father-in-law who informs him that "Biffy Clyro do some smashing tunes!". At this point as quite a large fan it clicks how far the music of the Biff has spread. 2009's "Only Revolutions" completed the cycle of popularity, just as 2007's "Puzzle" had started the wheel turning for the band. "Opposites", their sixth offering expands on the previous soundscape, however with the added bonus of a double album prospect. Claiming to want to create the first double album that can be listened to all the way through without filler, on close inspection this is very nearly what happens. Biffy's rise to fame was made out of pure effort on the bands part alone. Creating three albums in three years they defined the early 2000's underground rock scene in the UK. Its bizarre to think that they were once recommended to people who enjoyed the music of Reuben, At The Drive-In and the lark, especially when you listen to a track such as "Many Of Horror". There's no doubt that the band have come far and that the pop sensibilities they now implicate into their music, is some point of a natural progression. In the early days, the band didn't make use of the social networks on display and at their disposal, instead focusing on the oral and dedication of their fanbase. In this I believe Biffy to be the last band to have been made by their fans, without use of any networking system. A true fan base made by years of slogging on the touring circuit. Its a fairly well known ideal that after the third record "Infinity Land" the band were close to giving up due to the lack of income they were getting from their day job. Therefore an appeal to the mainstream was what they desired in order to keep them on the road and playing to larger and larger audiences.
During the making of "Opposites" the band themselves experienced problems and breaking up was raised as an option. Drummer Ben Johnston was suffering with alcohol addiction while Simon and his wife experienced three miscarriages. A hard time indeed but through the darkness comes the light. One side of the album really shows this, while the other is focused on the dark sides of the past and the decisions you maybe shouldn't have made. The latter opens with the heavenly "Different People" featuring layered vocals from all three band members, the vocal contribution not being so wide since the early days of "Bodies In Flight". One thing that keeps everything together is the twin brother sensibilities of James and Ben Johnston on bass and drums respectively. Each song has something interesting going on in each players forte'. Simon Neil once again proves himself one of the most interesting guitar players out there, evolving the math-rock that used to be a staple of Biffy's former days and transforming it into ridiculous riffs such as can be heard in "Sounds Like Balloons" and "The Joke's On Us". "Opposite" provides the standard down-beat track in a similar vein to both "God and Satan" and "Machines". "Take care of the ones you love, take care of the ones you love", Neil sings, sounded somewhat defeatist- but who can blame him with the touring strains of the last record and everything the band have experienced in the past year. "Black Chandelier" once again seems Neil mull over old loves before a kick-ass grungey chorus hits the spot like a freight train. This first side is, surprisingly, where the most filler can be found I believe.
The second half begins with the first teaser released from the record, "Stingin' Belle". Featuring heavy riffs, melodic chorus' and a bagpipe breakdown to a rock-out, this surely marked Biffy's return on the musical map back in 2012. "Modern Magic Formula" is by far my favourite track on the record so far. With bizzare lyricisms which have become a staple of non-single Biffy tracks, and the most excellent riff athon at the end and an ending worthy of era-2004, this indeed brings a smile to the face. "Spanish Radio" has been cited as the song the band is most proud of on this conquest of epic proportions. Featuring subtle brass sections and an upbeat finale, this indeed shows the bands capabilities to try whatever they want this time round. "Accident Without Emergency" is unfortunately not the finale to this final side, however, I strongly believe it would fit. With a strong build-up to an athemic choral section, this is everything the band have been striving for since day one.
One of best albums of the year has come straight from the Scottish highlands. A band once given up for good (the X Factor incident), have come back storming and have delivered their best album out of all three of the ones up for mainstream appeal. Mon The Biff. Review by Callum Barnes
The Omega Experiment – The Omega Experiment

When a debut album appears accompanied by press releases which boasts of  "big and technical guitars layered with keyboards which sounds reminiscent of Queensryche and Dream Theater" it's certainly attention grabbing. The Omega Experiment is billed as "the quirky, gritty and epically uplifting prog creation from Michigan duo Dan Wieten and Ryan Aldridge, who are very excited to announce signing to Listenable Records and the release of their self-titled debut album." The assertion also evokes a couple of thoughts. The first is that it's quite a big claim to live up to. Dream Theater in particular are noted for their technical dexterity within the prog metal genre yet can be susceptible to the claims of those who seem to think they are only interested in playing as many notes as possible as quickly as possible. Yet, they are able to maintain a degree of credibility with some quality songwriting and their range of styles which have gained them both critical and commercial success. Secondly, it certainly raises the expectations for what's about to be unleashed.
Undoubtedly the first couple of minutes of the opening track Gift set the scene with a bang as a powerful crescendo kicks in immediately,  the  likes of which is often reserved for the climax of a two hour live show. In fact Gift would serve as  a perfect concert opener with it's rousing introduction and dramatic opening vocal of "Here we are". If asked to select a track which would introduce fans to TOE and encourage them  to investigate  further,  this opener is the one I'd personally plump for. Very uplifting  melodic lead guitar lines cut through the wash of synth keyboards, plus it just so happened that the track was timed perfectly to accompany my journey from the shops to home – a totally irrelevant and trivial point but certainly something which gets the album off to an impressive start.
Lyrically, the band's inspiration has been taken from guitarist and vocalist Wieten addressing the last decade of his life, focusing on his excess and drug abuse which took him to a dark place and his determination to move onto a brighter future. Hence the full spectrum of emotions expressed both musically and vocally – ranging from full on AOR type harmonies to the high pitched operatic register and the odd death metal 'cookie monster' delivery. Sandwiched between two more mellow pieces on the album, Furor stands out as a example of what TOE do in their more extreme moments with some  frantic drumming driving the piece accompanied by cascades of guitar and synthesiser notes and bombastic chunks of heavy guitar riffs. The music keeps apace  what must have been extreme changes in personal moods throughout the album with the almost constant twin bass drum attack which fit really well with the theme of the piece but which, to be honest can be a bit overbearing and overused at times.
Either side of Furor, Tranquility and Bliss provide something a bit more diverse and reflective to the rest of the recording. Tranquillity with its washes of keyboard, electronic drums and soothing vocal sounds, and  Bliss which has a pulsating rhythm sequence running through the track and the use of sampled sounds of a synthesised voice – very much in the style of the way Pink Floyd included voice samples in their  Dark Side Of The Moon period which has been successfully incorporated into  more modern day prog by the likes of  Anathema from Liverpool. The Omega Experiment contains all the ingredients in the mix for the heavier prog metal genre - strong on melodies and with some catchy hooks and instrumentation but prepared to challenge listeners. Review by Micheal Ainscoe