It's the start of the New Year and I'd like to introduce a very special artist to Mudkiss readers, Jason Atomic. He is truly a one off freaktastic!!
He has so many strings to his bow. Let's start with his art work, he holds art exhibitions, and participates in live sketches, he has drawn for comix worldwide, he designs clothes, he's in a band called Fist Fuck Deluxe. He is a walking work of art; the man with the painted face of many colours, clothing to match. He frequently paints and sketches the underground super freaks, on the music, art and club scene. He adores colour in his work and his life and contributes to various publications such as The Illustrated APE, Gazelland. He is certainly someone I want to talk to, what a great artist.
In the words of Jason Atomic….
"I can't remember a day I wasn't holding a pen in my mitt, my mum has sketches from when I was a baby. At school our assistant head told me one particular piece was "The worst kind of pornographic filth that one would find in the seediest back streets of Soho" a review I've attempted to live up to ever since.
In 1985 I ran away to London and spent the next nine years squatting and plotting, self publishing comix, cross dressing and posing about on the freak scene.
In the 90s I moved to Japan. I started exhibiting, doing spoken word, curating shows and events which eventually led me back to London where I co-founded Freaktastic! with Mr. Johnny Deluxe.
In the summer of 2008 I set an (un)official World land speed record for portraiture at the National Portrait Gallery in London.
I live together in North London with my muse and partner in crime Honey Manko and a grumpy little cat called Howard."
Mel- Hi Jason I believe you have been portrayed by some as a 'Pop Artist' and apparently this isn't something you agree with, tell me why you are so against this label.
Jason - I am not a 'Pop Artist'. Some people have picked up on superficial similarities between my work and 'Pop Art'. I see this as a very lazy appraisal based on my use of strong black outlines, bright colours & popular culture references.
This is merely a symptom of the environment I have grown up in and the visual vocabulary available to me.
Pop Art is all about surface, flat colour and shallow morals. It worships celebrity, money, and the trappings of consumerism.
I am interested in exploring the roots of this imagery, the links with traditional and underground cultures and societies, I am seeking to strip away the surface layers to find texture and deeper meaning, to use the symbols of popular culture to infect this jaded world with a magickal dreaming reality.
My artwork, my mode of dress and way of life are all a part of this desire to externalise dreaming reality, this is very deliberate and subversive act.
Mel - I'm wondering where all this imagination emerged from, usually it has its roots in childhood. So I'm curious, what kind of childhood did you have, was it a conventional upbringing?
Jason - My dad changed jobs every couple of years moving up and down the country, so I was always the new kid in town, always an outsider. I enjoyed it though as there was always new places to explore. As a child I was always exploring empty buildings and vacant lots, making dens in the woods, collecting dead animals, skulking on rooftops, excavating bins and skips it was brilliant. We had a lot more freedom in the 70s it seems, children were still allowed to play outdoors from sun up to sun down.
Mel - Can you remember your first drawing as a child or subsequent themes which you painted or sketched?
Jason - I think the first recognisable drawing I did was "a duck drinking" at around 18 months. As a youngster I was mystified by the animal kingdom I loved to draw ducks, cows that kind of thing initially. Then I discovered books & TV documentaries and it was all jungles & Tarzan after that. My Mum kept a scrapbook of her favourites so she still has all the best of my stuff from being a baby up to about eight years old.
Mel - Later as a teenager, did you have a rebellious streak?
Jason - At school my rebellion was pretty covert I'd wear a little make-up, wear my tie funny that kind of thing. I amused myself by drawing comix, porno satire like "Star Whores" or gory tales of death & destruction. I realised though that it was best to keep your head down and pretend to play the game, so I made sure I'd average 6 or 7 out of 10 for everything that way I'd never get picked on for being too smart or too stupid. I was very deliberate in my efforts to not take part in games, bringing in the wrong sports kits so I'd be sent on cross country runs (a short jog up the road to a mates house to drink coffee and listen to New York Dolls or Iron Maiden records) instead of playing football.
At 14 I started going out and getting smashed at the Pennyfarthing (Oxford's notorious heavy metal pub) on a Friday nights.
At 15 I left school & started dressing more flamboyantly, hanging out with punks etc.
Mel - What made you decide to become an artist, did you feel it was in your blood from the very start?
Jason - I don't recall ever not drawing or painting, I compare it more to a condition than a job; one is compelled to behave a certain way.
The one time I had a "real" job I would stay up all night drawing comix, "my real real job" at the time, and then I'd come in Kip all day in the "Dimbelby Box" stay late in the evening and abuse the Photocopier. It also tickles me pink to think that creating art is specifically forbidden in the 10 commandments under the sub-heading of "graven images".
Mel - When you ran away to London, squatting and cross dressing, who was the first person you came across in this 'world'? (Where do your originate from?)
Jason - I was living in Wallingford (Oxfordshire) and going to college in Reading when I answered an ad in the back of i-D magazine. Basically you had to send your name, address & a photo if you thought you were "hip enough for the FF list" it didn't explain any more than that. In return I started to receive free tickets for the Hippodrome on Thursday nights; I hopped on a bus at Cemetery Junction, with Johnny Deluxe as my plus one. Didn't run into anyone terribly famous but got an introduction to the squat scene and within a couple of months was happily living in London.
Mel - You completed your Graphic Design and Visual Communication in 1985 what did this led to?
Jason - The course was interesting, learning about semiotics, how adverts are constructed, how people perceive signs and how to subliminally manipulate their response. Basically, Satanic Black Magick, with a smile. I didn't have it in me to enter that industry though, just because you can do a thing doesn't make it right.
I never completed the course as this was the same time I ran away to London to become a squatter, to the land of do as you please. It was in my sketchbooks, all be it outside of college hours that I first started to practice my current style of life drawing. So that time was instrumental in bringing me to my current position.
Mel - What's the weirdest job you ever had, and indeed the most 'normal' post you held?
Jason - The only 'normal' job I ever had was when I worked for a couple of years at a tourist attraction in Covent Garden themed on the Spitting Image TV show.
We had animatronic versions of the most popular SI puppets. Working there, coupled with not having to pay rent, allowed me to save up enough money to start visiting Japan. During this time I split up with my first wife and met my second.
Painting: Manko & Jason
Mel - Your second wife…..is Honey Manko?
Jason - This was 1992, Manko would have only been 11 years old back then. Technically speaking we are both married but not to each other.
Mel – Manko as she is known is a 'Suicide Girl' from the alternative pin up web site and gorgeous she is too. Tell me in one sentence why she is your muse.
Jason - If I could sum her up in one sentence she wouldn't be a muse, she has an indefinable quality that I find fascinating yet am never able to fully capture.
Mel - I'm keen to know more about her. Is she also an artist?
Jason - Manko is an excellent writer & dressmaker, she is a published photographer and illustrator.For several years we did sketch based radio show together and she is becoming increasingly interested in film making.
Mel – You're always decked out in mutually outrageous outfits which compliment each other, and have a reputation on the club scene. Who comes up with the ideas for the clothing or image for the evening?
Jason - We dress ourselves, but usually aim for a theme or colour scheme that compliments each other. Generally one of us will have some item we insist on wearing & the rest seems to fall into place around that.
Mel - It seems you have a real love of the Japanese culture; you even lived there for a while back in the 90's. Could you talk us through what fascinates you about the Japanese people and their way of life?
Jason - I have visited Japan every year since 1992 & lived there 94 to 98.Japan seemed really sensible to me in a common sense kind of way. I felt more comfortable there than I ever had anywhere. There is calm, elegance to their lifestyle and culture, the climate and natural light suits me. And once I got used to their diet no other cuisine seems like proper food to me anymore.
Mel - Do you speak fluent Japanese?
Jason - Ore no Nihongo wa ma-ma desu, Pera-pera janai kedo, Nihon ni iru toki dan dan oboiteru. My Japanese language skills (talking, reading, and writing) are basically intermediate. I rely a lot on context and social situations to inform my comprehension.
Mel - As you worked in Tokyo for a length of time (how long?) what work did you enjoy doing the most?
Jason - I did a lot of journalism & illustration type jobs but the best bits for me were having my first solo show (at 6% Doki Doki) and organising a group show/performance event (Superculture nihon>UK) with 6 of my favourite Japanese artists.
Mel - You've done so much in magazines and comics, art galleries, etc what would you say is your most favourite piece of work to date?
Jason - The boring yet honest answer is always "what I'm working on at the moment", as artists we follow our obsessions and inspirations and those change. At the moment this is my continuing "Favourite Artists" series.
I'm proud of "Yumegane Machine" that was a really well rounded work.
Painting:
'Yumegane Machine' by
Jason Atomic
Mel - Can you talk us through your favourite piece of work (above). What are you trying to convey in this piece?
Jason - While I was living in Tokyo I did a lot of sketching in the Shibuya district, this was at the height of the ko-gal scene which was then moving towards what is now known as Ganguro. The place was full of schoolgirls in super short skirts, with bleached hair, fake tans and baggy "loose socks" that were held up with a kind of glue called "sock touch". This painting is a social/geographical investigation of that scene.
I also wrote a spoken word piece with sampled/sequenced musical backing to accompany this painting.
Painting: 'Givemebackmyhat' by Jason Atomic
Mel - If you had to choose a piece of work to say this is the essence of Jason Atomic which one would it be and why?
Jason - That would have to be "givemebackmyhat" it's a semi abstract magickal self portrait.
Mel - I love that piece of art work, it's full of so many little pieces, your mind must be full of treasures. So much seems to be hidden amongst the painting.
Jason - I had a fetish hat which was stolen and this painting became a curse on its thief.
The board it is painted on was originally the door to grannies house in a pantomime of Little Red Riding hood, I found it in a skip and it went on to become my tabletop/palette for many years. Periodically it was varnished before being worked on again which gives it an extraordinary depth which sucks the viewer in and traps them like a fly in amber.
To this I added my self portrait and surrounded that with depictions of my various amulets, imps and familiars.
Mel - Your best buddies with Mr. Johnny Deluxe (famous for the 100 punk photo booth images) and partners in crime in the band Fist Fuck Deluxe, were you one of his 100 punks?
Jason - I am in the glorious 100!
Mel - Where/how did you and Johnny meet?
Jason - It was the back end of 1983 in Reading a friend of mine had moved into a house where Johnny was also living. We hit it off straight away.
Mel - Did you think you'd met your soulmate? And what's your next adventure together?
Photo: Jason in Johnny Deluxes 100 Punks Exhibition.
Jason - I felt I'd found a brother in a family outside of bloodline. I feel that the term soulmate is almost something that holds us back, the notion that just one person in your lifetime is your perfect match when in fact there is a whole family, an army even or REAL PEOPLE out there.
An international one I hope, I've been waiting 5 years for him to get a new passport and he finally did.
Mel - Is it 'Yes Future' you design for with Johnny?? Do you design for a label or are they one off's?? And where can people buy your stuff? Does Manko design with you??
Jason - As well as my own one-off painted shirts, Shave Kong ties, and customised hats etc. I have done several collaborative works with 'Yes Future' as well as Manko's label 'Drool Gear'.
For several years now I have been contributing designs to Tokyo fashion house Milkboy. I recently did a Clockwork Orange inspired shirt (with hand written text in nadsat)  for them and there will be a couple of Lucha Libre wrestling themed designs in their Spring 2009 collection.
These are all very limited runs or one-offs so anyone interested is welcome to contact me and I'll let them know what is currently available.
Photo: Jason Atomic with his mommet Yumeko
Mel - Can you explain to me your fascination with 'Mommets'? And what/who are they?
Jason - Mommets are dolls, witches dolls in specific. More commonly referred to as poppets, mommet the archaic Thames Valley equivalent as used by the notorious Witches of Windsor.
When I came back from Japan in the late 90s I was obsessed with customising dolls to resemble my stage persona in full regalia, with miniature replicas of my shirts, caps, kilts etc... It felt a very magickal act so I started doing some research and discovered this term, as I was living in the Thames Valley it seemed appropriate to revive the word.
The latest of these mommets is Yumeko s3-X, a customised Super Dollfie.
Mel - Ha ha it might seem a strange question to others, as it's obvious from a man's point of view, but what exactly is YOUR interest in porn?
Jason - I am interested in how and why a society develops that is afraid of its own reproductive act. This most natural of acts is shrouded in taboo and the depiction of it becomes subversive. Underground cultures and secret histories fascinate me, my fascination with porn led me to discover Underground Comix, Tijuana Bibles, Ukiyo-e Shunga, Tantric art, roman mosaics, Egyptian sex magick and more.
In my humble opinion the concept of censorship is far more offensive that anything that one might want to censor.
I've been making porn based collages, sketches and paintings for many years now.
Manko has compiled a book of the best of these available online at:
http://stores.lulu.com/jasonatomic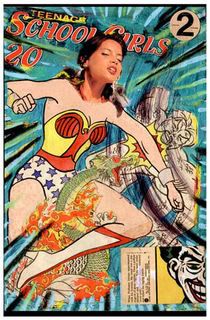 Mel - I heard something about a porno chat show?
Jason - Club "H" The Paradise, was the official title in Japanese the Roman letter 'H' pronounced Eichii means naughty or kinky & is in fact an extreme contraction of the term "Sexual Harassment".
Our pal Koy was working for them as a journalist/'talento'. We played an FFD gig in a white wall gallery in Tokyo and she had a cab waiting outside when we got off stage. We were whisked off across town to Club "H" where we performed a song, terrorised some drag queens and frightened a girl with her tits out.
Mel - You say that your teacher had a comment to make about your work being "filth". What did you draw/paint to make her come to that conclusion?
Jason - "The worst form of pornographic filth, that one would find in the seediest backstreet of Soho" I believe is the actual quote. And it was nothing sexy I'd done.
At the start of a new school term I decided to decorate my school exercise book covers.
I wanted them to be relevant & in keeping for each lesson so for my history book I drew a picture of a historical subject.
Having just been looking at a book about propaganda posters of WWII I decide to draw the grim reaper, I had him drooling blood from a fanged mouth and wearing a nazi armband. I thought nothing of it until Bruce Grainger the Assistant Head called me out of registration one morning and told me that my history teacher was too upset to look me in the eye.The idea that a grown man could be frightened of a child because of a silly doodle was incredibly empowering.
Mel - In addition to everything else you do and there are many strings to your bow, you also do live sketch performances. I think I read in one sitting you completed 42!!! Why do you put yourself through this arduous piece of work, is this something you really enjoy doing?
Jason - I love it, I feel like one of those 'bred for speed' dogs who are finally let off the lead to run at their own pace after having to conform to their human owner's snail pace all the way to the park.
Mel - Talk us through your speed sketching record at the National Portrait Gallery in London. (See video at the end of the interview)

Jason - It was the nearest I've ever come to doing sport. I had a cheering crowd at my back, people taking photos, leaning off balconies countdowns at start and finish. It was an incredible experience.
Mel – I'm keen to know about the night with the legendary Leee Black Childers, you & Manko were booked to do some readings at The Royal Festival Hall.
Jason - It was a real honour to be chosen. Leee was being interviewed about his life and times, a pivotal point of which was bringing Warhol's only play "Pork" to London.
He invited us, along with Susan from Gob$au$age, to come and reads some passages from that play. This was the first time these words have been spoken on a London stage since 1971. He said he considered us to be a modern equivalent to those Factory Superstars.
Mel - So when are you going to tour the North West, so my fellow northerners and me can get some of the Jason touch?
Jason - I'm usually headed in a Easterly direction when I go up North as the bulk of my family are in York. All I need is a booking for a performance or exhibition.
So what are you people waiting for…………book Jason Atomic for an exhibition in the North West NOW!
Jason Atomic sets the unofficial world portrait painting record of 42 full length portraits in one hour at the National Portrait Gallery in London 2008.
Links & contact:
MySpace: www.myspace.com/jasonatomic
Website: www.jasonatomic.co.uk
Youtube: www.youtube.com/misterAtomic
E-Mail:atomic@jasonatomic.co.uk
Interview by Mel 1.2.09
Mudkiss©2009