We'd like to officially welcome onboard the good ship Mudkiss another young woman who is going to be reviewing for us called Lucy Holt. She has kicked off with three wonderful reviews this month, starting with local outfit the wildly energetic Roughneck Riots.
This Roughneck Riots – 'This Is Our Day'
Some bands plaster their legacy over decades or eras. The album 'This is Our Day' is The Roughneck Riot stake their claim to a more modest 24 hours.
The folk punks are about to release the single 'Ignorance is Easy', to be followed by the album, and are wielding their banjos like axes. 'Ignorance is Easy', released on the 18th June, is fairly hard to ignore. It opens the album with the vocal power of several Frank Turners competing to be heard above the noise. On the spectrum, it would sit nearer to arson than singing round the campfire. That said, there's method to their madness. Clever use of folk instruments and lyrics means that the proportion of music to riot is a fair ratio, on an album that barely allows you to pause for breath.
It's nearly impossible to call it, but 'I Won't Live in Fear' is perhaps the most restrained and refined track on the album. The one you could take home to your mum's for tea. If you ignore the profanity and rowdiness, the melodic chorus is verging on catchy, and might even feature some vocal harmonies.'Waiting To Die' is another disaffected youth anthem that sounds like the sort of song could have ended up on The Enemy's last album if it had fallen in with the wrong crowd. Luckily, for the song, and the rest of humanity, it didn't. Its salvation comes from The Roughneck Riot's intricate riffs and punk power, and perhaps the fact they don't take their lyrics from fridge magnet alphabets.
It seems like the band go out of their way to sound like they're from anywhere but their native Warrington. They've avoided the conventions that come with being a band that's vaguely proximate to Manchester, but opted for a genre that comes with enough stereotypes of its own. It's Celtic music and punk music without any of the standard pub fare that comes with either. What's more, it's folk music without any tweed or corduroy, thank god. There's a sense of political anger and a hint of Billy Bragg to the album, with titles like 'What About us?', 'Down & Out' and 'Pissing in the Wind', which is surprising considering disillusionment is sooo last year. Don't they know we've had a Jubilee? Yet title 'This Is Our Day' takes a distinctly more optimistic tone. The contrast makes you not quite sure what to think, whether to start a mosh pit or sign a petition, but it sounds good.
Whether a very noisy period of glory is in store for The Roughneck Riot remains to be seen, but there's a good chance that album release day will be theirs for the taking. - reviewed by Lucy Holt
 Mystery Jets – '
Radlands'
Mystery Jets are chronically indecisive. Their knack for fitting heartbroken woes next to inescapably uplifting 'woahs' has got them thus far. On their fourth album 'Radlands' the rift is even more tangible. The London urchins set up camp in Texas to claim their American Dream. They worked with a shiny pop record producer. It's got a gospel choir. On the list of things to do, Mystery Jets have ticked more than their fair share with 'Radlands'.
The first single 'Someone Purer' is a tale of a lost love and self-deprecation, and finding salvation through rock and roll. It's hardly ground-breaking stuff, but it's what Mystery Jets do best. It makes you wonder though, whether the air fares to Texas and back were really necessary. They've written an effervescent hairbrush-in-bedroom anthem; that's the sort of thing Blaine Harrison writes in his own bedroom when he's bored.
The prematurely titled 'Greatest Hits' also has something of the bedroom-born and lovelorn about it. It is the musical equivalent of the omnipresent break-up montage in an indie rom-com. The camera would document the poignant but inevitable tragedy by flicking between boy and girl reminiscing about the old times, to soundtrack of their old albums on vinyl. If the 'shalalas' and handclaps are anything to go by, it would probably star Zooey Deschanel.
'The Nothing' and the campfire duet 'Take Me Where The Roses Grow' are laments to something or other. Beautiful, but vague. The lyric "we are as much of a mystery to ourselves as anyone else" shows self-awareness of their own identity crisis. So far so 'meh'. Yet they go and throw a spanner in the works by slipping in arguably the greatest pop song ever written about a town in Cheshire; 'The Hale Bop'. It's probably the only modern adaptation of a pre-apocalyptic Adam and Eve love story you'll blindly dance to. 
Despite its origins in deepest Bible-belt America, 'Sister Everett' is almost as blasphemous as that time they trashed Manchester Cathedral. Lyrics like "Sister Everett, we shared Bible class and cigarettes" is Mystery Jets' contradicting themselves at their very best. They've achieved the big sunsets and bigger choruses of Americana, and they come from the somewhat less exotic resort of Eel Pie Island.
It's unlikely Mystery Jets are going to break America, but it may have broken them; I'm worried about their state of mind. But with an album like 'Radlands', we can probably put up with a bit of split personality disorder. - reviewed by Lucy Holt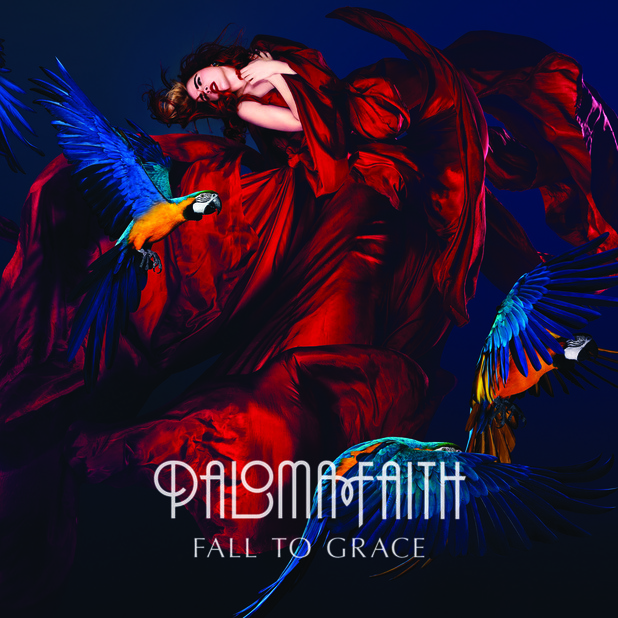 Paloma Faith – 'Fall To Grace'
Paloma Faith really, really wants to be in The Great Gatsby film remake. Her second album, 'Fall To Grace' aims for glamorous 1940s New York flapper with modern techniques. So it's disappointing that she often ends up flapping around in the musical abyss between mainstream pop star and an innovative and soulful and truly unique act. Her frocks might be older and longer than her peers, but we should be able to differentiate more than that.
'Black & Blue' is a moody ballad with powerhouse vocals and a gutsy gospel choir chorus. After her confession on The Graham Norton Show that she used to have a thing for prosthetics and fake blood, it's clear that the dark and chilling is what she does best. Cue then, 'Blood, Sweat & Tears', which is where you'd expect Paloma to do her best hysterical gothic heroine. Instead, it sounds like a disco-era Sophie Ellis-Bextor album track. 'Freedom' is an indicator of where she was probably trying to go with this album. Blues vocals successfully sit alongside electro beats and hooks nearer to that of Ricky Hatton than Katy Perry.
The lead single from the album, 'Picking Up The Pieces' in its acoustic form shows off how brilliant Paloma Faith can be, with the star of the show, her inimitable vocals, taking the limelight. It's a shame then, that the version deemed more radio-worthy is littered with pointless non-beats and not very special effects. Faith should have more faith in her audience that we can deal with gritty, stripped back songs, and don't need to cling on to a nearly catchy dance beat for security.
Perhaps Paloma is out of breath after her debut 'Do You Want The Truth or Something Beautiful?' where she belted out all her lungs could hold with the likes of 'New York'. This latest work is more grown up, with more emotion, like the pained 'When You're Gone'. With lyrics like "Sometimes I feel paper thin and see-through" it's a far cry from the brave, bold, couldn't give two fucks attitude of 'Stone Cold Sober'. Perhaps she's trying too hard to cater to the demographic that can't possibly buy any more Adele albums.
'Fall To Grace' might be a more refined, dinner-party friendly album, but we preferred Paloma when she was graceless. - reviewed by Lucy Holt
Blind Atlas - Kodiak Bear
After initial exposure to a stunning video for the title track from Blind Atlas' debut album, I've  awaiting this release with baited breath.  The Manchester based outfit incorporate folk and Americana inflections whilst plundering deeply dark areas of melancholia both musically and lyrically, a dense mixture of instrumentation enveloping and drawing the listener into a sombrely rich, warm, although revelatory Ursine embrace.  Relationship issues to the fore, "The Ballad of Uncertainly in the Key of F" explores a lack of communication within relationships from a his / her perspective, before "Easy Way Out's" search for emotional release, both wistfully exquisite and edifying. It's testimony to the quality of material on "Kodiak Bear" the title track's appearance a culmination of the record, no requirement to skip, instead enjoy the intrinsic delights of each song, country rock cavorting within a distorted rip roaring "Fourth Street," the slide guitar's textured sleaze on "Brother Moon, "or the more capacious chord structures and concentrated soloing of "Time Plays It's Part."  Indisputably, a potential album of the year. www.facebook.com/blindatlasofficial - reviewed by Andy Barnes

Mr Fogg - Eleven
Mr Fogg, Reading's kookiest pop prodigy, has graced us with a follow-up to his euphoric 2010 debut. Having cleared his pathways somewhat gingerly in round one, it's gratifying to now hear Mr Fogg re-tramping them with the oomph Moving Parts lacked. This is a man, perhaps, now feeling his weight in the world. Although Eleven isn't a shocker, it's far from prosaic. Coloured with crisp, fresh material and freeze-dried with Icelandic producer Valgier Sigurosson's trademark winteriness, this is an impressive album that goes deeper than many of its hook-reliant electropop contemporaries. The sophistication that balanced Moving Parts so deftly on the art/pop see-saw has now taken centre stage. This balance puts Fogg's music right where it wants to be – a place where expectations are met and simultaneously resisted, where a record can be both accessible and surprising. Shouldn't that be the end goal of all pop music?
Typical of most electronic music, phrases are articulated fairly mechanically, and yet often their centre of balance feels strangely lopsided. The beats are also a little topsy-turvy, and hearing them convulse behind Fogg's glum spider-web of a voice, it's not difficult to be reminded of Radiohead.
Another similarity to the squiffy-eyed Oxford lads is Fogg's appetite for diverse electronic influences. Contemporary Berlin sound (especially the B Pitch Control roster), as well as some classic Warp Records oddities provide a fascinating, (albeit not original) palette of sounds which Fogg moulds into a deep, dynamically bursting collage. Eleven's emotional complexity and depth of expression is, unlike most pop music, less about individual timbres and more about the collective communication between them – maybe its these typically orchestral tactics that provide the album's high brow sheen. - reviewed by Lars Donohoe

Crocodiles – Endless Flowers
As someone who, from time to time, has been known to defend the record geeks behind indie rock and the whole 'new music through archaeology' formula, I find it frustrating every time I hear another album milked from the same old recipe – Phil Spector, Velvet Underground, Beach Boys, Doors – which brings little in terms of personality to the table.
In a caricature of the 00's garage rock revival, Crocodiles third album, Endless Flowers, squeezes such worn down fossils of 60's bubblegum/ rock n' roll through a hissing, monochrome filter of avant garde noisiness. The extreme contrast between softly crooned cheese and gritty lo-fi production goes some way to making up for their lifting of melodies and clichéd song templates, but ends up short of the mark. The problem is, even the production is knackered – this shoegaze/ Spector 'Wall Of Sound' thing really has been used to death.
However, Crocodiles do seem to have the potential to move things onto the next level, and occasional moments of outright experimental carnage make a welcome break from Ramones-like banality. The intro to 'My Surfing Lucifer', for instance, although the album's most challenging listen (not to mention piss-your-pants terrifying), is maybe the closest moment Crocodiles come to originality. 'Hung Up On A Flower', a surprisingly successful crack at an anthem, also provides a glimpse at future potential. Unfortunately, when the novelties on your album are the only things worthy of true praise, its not a good sign. - reviewed by Lars Donohoe
Casino 13 - Casino 13

This release by up and coming rockers Casino 13 is another one of those CD's that surprises you for all the right reasons. I for one like my rock on the gentler side and although will head off into AC/DC territory and beyond am often more at home with my more mainstream hair/glam rock tunes than head-banging along to ear melting tunes. But sometimes a CD comes along to change my thoughts, one that I simply can't stop playing.
Why am I telling you this you may well ask, well it is because this release by Casino 13 covers so many bases I firmly believe it will have mass appeal to all rock fans and not one specific genre. The band formed with sole purpose of creating a blend of punk rock, country, rock, metal and more in their work. This they have done in spades. What we get on this self-titled release is a nicely-paced mix of tunes that can often mix two or more such rock spin-offs and in doing so create something that little bit more unique for the listener.
Across the nine tracks on offer we get to witness a band that have paid their dues by gigging around the country and one that seems to fit very well together.  The tracks move between speedy head banging offerings to slower paced ones with ease and they do indeed weave a nice picture of what this outfit offer a live audience in terms of sound, style and quality.
There are no major faults to find with production and presentation here either. If the reviews of the guys playing live are to be believed this is a band on the rise and one to watch out for. reviewed by Phil Allely
Dana Jade - Dana Jade
I must admit I was unsure of what I was going to get when I first listened to this debut album from up and coming Trinidad singer/songwriter Dana Jade. I knew from her bio that punk-edged rock would play a large part of this release, I was however pleasantly surprised that this was a raw take on punk sounds that harked back to its glory days and boy does it work.
Dana's vocals are superb throughout this album and are perfectly suited to the genre she has chosen to perform. These are slick songs that grab you by the throat and don't let go (as every good punk one should), each offering up a heady concoction of atmospheric imagery that assist you the listener in seeing exactly what the divine Miss Jade is trying to do here. There are hints at musical influences from far across the genre of rock, but overall this is a standalone album that speaks for itself. What's nice here is that whilst old school punk fans will adore this look back at past glories, there are enough nods to the present that even the most casual listener will be intrigued and want to hear more. For a debut release this is superb, I for one would love to see Dana perform live and cannot wait to see what else this ballsy young lady has to offer the music industry.
It's so nice for us reviewers when we get our eyes opened to new acts and in this case it was a total pleasure to be sonically ambushed by this siren of the punk scene. This is one act to watch out for in 2012 and beyond. reviewed by Phil Allely

More reviews to follow.....