Keith Levene, a native of London, U.K., is a musician, composer, producer, artist and writer. He has also contributed to film scores, and is a founding member of two groundbreaking acts, The Clash and Public Image, Ltd. (PiL).  Furthermore, along with Sid Vicious, Levene was also a founding member of The Flowers of Romance, a band which disbanded before it performed its first gig when Sid was tapped to join the Sex Pistols. Levene's writing credits appear on The Clash's first album and PiL's first four albums.
He is a self-taught, multi-instrumentalist, however, he is perhaps best known for his legendary guitar work. It has been asserted that the famous riff he created at age 19 on a Valeno metal guitar (later nicknamed "the Leveno" in his honor) for PiL's first single "The Public Image" helped launch countless careers. Over the years, Levene has worked with a wide variety of acts and artists as a musician/composer/writer as well as in a production capacity, including but not limited to Flea, Hillel Slovak, Vivien Goldman, Glen Matlock, Dub Gabriel, Mark Stewart, Jah Wobble, Jim Walker, Martin Atkins, Bob Forrest, Julie Campbell, Dub Syndicate, Singers and Players, Creation Rebel, the Philistines, the Mavericks, Pigface, Carpetface, and Necessary Intergalactic Cooperation.
In 2012 Levene teamed up with former PiL bassist Jah Wobble to do a series of celebrated Metal Box in Dub shows in the United Kingdom, Germany, and Japan. Additionally, the two produced the recent Wobble/Levene EP as well as the forthcoming Yin and Yang LP, the latter of which is scheduled to drop in November 2012.  Moreover, Levene's slashing, innovative guitar work was also recently heard on Mark Stewart's hit single, Stereotype, which featured Factory Floor. As a solo artist, Levene's work includes the highly acclaimed Violent Opposition and Killer in the Crowd.  His next release, on vinyl, has a working title of Search for Absolute Zero.
PIL: Twenty nine years to the month that PiL played Tokyo without founding member Keith Levene, a Japanese car carrying the legendary and fiercely independent guitarist slowly made its way through the picturesque countryside toward the Mount Fuji festival in Japan where Levene would perform at the final Metal Box in Dub ("MBiD") event. On the one hand, Levene was surrounded by people.  Beside him sat the lanky, jovial, tattooed MBiD singer Nathan Maverick, while former PiL bassist, Jah Wobble, sat in front of him. Yet on the other hand, Levene was completely and utterly alone in his three decade-long appointment with destiny and a time when he would finally get the opportunity to play the classic PiL tunes that he was instrumental in crafting while barely in his 20s, in the land of the rising sun. Levene gazed out the window and took in the beauty of the glorious and breathtaking Japanese mountainside. He closed his greenish brown eyes, and allowed his mind to transport him back through the years to New York City circa 1983. At that time, the 25 year old Levene was five years into his commitment to PiL, and he excitedly prepared for a Japanese tour which was simply not to be. 
Levene worked "30 hour days," mixing what was to have been PiL's fourth album, The Commercial Zone.  He spent those hours over the winter and spring months of 1983 at Park South Studios in Manhattan, engaged in such activities as employing a Prophet V synthesizer to mimic the sounds of an orchestra while recording "the Slab.".  "Yeah, some have told me that they swore I had a slew of violinists in that studio a/l/a Brian Wilson's wrecking crew," Levene modestly smiles.  "But essentially, the Slab boils down to two things:  An acoustic guitar and a Prophet V synth. That's it."
Creative differences over that album led Levene to uncharacteristically quit PiL just before the band was scheduled to tour Japan, a country that has been near and dear to Levene's heart since he was a boy and first became interested in Japanese art, design, architecture, and culture.  Levene felt Tokyo represented the future, and he was very much looking forward to visiting the city. "The idea of Tokyo in 1983 just fascinated me.  As a starting point, it is post-apocalyptic," explains Levene, who typically travels with a well-worn book on the history and tradition of Ninjutsu in his carry-on bag. Thus, the decision to leave PiL just as the band was set to play Tokyo was not an easy one for Levene to make.  However, when it became clear that the direction PiL was headed was squarely and completely at odds with anything Levene wanted to be associated with, he was left with little choice but to move on.
"PiL was my 'Purpose in Life,'" he states.  "But…at the end of the day, what else do you have but your principles?" Thereafter, the man who has been named as one of the most innovative and creative musicians of his generation, and whose influence can be heard through the works of many including but not limited to U2's the Edge, was "replaced" by a few wedding band performers from New Jersey, as a Leveneless-PiL hit Tokyo in the summer of 1983. But this was not the first time that Levene has left a high profile project over creative differences. After all, Levene was also a founding member of the so-called "only band that matters."
THE CLASH: Prior to PiL, a teenage Levene left the Clash in the band's infancy when it became apparent that he was at odds with the direction that band was taking. If you were to ask Levene to name someone who has left a mark on him, one of his first responses will be "Bernard Rhodes," the legendary former manager of the Clash and contemporary of the late Malcolm McLaren.  During the 1970s, Rhodes and McLaren were partners in crime in shaping the British punk rock scene.  While McLaren ultimately went on to establish the Sex Pistols, Rhodes' focus turned to the Clash. "Bernard stopped by my flat a few years back with his 12 year old son," recalls Levene fondly.  "I have the upmost respect for Bernard and learned so much from him." In fact, Levene was just a few years older than 12 when he first met Rhodes. Nonetheless, even then, the young Levene had had enough of the "quintessential, boring rock and roll scene." Thus, when Rhodes originally suggested such notions as "working with" other creative people and developing synergies as opposed to the "common rock and roll formula and hierarchy of manager, record company, producer, lead guitarist, bass player as the weakest musician, and so forth…best idea wins instead of 'do what I say' as in an authoritarian, dictatorial master-slave relationship," Levene was intrigued.  
KEITH THE ROADIE: Even then, the teenaged Levene brought a wealth of life experience to the table.  He had already worked at his father, Harry Levene's, clothing business where he held such positions as machinist and driver, functioned as a gopher at an engineering firm, and had served a stint as a roadie for the prog rock band Yes. Levene was just 15 years of age when he worked for Yes, and he spent his time doing much more than assembling and disassembling instruments.  Instead of rushing off when his work as a roadie was done, Levene stuck around, and took note of what was going on all around him. Levene's attention was captivated by the impressive sight of Rick Wakeman's gear.  Wakeman had a wide array of keyboards, and Levene would not only study them intensely, but would also take those instruments for a spin. When asked how he procured his roadie job, Levene laughs that he went to five gigs in a row at the Rainbow and simply "wouldn't leave."  He then began assisting Mick Tate, the lighting guy.  One day, Levene was advised that he was on the Yes tour if he could be at Berkley Square at 8:00 a.m. sharp on the following morning. 
CHILDHOOD:  "At the time, Steve Howe was my favourite guitarist.  So imagine if you will:  One minute I'm sitting in my bedroom playing along to Steve Howe.  The next minute I'm standing by the side of the stage and telling him how great he was that night," states Levene with a broad smile. Levene has never forgotten the lessons he learned as a roadie and explains "I get what it means to fans who want to communicate what a show, or tune, or what my playing has meant to them.  I appreciate the feedback so very much, and am humbled by it." Levene's association with Yes further developed his fascination with sound and technology, which had been sparked by the time he was four years old.  It was then that the young Keith was taken by his concerned mother, May, to a physician after Mrs. Levene noticed her son spending hour after hour watching Beatles records go round and round on the family's turntable. 
"It's one of my earliest memories." explains Levene.  "I was enthralled by what I saw and heard as it related to those amazing pieces of vinyl." At this point, Levene stood and stretched his muscles, pointing out that another one of his many interests has been positive energy direction.  He explains that he is intrigued by the power of positive energy and that he uses Chi energy and has learned how to generate it in himself. Thereafter, Levene took a swig of his favorite drink, a tall glass of iced water with slices of citrus fruit.  He then sat down and continued. "So after examining me at age four, the doctor advised my mum that he felt I would be a great orchestra leader one day.  It seemed really funny at the time.  I vividly remember that day. It seemed like an impossible dream.  After that, mum didn't seem to worry as much whenever I hung out by the stereo system," Levene says with a broad smile.
In the years that followed, Levene's love for music continued to blossom.  A self-taught musician who would ultimately master playing drums, keyboards, synthesizer, and bass guitar, it is not surprising to learn that the first instrument Levene learned to play is the one he is best known for. Levene first picked up a guitar at the age of 12 when his father purchased a Futurama  guitar with six switches and one knob for 16 quid for him.  Later, Levene acquired a Gibson Les Paul Deluxe and then a Guild, which he played every day.  One who has always enjoyed collaborating with others, Levene at the age of 16 met up with a 21 year old guitarist and Kansan, Dave Maxwell, who was living in London at the time with his family.  Dave practiced guitar, both slide and lead, alongside Levene in his living room and encouraged him to practice at least 8 to 11 hours every day.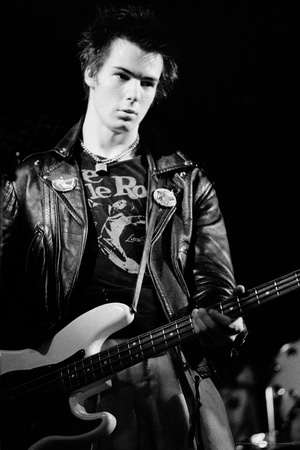 SID VICIOUS & JOHN LYDON: At approximately this time, the British punk rock scene had not yet fully hit London.  However, a few whispers of punk had hit the east side of New York City, through the likes of Patti Smith, Television, and the Ramones. Meantime, Levene was developing relationships with some of the individuals who would soon become the central figures of the British punk scene. "I first met John Beverley a/k/a Sid Vicious on the Tube in London.  In fact, we kept running into each other while we were on our own secret missions, and we liked each other's looks.  Sid really stood out," Levene explains fondly. Back then, however, Sid didn't sport his iconic punk look complete with his short, spikey hair. "When I first met him, Sid had longer, curlier hair…he was very Bowie-esque.  Sid was tall, thin, well dressed.  He would wear things like a granddad's green vest and pink trousers, and black leather and ocelot brothel creepers with no socks.  He looked great, and unlike a lot of others, wasn't trying hard to do so.  Sid pulled it off naturally.  Sid had tons of charisma and had a really great vibe about him," Levene recalls. After a while, the two Londoners struck up a conversation, and a friendship developed. 
"Sid took me around to a squat one day in Hampstead.  This squat was cold with no carpeting and probably a record playing. It looked like someone had arbitrarily thrown a bucket of black paint on the wall, with a few other colors splashed here and there, all topped off with some graffiti.  It looked quite artsy by today's standards." He goes on to explain that there were a few "punked-out" people strewn about. "So in walks in Sid, looking great, and myself, dressed probably like a stylized hippie.  And there sat John Lydon, who was Sid's friend from art school."
1975 Early Clash L - R:
Billy Watts, Mick Jones, Paul Simonon, Alan Drake and Keith Levene.
THE CLASH: Levene had previously seen Lydon on the burgeoning scene in London, where something was definitely "in the air," so to speak. "It's the mid-1970s, and this scene is developing in West London.  It was cool, we were all friends.  I met Mick Jones who was known as 'rock and roll Mick' at the time.  He thought I was a bass player at first.  When he found out that I was a guitar player, he told me 'I love you mate, you're the best thing that's happened to me.'  And then we went down Portobello Road together.  By then, the Sex Pistols had formed, and Bernard Rhodes decided he wanted his own thing.  So Bernard arranged for rehearsals for Mick and myself.  Then Paul Simonon, who was a really good artist, happened on the scene.  Paul didn't know how to play bass at first, but Mick would show him what to do…" Levene remembers. This burgeoning nameless band had a singer named Billy from High Wickham "…who was very Mick Jagger-like.  He was nice…a big guy…but all wrong for us.  We wanted a London-based band.  It just wasn't happening with Billy."
"But…there was this band on the scene called the 101ers.  There would be all these bands, and they were boring.  But the 101ers were different…Joe wore a zoot suit.  He was a bit older.  Joe had so much sincerity and motivation.  He was the best front man on the scene.  It was that simple.  Everyone knew it.  So Bernard and I went to a gig one night and we approached Joe and suggested he come around to Davis Road. Shortly after that, it was me and Joe in a room together…I'm facing him at close range, right in his face, and playing a bunch of tunes on my Les Paul Deluxe. I then played 'Keys to Your Heart,' one of Joe's songs, to him.  That nailed it.  He said he would join us.  Terry Chimes was on the scene.  So there you have it - there's the Clash," Levene explains.  Thereafter, a common occurrence at Clash rehearsals would arise during rehearsal breaks.  "Joe, Paul, Mick and Terry would be leaning up against the wall, outside Rehearsal Reharsals as Bernard named it in Camden smoking cigarettes.  Meantime, Bernard and I would be talking and arguing passionately about things…pacing up and down the courtyard.  I would say things like 'It doesn't matter, Bernard, if a guy has an actual Les Paul or a copy!" he laughs.". As rehearsals progressed, however, it became apparent to Levene that the Clash was not for him. 
"In the end, the band made more sense as a four piece than a five piece.  It was Mick's band plus Joe and Paul and a drummer.  That was truly who the Clash were destined to be," Levene states. Levene knew he needed out by the time the Clash played a gig at the Black Swan, which was referred to as the "Mucky Duck."  It was at this venue where Levene wrote "What's My Name" right on stage.  Also at this gig, Levene ran into Lydon again. "So John's sitting in one corner, and he's not talking to his band.  I'm sitting in the other corner, not talking to mine.  Both of us were totally miserable.  So I joked and said, 'well you look happy!'"  Then Levene confided to Lydon that he had one more show to do at the Roundhouse.  After that, he was "done" with the Clash.  Levene then suggested a future collaboration to Lydon.  "I said to him, 'I know this is never going to happen...but… if the Sex Pistols should split up one day, how about you and me?'  It was so unlikely at the time because the Pistols were the most important band around.  But he said 'well, I was hoping you were gonna say that.'"
AFTER THE CLASH: Soon after, the Clash performed at the Roundhouse, Levene left the band. He explained that there were no big arguments. It was just that the band wasn't for Levene, and that was that. "When the Clash made it big, I was so glad I didn't stay in the band," confides Levene.  The reason why I wanted to be in a band in the first place was that I didn't want a 9 to 5 kind of job with a band that did gigs constantly.  I have never wanted that lifestyle.  Even as big as PiL was, we didn't do that many shows.  But the Clash toured a lot, and their shows were so long.  I'm not saying the audience didn't love it.  They did.  But for me, I'm just glad it worked out the way it did."
After that, Levene "disappeared" for several months into the outskirts of London, and hung out with old guitarist friends.  Then he decided that a collaboration with his friend from the Tube was in order. Levene posits that the band Flowers of Romance could have been even more interesting than PiL due to the Sid factor, amongst other things. Flowers of Romance began to form after Levene returned to the London scene, with Sid as lead singer, and Levene on guitar.  Just as the band was starting to come together, however, Malcolm McLaren recruited Sid to replace Glen Matlock as bassist for the Sex Pistols. At first, Sid declined.  "But it had to be Sid, and the rest is history," states Levene. It is important to Levene to set the record straight regarding Sid's alleged lack of ability to play bass guitar.  "It's bollocks," he emphatically proclaims. In fact, Sid was a quick study at bass.  "Sid got it, such that he could go and play bass for the Sex Pistols. And guess what, he could play guitar, too!  He played through the initial pain of playing.  That was the motivation.  Sid understood that's what had to be done.  He wanted to be able to do it. You play through this pain and then you learn.  That's it," adds Levene.
Although Flowers of Romance never performed any shows, Sid and Levene wrote 'Belsen Was A Gas' together.  "That tune was very punk…probably the only punk song I've ever written," Levene states. Levene goes onto explain that Sid had very specific views on music. "Sid believed if you are going to cover a song, you have to do it exactly the same, or completely different -- which is what he did in Sinatra's 'My Way.'  Sid did it his way.  He did it like Sid," recalls Levene.  After Sid left, the Flowers of Romance ended.  Levene explains that there was absolutely no way the band could have continued without Sid. "Sid was essential.  I knew it.  Why drive something further into the ground when it's already there.  Let it rest in peace, I say.  That is why I will never understand why some artists believe that the almighty pound note takes precedence over integrity," Levene explains.

One day in 1978, after the Sex Pistols disintegrated on that Winterland stage in San Francisco, Levene was on Albany Street when he ran into Paul Young, who would later be immortalized as the subject of "the Suit" in the Metal Box.  Young asked "Keith, where have you been?  John 's been looking all over for you!"  Two nights later, Levene met up with Lydon at Gunter Grove, and the concept of PiL started to take root with Levene on guitar and Lydon as lead singer.  "Then John Gray said 'wouldn't it be great to get Wobble to play bass, even though he can't play,'" remembers Levene. Lydon responded "well, Keith, what about Wobble then?"  to which Levene responded "it has to be…yeah." The final piece of the PiL puzzle involved selecting a drummer, and auditions for said position were subsequently held at a rehearsal room in London.  A long queue of drummers were lined up and down the stairs at an audition site.  Three drummers came in, each of whom were quickly rejected.  Then a handsome Canadian by the name of Jim Walker strolled into the room.  "Jim had it in spades...he was overflowing with it," Levene remembers.  After Jim played "for about eight seconds," all the other applicants were sent away.  The original PiL foursome was now in place. 
"It was a great thing. The record companies were waiting. We could do what we wanted. We were trying to form a company, not a band.  We said that from the beginning. This harkens back to the original concepts Bernard and I had addressed.  That's why it was called 'Public Image Limited' and not merely 'Public Image.'  It was like a limited liability company.  We had a secretary and four board members, not band members." Levene says.
Levene's five years with PiL were, in many ways, some of the most amazing times that he has experienced to date.  "It was a magical time. I think we stepped up to the plate. We didn't develop the 'safe Pistols.' With the first album we said, we're done with rock and roll.  We did something completely different. PiL was definitely what I was looking for," Levene explains. Before it became an essential element to the prototypical 1980s-era bands, the synthesizer was employed by Levene in 1978 in the band's debut offering, aptly entitled First Issue.  A synthesizer  popped up in "The Cowboy Song," the B-side to "The Public Image."  Levene continued to use a synthesizer on various tunes on PiL's second album, the Metal Box.  "Even on 'the Suit," Levene explained, "there was no guitar.  It was a synthesizer."
Following Levene's departure from PiL in 1983, he released work as a solo artist including on Violent Opposition and Killer in the Crowd, collaborated with other performers, produced other acts, and scored music for film.  For a time, he also pursued a career in information technology, an area which has long fascinated him. 
PRESENT & FUTURE: In 2011, Levene began the process of addressing "unfinished business" by, for example, teaming up with Jah Wobble for purposes of planning a series of MBiD shows. Although one MBiD stop in 2012 was Japan at the Mount Fuji festival, Levene firmly believes that he still has business to address in Japan, specifically Tokyo. "It is my ambition to play live in Tokyo," he explains. His objective is to do so in 2013, which would be 30 years exactly from the date that he was originally supposed to perform there.  Levene is also contemplating live dates in other cities, and is toying with the possibility of using local artists rather than bringing a group of musicians with him.  As one who enjoys jamming with others whenever the opportunity presents itself, Levene would like to organize workshops for musicians of all ages and skill levels in the towns where he performs live. Moreover, there are a number of interesting and robustly creative people that have surrounded Levene in recent years, some of whom have never picked up a musical instrument in their lives.  "I'm thinking, I've finally got my crew…my Purpose in Life...my PiL," explains Levene.
"The best part is: I didn't even plan it, they came to me." Central to Levene's current Purpose in Life is his sister, Jill Levene, a talented and innovative artist.  Jill, a graduate of St. Martin's School of Design in London, created clothing that was worn by her brother, Wobble, and Lydon during the late 1970s.  At the present time, Jill is designing one-of-a-kind textured packaging for Keith's upcoming releases.  She also facilitates all aspects of design regarding artwork and packaging for her brother. "The two of us are carrying on our father, Harry's, clothing business in a way that we could never explain to him," Levene points out.  Levene's very unique guitar-playing style has been described as "weaving," just as his father, a talented tailor, would weave striking clothing designs, while Jill uses her talents to create exquisite textured patterns. "It's amazing just how much fathers live in sons…and daughters," Levene ponders.
Additionally, Levene is working on a number of interrelated releases, such a series of solo tunes on vinyl. First up is a project entitled "Search for Absolute Zero," which according to Levene, is a good launch into the future.  A haunting instrumental piece, the album's title track and other tunes seem to pick up where Commercial Zone left off. Levene has also been writing a film, which has a working title of "Camera Dodgers."  In addition, he has recently collaborated with Mark Stewart, Julie Campbell, and Jah Wobble on other projects. His plate is becoming increasingly full, but that's the way Levene likes it.
"I started doing things in music because I wanted to, not because I could get a deal.  Friends of mine have asked 'how are you going to get paid, Keith?'  I respond, I don't know…I don't care... I just have to do it.  Budgets for the things I have wanted to do as of late have seemingly fallen in my lap.  In the end, I just want to do what I can - while I still can." 
"At this stage of the game, I'm going to do exactly what I want.  I encourage everyone else to consider the same.  Pursue your dream.  Believe in the magic." Levene says.
For further information on Keith, visit his website at www.keithlevene.com, or drop him a tweet @missingchannel or email info@keithlevene.com
Interview/feature by Kathy DiTondoPersonal photo taken in Florida by Kathy DiTondoKeith live by
Fabio Lugaro -
www.flickr.com/photos/fabiolug 
[All other images credit unknown]