When a group of musicians have taken the decision to form a band with serious aspirations, just how many of them hit on that elusive, alchemic formula to success straight away? If I were a betting man, I'd probably say less than 10%. Surely the path to worldwide recognition hinges on a number of variables such as agreeing on their sound, performance chemistry and attaining exposure to their target audience? Nowadays, the internet can assist greatly with the latter as the Arctic Monkeys found out to their credit.
Even some of the greatest bands didn't get it right straight away. Oasis, for example began life as 'Rain' and were heading nowhere fast until a combination of a change of name to 'Oasis,' incessant practising and non-stop gigging in their locality eventually got them noticed. Bloc Party are another that changed names for four years before settling on Bloc Party and that, coupled with a chance meeting with Alex Kapranos of Franz Ferdinand enabled them to provide him with the demo to their track 'She's Hearing Voices,' which he handed to his record label. This brings me on to the Lost Souls Club, two of the band's members, singer Jon Tufnell and guitarist Simon Jackson spent five years performing as 'Plastic Toys' and made the decision that in order to keep playing together, they'd have to change their sound. Therefore, together with some old friends they entered the studio, stripped their sound back and changed their name to The Lost Souls Club, the results of which are spectacular.
Every now and then a band comes along that knocks you about the head a few times and leaves you wondering what just happened, whilst demanding that you take immediate notice. The Lost Souls Club are such a band. Their deep, dark, swirling sound embodies the dirty, raw rock and roll of Black Rebel Motorcycle Club, the fuzz/drenched reverb of the Jesus & Mary Chain and the sonic theatrics of Nine Inch Nails. They have, to date, released two EPs alongside two standalone singles on iTunes. Their first EP, 'High Noon' is breath-taking. Opener 'Romeo' is a classic up-tempo rock track with an immediate main riff and propulsive drumbeat, which opens out into a driving chorus thereby administering the aforementioned blow to the head. But it's 'Kiss Away the Sun' and 'I Know I Spoke Too Soon,' which are the standout tracks. 'Kiss Away the Sun,' gently rolls like a slower cousin of BRMC's 'Whatever Happened to my Rock and Roll?' building to a glowing chorus against which chimes an almost supernatural guitar lick. 'I Know I Spoke Too Soon,' is a stunning swirl of noise which envelopes and washes over the listener opening out into a chorus of regretful refrain, all the while accompanied by bursts of synth and wrapped up in a moody, lo-fi bubble.
Having made such a statement of intent with 'High Noon', they performed an immediate about turn. Their second EP, The Storm Sessions deliberately eschews their distorted, adrenalised rock and roll and replaces it with a laidback collection of songs, which literally reek of seduction.  This is certainly a risk and for most bands, this would be committing career suicide having already pitched their style to their audience. However, The Lost Souls Club are no ordinary band. This is an EP of music richly dipped in whiskey soaked, rootsy Americana and in many ways is evocative of BRMC'S very own similar moment when they released 'Howl' in 2005. The third track and midpoint 'Heathen' is the standout track and manages to sound altogether menacing with guitar chords that actually sound as if they're trying to strike out violently. 'God Knows' has some vocal harmonies, which are so haunting it's as if the song itself was recorded in the underworld, indeed it sounds as if the inhabitants are desperate to join in! Even in it's lighter moments it still glows with a sinister edge and by the end of it all, you're left wondering whether they should unplug their amplifiers for good, such is how spectacular the results are! By the time you've listened to both EPs your left feeling as though you've been tied to the back of the horse that they've ridden in on and dragged through a sandstorm. You need no further introduction. The Lost Souls Club are special and they will be massive. Intro/review by Matt Crane
Here is a short interview with Jon Tufnell (lead singer) of The Lost Souls Club, specifically about the Storm Sessions EP.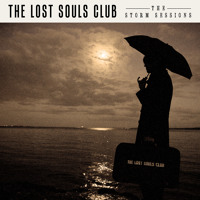 EVA: What were your reasons for making this EP acoustic?
JON: James and I had been writing acoustic songs since the start of the band, but as we usually only got 30-40 minute sets we never had a chance to really use them so they always ended up being put to one side. One weekend with no other commitments we decided to record a few. As soon as we began the weather changed and for 3 days there were continual storms, so we just kept going. The mood was very fitting and the songs sounded better than we expected so we ended up with 5 songs fully recorded and mixed.
EVA:  What do the tracks on this record mean to you?
JON: All the songs are very personal to me and James. Lyrically I think the songs are incredibly open and there isn't much hidden, very soul bearing. The fact these were so spontaneously recorded and the session was so intense makes the whole weekend feel like a surreal dream.
EVA: What are your best memories of recording it?
JON: My main memory is of the mood surrounding it. Recording can sometimes feel very cold and drawn out and its often a fight to try to maintain a vibe, but this time we just had the situation thrown at us and the whole thing felt really creative without any effort.
EVA: What are your plans for next year?
JON: Right now our plans are very up in the air, but our main aim is to record all the new material we have been writing and tour it as much as possible. Simple really.
www.facebook.com/thelostsoulsclub
www.thelostsoulsclub.co.uk
Interview by Eva Jostakova
[photo provided by Jon Tuffnell - by Scott Chalmers]
Intro piece by Matt Crane