Our reviewers have been working hard to bring you this round up of new albums, offering something for everyone. More extensive reviews and in depth analysis, so hats off to the team of writers this month, who are ….Den Browne, Lee McFadden, Mike Ainscoe, Nigel Cartner, Murray Fenton, Andy Barnes, Paul Hastings, Brett Dunford and Kate Sheard.
Bitter Springs - Everyone's Cup Of Tea
Band of Holy Joy - City of Tales, 1985-2012
Klaus Dinger & Japandorf -  Japandorf
Billy Bragg - Tooth And Nail
Heidi Talbot - Angels Without Wings
Bullet For My Valentine –Temper Temper
Steve Hackett - Dark Town
Faustus - Broken Down Gentleman
The Courteeners - Anna
My Bloody Valentine – MBV
Mad Season: Above
How to Destroy Angels: Welcome Oblivion
Pure Love: Anthems
The Virginmarys: King of Conflict
Pissed Jeans: Honeys
Transvision Vamp - Pop Art / Velveteen
Buckcherry - Confessions
Voodoo Swing - Fast Cars, Guitars, Tattoos and Scars
The Delta Bombers - Wolf
Agnes Szelag and Jason Hoopes - October Pieces
Bitter Springs - Everyone's Cup Of Tea (Harvey Records)
Spring seems a long way off as I sit indoors in my woolly hat, frostbitten fingers fumbling across the keys… but luckily musical salvation's here, like a St Bernard with the brandy. The music gods have decreed that the Bitter Springs and the Band of Holy Joy should simultaneously release new records. They're both double albums, packed to overflow with musical and lyrical ideas. There are strong links between the two groups - taking in Subway Sect along the way - gigging together and guesting on each other's records. "Everyone's Cup of Tea" has been a long time coming as an album, due to all kinds of problems along the way, which meant that there's been a steady trickle of singles and downloads over the last couple of years. They're all here, but remastered to very good effect, and should hopefully make up for some of the frustrations along the way. This is the fullest, best-produced Springs sound I've heard yet, deeper and richer than before, with skilfully added brass, Hammond organ, strings and electro fx, making a really powerful patchwork of sounds and textures. Think Love c. "Forever Changes" meeting Tindersticks in a Thameside boatyard as Dexy's chug past on a tugboat… Meanwhile "City of Tales" has also been a while coming - the first part dating from 1985, and the other half as here and now as a papal resignation or a horsemeat sandwich.
Bitter Springs main singer Simon Rivers is an incredibly prolific writer, scribbling ideas down as he does his post round, composing little miracles of compression and wordplay, all set to catchy simpatico tunes. The double set comprises two discs, 13 songs each (and probably a lot more left out). The first disc - "Everyone's Cup of Tea" itself - kicks off with "Better Offer", driven by some stormin' Hammond organ. Then, just as you're tapping a foot to the wah-wah guitar and synth motifs, you pick out snatches of lyrics, "Softly Marvin tells his Dad…", that subtly take the song in another direction, so compressed but so evocative. Keep the lyric book handy, it'll come in useful.
"Cruel Britannia" has a brassy upbeat Kinks feel to it (trumpeter Terry Edwards - Tindersticks, Gallon Drunk et al - is one of the heroes of this album), providing a subversively jolly take on the state of the nation, "So little contentment" indeed…"My Life as a Dog in a Pigsty" is one of the strongest tracks on the album, and I'd venture one of the best songs by anyone for a very long time. Gorgeous arrangement too - brass interweaving with dubby melodica - and some great wordplay, both serious and comic, and then suddenly, mid-song it takes off, transcendent, soaring above the river and the City, sweeping thru history: "I travelled the Docklands Light/ The buildings that swallowed the sky/… Flies filled the pizza canteen/ In the health and fitness suite/ Where ghosts of long-dead dockers/ Join guests on the running machines". I could go on a lot more about the lyrics on this album, but I'll rest my case there.
Several songs go for a historical, narrative approach - notably "Lifeboat Man", "The Wounded" and "The Life and Not Entirely Uneventful Times of a McAlpine Fusilier". You won't find many songs these days about lifeboat men or the navvies and labourers who mapped out the land in road, rail, and canal back in the day. "Don't Write a Song" bursts with all manner of West London atmosphere, references and angst, and Johny Brown joins in as the Birdman of Wormwood Scrubs.....The first time I saw the group live, I was stopped in my tracks when they did a stunning version of Bobby Womack's "Harry Hippie", one of my all-time favourite songs and a very poignant take on addiction, friendship and when it's time to move on. Done wrong it can come across as maudlin and sentimental, but done right - as here - it's a real heartbreaker. Simon's added lyrics relocate the song to your local drug-spot, and its real lump-in-the-throat stuff by the time Harry gets his final kiss-off.
The second disc - "The Bitter Springs Ruined My Life" - comes from a 'making of the album' DVD about "Everyone's Cup of Tea", and is generally darker, more personal and less upbeat than the first disc. There are some great revisits to some of the recent singles like "Sirens Every Day", its skewed reggae sounding just like the "penguins dancing on harpooned whales" of the lyric. There are some gorgeous quieter moments too, like the "Midnight Cowboy" vibe of "Free to Kill Again", "The Hospital Run" (a personal favourite) and "Our Ghosts". Back in the dub/remix zone, there's a further instalment in the "And Even Now" saga - "White Noise" (will we ever hear the legendary 18 minute version with Vic Godard?), and "TV Unplugged", a dub "version" of the great "TV Tears" single.
Bitter Springs have really raised the bar from what I've heard before - other positive reviews suggest that at long last the word is getting out about what's happening on the riverbank. The group's greatest strength - Simon Rivers' song writing and storytelling - is at full strength here, while the rest of the group - Phil Martin, departing Daniel Ashkenazy, Paul Baker, Paul McGrath, Nick Brown and Andrew Deevey - match the lyrics with their music. The additional elements - Terry Edwards' "joyous horns" and the 'wild mercury sound' of assorted keyboards - are the icing on the cake. I've already heard someone coming out with the cliché "There's a single album struggling to get out of every double album" about "Everyone's Cup of Tea". Oh yeah, Electric Ladyland? Exile on Main Street? Blonde on Blonde? Bitches' Brew? London Calling? Anyway I'd suggest this is more like a box-set of "The Wire" - you aren't going to sit down and watch that all in one go, and in the same way this is like a collection of short stories to suit any mood or time. Review by Den Browne
Band of Holy Joy - City of Tales, 1985-2012 (Exotic Pylon Records)
Meanwhile I'd been wondering how the Band of Holy Joy would follow up their 2011 masterpiece, "How to Kill a Butterfly", a record so powerful and complete that it couldn't be followed by more of the same. It's a pitfall they adroitly side-step to produce something that's old, new and different, but at the same time unmistakably Holy Joy territory. "City of Tales" comprises a (very limited) two cassette version. The first part comes from a recently rediscovered 1985 cassette - appropriate for the group's love of found sounds and images - painstakingly remastered by James Stephen Finn while the second is new material. The two parts of "City of Tales" book-end the time span in a fascinating way, from the Live Aid high-water mark of 1985, to the present, where Thatcher's a distant senile memory, but the shadows around us grow closer and darker every day. The received wisdom/shorthand version now of 80's music is that it was all Duran Duran-style plastic pop dominated by syndrum splashes, ferocious wannabe's like Madonna, or Phil Collins-style bland-out. But extreme times produce extreme reactions, and thus there was a strong rejectionist tendency against the Reaganite pop and the Thatcher Youth "Loadsamoney" culture of the day. Back then signing on could be sustained indefinitely with a little wit, and squatting wasn't the 'criminal offence' it is now. Large sectors of the city, like Peckham in SE London, were abandoned by the mainstream and became fertile ground for disaffected but creative youth to gather.
Among them were the Band of Holy Joy, picking their own way thru the wreckage and the skips - searching for old musical instruments, most likely - in their quest for beauty, inspiration or oblivion. One of the main musical counter-cultures of the time was the Industrial scene associated with people like Einsturzende Neubaten,Throbbing Gristle and fellow Peckham residents Test Dept. Combined with the appearance on the market of the first wave of Casio-style keyboards, samplers and synths, it was a short step to combine metallic percussion with synthesised sounds that totally evoked all-nite sessions in basement squats, electronic sounding water dripping from the ceiling and running down the walls.
The album comes in the form of two cassettes (remember those?), nestled in a talking-book style box, lovingly sealed in hazard tape, designed and assembled by Holy Joy's Inga Tillere (or you can get the download at www.exoticpylon.com). There's a frequently dank, unsettling feel to the music, with Johny Brown's voice and lyrics often quite deep in the mix, making it sound like he's trying to fight his way out of a basement full of electro drones and bleeps. It's all very much about finding a way with all the new gear and sounds in the chaotic context of the time - it's all about the Moment, letting go, repeating something until it takes on a new identity, and nothing to with sterile 80's studio pop. Other Holy Joy agents at the time were Brett Turnbull, John Jenkins, Max Davis, and Martine Thoquenne. The title track - "City of Tears" - is like an invocation, and one of the clearest statements on the album, speaking to "All you broken sorry people … Come tell me your stories … All you people who have disappeared … I will resonate to your voice, I will enter that dark place",  intoned over what sounds like a music box playing some crackly Toytown tune. Opening track "Vanish Everyone and Leave the Child Alone" is like a search for consolation "amidst shabby buildings that tower," before hope is swept away by insistent crescendo shouts of "You must be out of your mind". The anxious percussive rattle of the next track, "Ill Gotten Gain", sets the tone for much of what follows, battling it out with accordion and wobbly synth loops and pulses that nag like falling rain.
Sound wise, I've mentioned Test Dept and co. There's also a lot in common with people like Cabaret Voltaire, exploring/operating in similar territory, "Pornography"-era Cure, post-Soft Cell Marc Almond, and anticipates a lot of the music that would come out later in the decade on the great 4AD label. Thus things get more intense and less controlled on tracks like "And Things That Speak in Tongues", where "Nightmares rain cats and dogs" with its desperate circus-ring keyboards and deranged cries of "Whisky and Gin!" before a cool electro fade-out brings some relief. "Great Binge" takes a jaunty keyboard stroll through a "Summer of drugs and drunks and casualties", belied by the frantic drowning man vocals, struggling to keep above the simmering synths and keep the come-down at bay … but not for long, "Shabby Affair" - wispy harmonica, spoken words, paranoid synth squawks and tremors, all contend with a plinky xylophone to generate a repetitive, tense speed atmosphere. "Fishwives" is equally unsettling - a lowlife tale of "Beggars thieves whores", with Johny Brown's disgust-laden voice sounding like he's been locked outside while the music continues its sinister path. Long-established live favourite "Rosemary Smith" brings further comfort, with its tender and affectionate account of an overlooked life and sea-shanty feel - it's probably as close to optimism as the album gets.
And so fast-forward to the present for Part Two - the dreamer awakes and looks around. Thatcher's gone but things are probably worse. You could probably do most of the 1985 cutting-edge synth/sample things with a laptop or phone app now. Peckham will always be Peckham, but the old squatting sub-culture's been swept away, and now everything has a price tag. Celebrity at any price is the goal now, however brief and degrading the process, Jodie Marsh, Katie Price and Kerry Katona the role-models. The present day Band of Holy Joy (Johny Brown, Chris Brierley, Inga Tillere, James Stephen Finn and Jon Clayton) survey the not-so-glittering prizes, invoking the old power of music to keep the alienation at bay. There are themes that run through the album, a kind of resigned despair that at times breaks out into sheer desperation in the lyrics, sometimes repeated and mutated till they lose their meaning and become subsumed to the rhythm. Musically, the sounds veer between gnarly electro pulse beats and some rather decorous keyboard and string arrangements. Overall there's a really immediate feeling to it all,  like a blog or diary recording and reacting to the darkness and creeping corruption.
"Empty Purse Found in Hotel Lobby" sets the tone, synth beats twining around Chris Brierley's violin motif. Johny Brown declaims the words rhythmically, "Sordid vicious world/ Violent drunken strangers". The mood intensifies with "Actress Puts the Accent On Authenticity …", with more tense percussion and electro pulses, the "Dirty Pebbles/ Uncut diamonds" of the verse breaking down first into a call and response of "Dirty - Beautiful", before dissolving into a wordless howl as Johny Brown discovers his Inner Wolf! "I Have Travelled The Buses Late At Night" is a more lyrical, universal view. Along with a couple of other tracks like "Will These things See You Right?" or "Be A Stranger" this is probably closer to the old school Holy Joy sound. Violin caresses the piano melody while the lyrics float by, "I have travelled the buses late at night/ I have seen the rich take the goodly fight/ To drive the poor nearly out of sight/ And bathe the streets in a clean new light." There's a similar feeling of quiet sorrow to "He Ordered Her to Spit Like a Porn star", where sedate piano and subtle violin counterpoint the detached brutality of the scene described. The feeling of detachment recurs through many of the songs, though more in the sense that it's the only way to handle these situations without being sucked into the pain and craziness - explored further on "Met Police Tried to Hide PC's Disciplinary Record", this time backing the deadpan voice with an incongruously gentle banjo/mandolin/violin folk/ballad setting. I can't finish this without mentioning a favourite moment here, probably the most "unHoly" piece on the album, so minimal is it lyrically and musically - "Traders Losses Double To 4.4Bn" - with its repeated insistent chant of "Hard Fat Rude Loud/ Skinny Vain Thick Nasty". If in doubt watch Prime Minister's Question Time.
The long gap between the two albums produces a series of intriguing echoes and separations. Where the first album innocently and unselfconsciously revels in the edgy creativity of the squat zone, the second tape steps back and acknowledges that now we can't escape society and simply turn our backs on what we don't like. A song like "It Just Beats Up Their Heart He Said" takes a tougher, nastier view of getting wrecked, when getting high has given way to sordid OD's and chemical cocktails - finally breaking down into a mantra of "Things Fall Apart", repeated with increasing desperation over a boiling mix of sinister freestyle keyboards, ringing 'phones and chaotic shouts. Tape Two reflects so much of what went before, but knows that more is needed now - sure, you can still get wrecked like before, but 27 years later, you know that the crap you were trying to escape will still be there the next day, and anyway, getting smashed every day can get just as oppressive as going to work every day. What are you going to do now?

This is a great album fully reward the time it takes to listen and get into. Band of Holy Joy adroitly side-step the dangers of doing "How to Kill a Butterfly, Part Two" with a really original piece of sonic excavation and restoration, allied with some of the sharpest social commentary you'll hear all year. Review by Den Browne
Klaus Dinger & Japandorf -  Japandorf (Groenland)
Klaus Dinger, of the hugely influential Neu!, kickstarted Japandorf in 2000.  Collaborating with Japanese fine artists based in Dusseldorf, his idea was to create music with essentially non-musicians. This was to be a long but ultimately rewarding process, resulting in three albums' worth of material. "Japandorf" is the last recorded collection of tracks, but the first to be released – "Pre-Japandorf" and "VIVA Remix 2010" will undoubtedly appear in due course. "Japandorf"'s appearance is a revelation – Dinger's untimely death of a heart attack in 2008 came prior to the completion of the sessions. Kazuyuki Onouchi and Miki Yui (Klaus' vocalist and partner)  finalised the recordings of all three albums in 2010.
The album is a difficult one to review. As "Japandorf" opens the trilogy of albums, obviously there is no reference against the forthcoming material and therefore impossible to see how this album sits in conjunction with the rest. Within itself, "Japandorf" is revealed as a pot pourri of odds and ends rather than as a complete, coherent whole. "Immermannstrasse" is an arresting opener, effectively addressing Klaus Dinger's modus operandi for the project – a vital fusion of Neu! style motorik and Japanese indie. "Udon" is another fully fledged track in a similar vein – amusingly dedicated to the instruction of cooking Japanese noodle soup. "Karnival" – the last track Klaus Dinger recorded – is more conventional in rock/indie tone, and confidently emits the uplifting atmosphere as befits its title. "Cha Cha 2008" – a reworking of Klaus' 1978 track "Cha Cha 2000" – could have benefited with editing and reigning in, but remains an interesting curio. Other recordings may have been included for sentimental reasons. "Sketch No 1-b" and "Sketch No 4" adequately describe their content – unfinished sketches for future songs – unrealised backing tracks. The poignance of these is obvious and understandable, but whether the tracks themselves stand up on merit is questionable. "Kittelbach Symphony" fares a little better in this regard, but one is left still feeling bereft at its thwarted potential.
I wonder whether a compilation of the Japandorf trilogy would be a more beneficial tribute – as with this opening album the unfinished recordings jar against the sufficiently mastered creations. An album that in its present state leaves more questions than answers. Review by Lee McFadden
Billy Bragg - Tooth And Nail (Cooking Vinyl)
As a teenager in the eighties, Billy Bragg's songs sang to me in my own voice – both literally and metaphorically. His political tunes gave a weight and substance to my own fledgling beliefs, and his love songs bristled with a warm mixture of humour, pathos and stunning originality  - and it was astonishing to hear these songs delivered in my own accent, as we both hail from the same London borough (Barking & Dagenham). Even if some of his songs may have been fictional stories, his authenticity in his delivery and his incisive lyrics allowed each track to sound achingly personal. In the promotional material for "Tooth And Nail", Billy Bragg issues this quote – "In 2011 I took a long hard look at who I was and what I do. This is the result".  On this basis, the album should repeat, if not exceed, the raw naked emotiveness of those inspiring early records. Regrettably, for the most part, it fails to attain that worthy standard.
With the exception of one song, Billy Bragg's Barking-based tones are absent. Instead we have Billy Bragg the country singer, with a weary affected American drawl – and in the opening number "January Song" crooning such corny US terminology as "standing on the sidewalk". His admiration for Woody Guthrie seems to have overtaken his own identity – and the inclusion of Guthrie's "I Ain't Got No Home" is forgettable and pointless. "Swallow My Pride", "Over You" and "Goodbye Goodbye" are limp, cliche-filled, third rate Nashville facsimiles. "Chasing Rainbows" compounds this by adding the most unimaginative pedal steel guitar – the result too frustrating to recount. "No One Knows Nothing Anymore" reveals Bragg at his contemporary best, dealing with today's issues of the Hadron Collider and the financial crisis – but as with "Tomorrow's Going To Be A Better Day", the erudite lyrics flounder in the attempt to provide a resolution. Maybe this is the message he is conveying.
"Your Name On My Tongue" sludges through as a tired dirge, and "There Will Be A Reckoning" strives to make a valid point but is ultimately confusing. The two highlights are "Do Unto Others" – which is admittedly heavily country-influenced, but it beautifully illustrates that the simple motto of "Do Unto Others As You Would Have Them Do To You" is sacrosanct whatever one's beliefs may be. On that note I'm happy for Bragg to criticise this review if he wishes – it's only fair. "Handyman Blues" is the only track on "Tooth And Nail" where the Barking brogue makes a welcome return. His stance on being a failed home handyman should guiltily strike a chord with many – myself included.
Overall, despite Billy Bragg's proclamation, "Tooth And Nail" unveils itself as a disappointingly impersonal album. Billy Bragg as potential Nashville legend doesn't sit easily at all. Review by Lee McFadden 
Heidi Talbot - Angels Without Wings
'Angels Without Wings' is the new album of original compositions from Irish folk singer Heidi Talbot complete with contributions from special guests from the worlds of folk, pop, rock and bluegrass. Her first album since 2010's The Last Star, the new material sees her writing and recording with more confidence and taking the songs in places where the traditional boundaries are stretched. To capture the natural spontaneity and feel which comes with performing live, the album was recorded live in Glasgow's new Gorbals Sound Studios with her usual band  of Ian Carr (guitars), Phil Cunningham (Accordion), Michael McGoldrick (flutes/whistles), James Mackintosh (percussion), Boo Hewerdine (acoustic guitar) and Ewan Vernal (bass). The release also features mark Knopfler – with whom McCusker has previously toured, bluegrass legend Tim O'Brien, Scots singer Karine Polwart and Nashville guitarist Jerry Douglas, while McCusker also takes credit for production duties. Although there are some big name guests, their performances are very low key and not merely selling points. Anyone expecting to hear, for example, Knopfler's world weary tones or some of his distinctive picking might find themselves disappointed, although he has a much more low key approach to his own music these days. The sounds combine a collection of influences from her Irish roots to those which have wound their way into her subconscious from her time living in the USA and as she is now established in Scotland with husband and acclaimed folk musician, producer and composer John McCusker, the Celtic influence is laying its claim again. Almost a travelogue album which skips through and dips in and out of Americana, country and bluegrass, traditional Scots, English and Irish folk and with a nod to influences from elsewhere and beyond. You can maybe take the girl out of Ireland but you can't take Ireland out of the girl – the constant is her distinctive Irish brogue which shines through.
What we have is a solid album showing off what she does well, but one which takes the opportunity to make the most of her special guests and extend if not quite challenge the mainstream folk genre. Nothing controversial, but on which tracks does she branch out then??? Well, if the immediate thought is that you're going to be listening to songs which don't follow the traditional or tried and tested folk path, the title track for one has you raising the eyebrows a tad. It has a very evocative Parisian feel with its slowly swinging accordion and acoustic guitar chops;  just close your eyes and you're sitting at a pavement table nursing a cognac, the sun setting across the Seine as the soundtrack of Heidi singing about angels without wings drifts dreamily through the smoke and out of the open doors of the cafe. As she sings – "it's the sound of passing time."
Picking out some of the other tracks,  New Cajun Waltz is exactly what it says on the tin and reflects the title track in that the influences which have shaped the song take its performance  beyond the expected. Where the songs are much more in line with what you'd expect, we get  the likes of Button Up which features prolific Scots singer songwriter  Kenny Anderson (known more commonly by his stage name King Creosote)  who wrote lyrics for the track,  while the delicate The Loneliest includes a lovely  duet with another Scot, Louis Abbott of Admiral Fallow. This is the definitive tug-at-the-heart-strings track on the album which gets the added emotional impetus from Michael McGoldrick on flute, as the lyrics convey a lament of isolation and the need for sharing the grief of which they sing. A very unassuming and unpretentious recording and possibly a low key highlight of the album. When The Roses Come Again is the Americana and country tinged song where the guests feature most strongly. Melancholic violin accompanies some delicate guitar picking  as Heidi and then Tim O'Brien take verses and duet on the chorus. If Knopfler hadn't been mentioned you'd never notice his presence.
Fans of the more commercially successful folk acts will appreciate Will I Ever Get To Sleep which includes a couple of Bellowhead style brass injections alongside the whistle and easy Caribbean style rhythm  while closing track Arcadia drifts into Kate Rusby territory with some gentle brass backing following the soothing and dreamy opening. It rounds off an album which consolidates Heidi Talbot's standing in the folk world and shows the confidence she has in allowing her own performance to outshine the bigger names who grace the album. Review by Mike Ainscoe
Bullet For My Valentine –Temper Temper 
The fourth album from Cardiff metallers which find us three years on from Fever - regarded by the band and their fanbase as having a slightly more dark and heavy tone. Undoubtedly on the more challenging and  heavier side of the hard rock/metal tag they give themselves. The new release has taken another turn as the pervading sound of the new material is much toward the other end of the spectrum to their previous work.
The title track, Temper Temper was the last song to  be completed during recording  but was released as a digital teaser back in  November in the UK and was debuted live by the band on October at BBC Radio 1's Rock Week when they performed at Maida Vale studios. As such, it might have been a bit of forewarning of the direction which the band have taken on this album.
Anyone who had a chance to get online to  AOL's 'noisecreep' would have seen a track by track interview featuring a couple of the band talking their way through the album. When discussing the opening track Breaking Point they refer to the track  having lots of swagger and being representative of  everything BFMV do well and how they feel it may well be best track on the album. It's that BFMV combination of hard rock and metal influences which are encapsulated in the one song. What is missing on this track and throughout the album and perhaps untypical of BFMV is the trademark 'screamo' singing or what Dream Theater's Mike Portnoy calls 'cookie monster' vocals. It might be argued that the sound is undeniably more toned down from their more hardcore standard and unquestionably much more commercial.
On songs like Dead To The World and Dirty Little Secrets, the songwriting and performance lapses  into a more delicate and more mainstream side; an attempt at sublety which doesn't sit comfortably with what you'd expect from BFMV. It might be quite hard to say but this album is a departure or experiment if you like,  which has resulted in, without beating around the bush, a middle of the road album that dilutes the hardcore sound which typifies what the band do best. Then there's p.o.w (prisoner of war) which attempts to do something different, but which unfortunately has been done before (and much, much better by the likes of Dream Theatre). 
Given the rather conventional nature of the songs, it's doubtful that this album will elevate them more into the public eye or give them the impetus into becoming the next big thing in the metal genre. It may even alienate some of their more critical fans who may not buy into the direction they've taken. BFMV are out on tour from now until August with their own gigs and the usual festival appearances over the summer. It will be interesting to see how they structure their setlist and how these new songs evolve in the live setting.
Whether they have the longevity or enough vision and  talent to take on the mantle of being  a new Iron Maiden or the new  flag bearers of the metal generation – well, the jury's still out. Temper Temper doesn't promote BFMV's standing beyond just another promising, yet run of the mill band whose progression has flattened a little, and just adds more of the same to the standard fare of hard rock/metal genre. While the likes of some of the new pretenders such as the Black Veil Brides start to scream for attention, BFMV maybe need to think again. Review by Mike Aincoe
Steve Hackett - Dark Town
Even though his relatively short six year span in Genesis ended over 35 years ago, Steve Hackett is still oft referred to as the 'ex-Genesis guitarist'; maybe a testament to the work he did with the band during their 'classic' era. Having recently re-emerged with a tribute to his past in  the expansive Genesis Revisited II album, combined with an upcoming high profile tour from April to October, taking in Europe, the US, Japan and being bookended with stints in the UK (some of which are already sold out) the Hackett star is currently shining brightly.
At the end of February, Inside Out re-issued 7 of Steve Hackett's solo albums to add to those remastered and re-issued back in 2005 and 2007; this time we get Til We Have Faces, Guitar Noir, Darktown, Feedback '86, To Watch The Storms, Wild Orchids and the first Genesis Revisited album. The CDs are all packaged in 6 panel digipak sleeves and span a 21 year period from 1984 to 2005. All the re-issues contain no additional musical extras apart from Darktown which Steve's wife Jo Lehmann kindly furnished us a copy of – signed by Steve to boot!
Released in 1999, Darktown picked up very much from some of the themes of his previous rock album electric rock effort, 1993's Guitar Noir, although bearing some, if not all of the Hackett trademarks; tasteful yet searing guitar solos on the likes of Sierra Quemada, a new Hackett development saw him beginning to delve into  more atmospheric pieces in the likes of  In The Heart Of The City and Dark As The Grave. Similar themes and sounds were to crop up again on Darktown with its ominously threatening sleeve art, the sinister subject matter of  some of its lyrical themes and its sales pitch of  'a nightmare theme park of an album from a man truly possessed.'
Alongside the shock of the opening Omega Metallicus with Hackett's guitar duelling with a drum and bass attack,  the contribution of future collaborator and keyboardist Roger King started to have a major  impact. The melodic Hackett started to reappear in tracks like the lengthy Twice Around The Sun and the lovely guitar outro on Jane Austen's Door, which sits at odds with the subject matter of drug addiction; a theme which Hackett has tackled before in one of his classic tracks, Every Day from 1979 . The title track takes it's lyrical lead from one of his author wife's poems, digging deep into the psyche and the consequences of the torments suffered during our schooldays, and like the sombre album closer, In Memoriam, the musical tone is very desolate and bleak. Steve's "pet themes – reincarnation and survival"  which are addressed in the solemn Rise Again simply add to the austere feel of the album.
Of the three 'new' tracks actually recorded either side of the Darktown release, the easy listening Flame, with a tweak or two, could easily be covered on Richard Hawley's next album. The other two tracks have their roots based in blues, with Coming Home To The Blues in particular having a real 'live' feel to the recording. It's easy to see how they didn't really fit with the theme of the album but as Hackett's comments in the sleeve notes prove ("I'm coming home to pay my respects boys") together with  his insistence on playing harmonica at any possible Genesis reunion, his roots and heart lie in this style – and there's no escaping your roots. 
With his most recent album, Beyond The Shrouded Horizon, being regarded as one of his strongest in years; maybe one of, if not his best recording, it's a good time to reappraise these mid period Hackett recordings and appreciate the significantly huge  amount of music he has created – maybe finally leaving Genesis in the shade? Review by Mike Ainscoe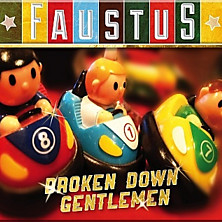 Faustus  - Broken Down Gentleman 
March 2013 sees the release of the long awaited second recording from folk 'supergroup' Faustus -  Broken Down Gentlemen on Navigator Records is to be followed by a fortnight's tour in April taking in venues up and down the country. Faustus have been billed as 'frill free folk' but that's undoubtedly doing them an injustice. Originally forming in 2006 and producing  a debut album of their interpretations of traditional songs in 2008, it's been quite a fragmented and stop/start  journey. Not surprising though as all three players are highly respected and in demand musicians on various projects.
Trying to follow the Faustus family tree is a job in itself. It's less of a tree and more of a tangled web which winds through and around  various connections in the folk arena and beyond which sees them cross paths at numerous junctions and comes together every now and then in Faustus. Alongside his solo projects, guitar and bouzouki and maestro of anything strung,  Benji Kirkpatrick, after a lengthy stint in the Seth Lakeman band, remains  a  stalwart of 2013 Folk Awards 'best album' winners Bellowhead, where he also plays alongside Faustus violinist Paul Sartin; himself  a member of  Belshazzar's Feast as well as being  a BASC nominated composer, Director of the Andover Museum Loft Singers and  consultant for the charity Live Music Now. The trio are completed with Saul Rose, long time collaborator of Eliza Carthy and member of the Waterson:Carthy group as well as being an in demand session musician (I even recall seeing him doing a live stint with Bellowhead as a temporary sub for John Spiers). Despite keeping a lower profile recently, he was nominated for the Musician of The Year award in the 2010 BBC Folk Awards and in 2011 took the part of Songman in the West End play War Horse.
Finally finding an opportunity to fit in some Faustus time over the past 12 months has given the three a chance to gather some songs together for their new album and play some gigs which have featured a selection of material from their two recordings. Working once again with producer Stu Hanna,  it seems to be a case of more of the same – the old maxim of 'if it ain't broken why fix it' stands Faustus in good stead while road testing some of the songs such as Banks Of The Nile, Thrashing Machine and  Blow The Windy Morning  has seen them  featured in the recent live shows at the end of 2012.
Once again, all three members share the lead vocals in turn and contribute to harmonies while  the ensemble playing throughout is top class and sympathetic to the songs.  Blow The Windy Morning is a classic example of the sort of arrangement Faustus utilise in their interpretations of traditional songs. Originally entitled Blow Away The Morning Dew (or alternatively The Lady's Policy, The Disappointed Lover, The Cobbler's Lady or my personal favourite – The Baffled Knight), the words are based on a version from the Cecil Sharp Collection which in turn is a shortened version of the Francis Child's renowned and exhaustive collection of ballads from the nineteenth century  (#112 for those interested!). The lyrics and melody are tinkered with, a few inns added for good measure, alongside  warnings against  the dangers of messing with pretty girls and hey presto, there's a twenty first century arrangement to carry on the song's legacy.
Added to the canon are the more traditional sounding folk tunes like the title track with its melodeon led  jaunty and brisk rhythm, and the melodic easy on the ear Prentice Boy and Lovely Johnny. I Wish I Wish ups the ante to a degree with a more insistent guitar rhythm, riff even, which is  reminiscent of Seth Lakeman's  John Lomas. Thrashing Machine contains some thinly veiled, yet rather amusing innuendo and double entendres set amid a gentle steady plucking rhythm very much in the style of the sparse instrumentation  of Emily Portman's Stick Stock .
Paul Sartin takes the lead vocal on a couple of tracks which might be considered as more traditional folk material in their sound and lyrics. On  Captain's Apprentice he almost sounds like the Godfather of folk - Martin Carthy – in his phrasing and vocal performance – which is meant as a compliment! A personal favourite stand out track has to be the absolutely  rollocking  Og's Eye Man –  a sea shanty which describes the mysterious character who steers the hogs eye – apparently a type of barge used in  nineteenth century America. In the true nature of folk songs, the lyrics have been adapted and evolved into something a little more in keeping with appeasing the  twentieth century PC police (having him "born and bred in Tennessee" and references to rowing boats, sea boots  and tillers). Many of the original lyrical adaptations being  rather obscene as the hog's eye men would have sung their songs rather like the way children adapt  their songs for the playground (who else is old enough to recall singing "Georgie Best, superstar, walks like a woman and he wears a bra" to the tune of Jesus Christ Superstar?)
The only minor disappointment on what's makes a mockery of the 'difficult second album' syndrome is that there isn't a chance for the trio to have a work  out on a selection of tunes asthey did on a couple of occasions  on the first album. Nit picking, as after all, this is an album of no nonsense with results. An inspired collection of some of the earthiest songs in the folk cannon. Specialising in powerful delivery, faultless harmonies, inspired arrangements and a sprinkling of some of the earthiest songs in the folk cannon, they are men on a mission to banish all that is anodyne and fey in the delivery of folk music. Their plethora of experience is brought together in a virtuosic display of musicianship and testosterone.

In autumn 2012 Faustus returned to touring after a two year break to enthusiastic reviews while simultaneously putting the finishing touches to a brand new album. Review by Mike Ainscoe
The Courteeners -  Anna 
'The Courteeners' return after a three year absence with third album, 'ANNA', a rather experimental recording that differs from the approach of the customary sound associated with this band from Middleton, Manchester. Whereas previous work packs a punch of indie pop and sing along laddish rock anthems, 'ANNA' is fuelled with synthesizers and reverb, which has divided fans and critics. Some have embraced it, saluting the bold effort as a healthy change of style, but others say it lacks a bit of bite and the raw originality that captured the hearts of so many. With their popularity thrusting them onto the arena stage, and being known more for their strength as a live act, this album suggests it's been recorded with that in mind, something that'll add a different dimension onstage to create a more dance like atmosphere.
The doubters quickly roused when hearing of the risky decision to work with electronic producer Joe Cross beforehand, and it appears many critics have stuck to their guns and continue to be unimpressed, especially as the growing hype has them pencilled in for legendary status, stating their disappointment at 'ANNA' not feeling as inspiring as 'St. Jude' and 'Falcon'. To be fair, on its own it's not a bad record, a good effort in delving deeper into where they believe their creative juices can take them. Although it lacks a bit of customary swagger, die hard fans have been impressed after giving it a fair shot, hearing with a fine ear scattered beneath the layer of reverb the cool soul of true 'Courteeners' sound and lyrics hidden within.
Despite this change in style, 'The Courteeners' remain a band who are destined for continuous stadium glory. You can rest assured that once these songs hit the live audience in their upcoming twenty date tour, the central fan base will rank certain songs as some of the more gripping recorded. 'ANNA' is certainly an experimentation which can't be faulted as a concept. Sometimes it is refreshing to try something a little diverse in order to not stand still, and that alone takes guts and should be applauded. There are flashes of inspiring writing in the lyrics and melodies, but it's hard to see how it's going to be regarded as being better than previous work. However, time is the biggest judge on how good an album can actually be and 'ANNA' is one that'll be better judged in the future when reflecting back on 'The Courteeners'  legacy. For now though, the consensus seems to be that a return to a basic approach within a typical Northern sound that hauled them up from local heroes to national treasures is what the majority truly wanted. Review by Nigel Cartner

My Bloody Valentine – MBV
Occasionally hinted at, and finally here a mere 22 years later, the new album from 'My Bloody Valentine'. As an admirer though not exactly a fan, I was intrigued to see what Kevin Shields might have to offer. The album kicks off with 'She Found Now', all distant drums and hangover head bass, soaring fuzz and twanging counterpart guitars and some nice laid back vocals from Shields, as ever, just ever so slightly irritatingly low in the mix. 'Only Tomorrow', one of the highlights of the album for me, picks up the baton and swoons off dreamily with it, a heavier rigidity to the music, same trademark impossible-to-follow chord sequences (did it take them 22 years to learn the songs?), great vocals from Bilinda Butcher and a terrific seemingly endless outro guitar solo. The anthemic 'Who Sees You', big and booming with scratchy percussion and a tremolo guitar that makes you feel seasick but that's MBV for you, always ones to mess with your mind AND your stomach. 
'Is This And Yes', all phased Solina organ and dull timpani's, somewhat reminiscent of old BBC2 science documentary theme music, takes the album and the listener somewhere else. It made me think about Genevieve Bujold in 'Anne Of A Thousand Days'. 'If I Am' smashes out of the faded keyboard, all freight train rhythms and sugar coated vocals, eventually building to a heady climax which should have soared to a crescendo only for someone to suddenly stop the tape and rewind it for our listening erm… pleasure. 'New You' bounces along in an uncharacteristically normal way (for MBV at least), more than enough bass in there but the distortion is replaced with out of control Vibrato and some cool organ to supplement yet another great vocal performance from Butcher. Don't get too comfortable though, because the sonic assault is back to drags us out of the clouds and tumbling down the hill for the last three tracks.
A hail of reversed feedback and noise heralds 'In Another Way', another luscious Butcher vocal over a barrage of heavy sonics and breakbeat drums which sandwiches a hint of the songs finale, another beautifully motifed passage you could listen to all day and not even realise, its that infectious. 'Nothing Is'. I'll stick my neck out here and say one thing about this track – its three minutes of one chord/note thrashed relentlessly over more breakbeat drums… expect a 25 minute live extravaganza version the next time Shields throws a wobbler over the monitors at a gig anytime soon, ergo, included here as a reference point for such an occasion.
The album's closing track 'Wonder 2' keeps up the same vein rhythmically, heavily flanged, everything instrument, every sound a complete assault on the senses. Feels like you're experiencing it whilst clinging on to the top of the HS2 for dear life. So the overall verdict? Massive thumbs up. I've had it on repeat since release, and it should keep the people who've been waiting for it since 1991 very happy, and if there's any justice in the world, win the band plenty of new fans. Let's hope we're all still alive for the follow up. Review by Murray Fenton
Mad Season - Above (Legacy Recordings)
In 1995, grunge supergroup Mad Season dropped their ridiculously stunning first and only release, Above, through Columbia. Since then, it has been certified gold and the death of singer Layne Staley (Alice in Chains) and bassist John Baker Saunders (The Walkabouts) has given the tragic-sounding album added depth.
Accompanied by Mike McCready (Pearl Jam), Barrett Martin and Mark Lanegan (Screaming Trees), Mad Season arguably crafted a record that was superior to anything the members have put out in their day jobs. Opener 'Wake Up' fuses coffee house lounge with soaring guitar solos, while Staley (who passed from a heroin overdose in 2002) gently sings: "Wake up, young man. It's time to wake up…"
The record as a whole is incredibly bittersweet and emotional to the ears and heart, rarely stepping outside of what the modern rock fan would consider "epic." 'River of Deceit', 'Lifeless Dead' and 'November Hotel' are undoubtedly the highlights, each one showcasing different textures of tragedy, drawing the listener deeper into the near-perfect inner-workings of five talented musicians whose collaboration only has one inevitable outcome…
So, why are we reviewing this in March 2013? Well, Above will be re-released on March 12th by Legacy Recordings in an eagerly awaited three-disc deluxe box set that comes with brand new songs pulled from their ill-fated and unreleased second album. Also bundled in the package is a disc of live material and a DVD that contains two complete concerts, promo materials and a gamut of additional content.
If you missed this hard-to-find masterpiece the first time around, you have no excuses now. This is an essential purchase for fans of Alice in Chains, Pearl Jam, and the grunge movement in general. In a nutshell, absolutely unmissable! Review by Brett Dunford
How to Destroy Angels - Welcome Oblivion (Columbia)
Trent Reznor has been a busy bunny as of late. His main band Nine Inch Nails are presently locked away in the ark, awaiting a day in the near-future when he will unleash them on the scene once more. Until then, salivating fans will have to make do with How to Destroy Angels – a new outfit fronted by his wife Mariqueen Maandig and backed up by long-time collaborators, Rob Sheridan and Atticus Ross.
With one foot still firmly rooted inside the electronic dance style of NIN's last few efforts, this debut full-length outing for HDTA certainly adds new juice to the cauldron. 'Ice Age' is an eerie slice of barebones string-plucking over a desolate soundscape, while Maandig's sweet vocals drift down on top like snowflakes. New single 'How Long?' is complete turn around and quite possibly the most commercial-sounding effort Reznor has put out to date, with a captivating promo by Shynola to boot.
HDTA are becoming a force as formidable as NIN themselves but will unlikely scale the same heights due to their largely dark and unconventional sound. Welcome Oblivion is sixty-five minutes of bleak, but beautiful, alternative pop songs that delivers a solid appendage to previous works by the enigmatic multi-instrumentalist and producer. Review by Brett Dunford
Pure Love Anthems - (Vertigo/Mercury)
When Gallows frontman Frank Carter left the band in August 2011 due to "creative differences", it left a lot of his fans moping around with question marks above their heads. Here, he has hooked up with Hope Conspiracy guitarist Jim Carroll and put out an album that is poles apart from the angst-ridden riffery of his former group.
Anthems is a collection of zippy, mid-tempo rock songs, none of which are particularly offensive to the lugholes, nor are they really mind-blowing either. Pixies/Foo Fighters producer Gil Norton does a great job behind the desk and the two main musicians on the record seemingly have their thing down. The only problem is that the style of nu-metal on offer here is two a-penny nowadays and it may well get lost at sea.
'Bury My Bones' is fun enough though, as are the likes of 'Handsome Devils Club' and 'March of the Pilgrims'. It's all a matter of whether Gallows fans can settle their differences with the melodic sound and jump onboard. No great shakes but it should chew up forty minutes without any harsh criticism. Review by Brett Dunford
The Virginmarys - King of Conflict (Cooking Vinyl)
Macclesfield three-piece, The Virginmarys, have dropped something of a minor bomb here. Well, actually it's quite a large bomb because King of Conflict, their debut album on the Cooking Vinyl label, is utterly terrific, and a great little stomp-a-thon littered with gritty rock and roll anthems.
The whole set is a cracker, really, and will keep your neck busy for the duration of the disc and beyond. There are some fantastic numbers on here ('Dead Man's Shoes', 'Bang, Bang, Bang', 'You've Got Your Money, I've Got My Soul', etc.), all of which are played at radio-friendly but decibel shattering volumes. Think The Hives and the Arctic's rolled up into a long, fat joint and lit in a mosh pit with a giant flame-thrower, and you're getting warmer.
Also, you get more bang for the buck if you purchase the 2-CD edition, which houses a full-length acoustic re-ordering of most of the tracks from the album. If you're a fan of dirty, hip-shaking glam/punk-esque "rawk" then what are you waiting for? Buy, play, absorb – it's as simple as that! Review by Brett Dunford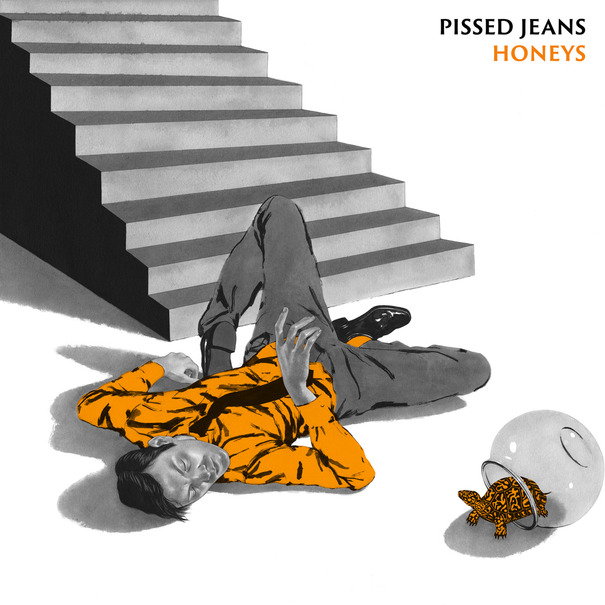 Pissed Jeans - Honeys (Sub Pop)
Where on earth do you begin with Pissed Jeans? Most would say the laundry basket but some may opt to throw them straight in the bin. A bit harsh, I know, but the fact is that the Pennsylvania hardcore noise-makers are not the easiest band to review. Saying that, I'm sure the experimentally alienating sound will no doubt loft an eyebrow among the progsters out there.
Sub Pop has always prided itself on releasing albums by avant-garde artists and this is no different. To me, it's the worst from Never Mind the Bollocks cross-pollinated with the best from Metal Machine Music. But what you ultimately end up with, however, is a halvesy-halvesy affair – some of it cooks and some of it is just plain unlistenable. Honeys is a treble-heavy and jarringly robotic work-out that walks a fine line between post-punk and white noise. If this stuff floats your boat, knock yourself out! Review by Brett Dunford
Transvision Vamp - Pop Art / Velveteen
Now for many men (and indeed some Women!) the name Transvision Vamp will  immediately send you back to your teenage days and dreams of lead singer Wendy James. For those of a certain age she was the pop star that really made you realise that perhaps there was more to girls than being annoying in class and actually something was more important than football (heck, even when doing this review I still couldn't resist quickly googling a few pictures!!)
It is somewhat hard to believe that these albums were first released in 1988 and 1989 and it also shows how times have changed, where it is very rare to see a band churning out two albums in consecutive years these days. Whilst pleasing to see, it is puzzling to know why the re releases have come out now. Having said that, you can't fault the labels efforts in terms of the tracks available. Both albums now come with two CDs both including the original albums and the second being a collections of B sides, remixes and live songs. Overall, on both CDs you have a  total of a wapping 58 songs so there is no doubt that you get your moneys worth. However, that level of songs would be hard work for even the most earnest of Transvision Vamp fans. It is also a lot of songs for what was actually a very short life span of the band.
The first album released was "Pop Art", and it has to be said that, despite its age, the songs still retain their appeal. It kicks off with "Trash City" which sets the band's whole sound, with that sonic, space influenced punk pop tone which shared comparisons to Sigue  Sigue Sputnik, who also gained some fame. It also includes the bands first single " Revolution Baby" which was actually a flop on release. This was a shame as it kicks off with a riff ripping off The Kinks "You really Got Me" before developing not surprisingly, given its title, in to a T Rex pastiche. Its great fun and has the makings of a classic Bolan track. The first song which really brought the band success was actually a cover of " Tell That Girl To Shut Up".  This is a fantastic mix of punk and pure pop with a throwaway anarchy feel to it and a great sing along chorus. This album also contains what is possibly still their greatest track in the form of "I Want Your Love".  Once again its the combination of a kick ass sonic punk sound being used to deliver a song which is truly just a great pop hit. It has a great opening punk riff followed by a great scream from Wendy James. The rest of the song is then peppered with lots of sighs of ecstasy which would have raised a smile (?!?!?) to all her teenage boy  fans! The band did show hints that they could mature in to something a bit more substantial on "Sister Moon". It's one of the few songs which shows a more softer side to the band. The whispered vocals are really effective and are both emotive and seductive. Review by Paul Hastings 
Transvision Vamp - Velveteen
Their second album "Velveteen" also contains some genuine classic songs. Indeed, it would be hard to find an album that starts with a better first song. Opener "Baby I Don't Care" sees the band totally mastering the space age Pop Rock sound. It's a song that even played now will have many singing along at the top of their voices.
On songs such as "Landslide of Love" they also managed to add a great girl group/Ronnetttes sound to the band. The use of solid drums and bells giving a more nostalgic sound to the songs which contrasted nicely with the space age sonics that features on most of the others. Another of the bands big hits was "Born to Be Sold" which is another Pop hit and includes a long list of influential icons through out the ages such as Marilyn Monroe, Elvis, Richard Nixon etc. The punkish guitar lines are perfectly matched by a snarling and spitting vocals. It's a song which is as relevant now as it was then.
In terms of both bonus discs, as already stated, there is enough material to fulfil even the most die hard Transvision Vamp fan, the only question is if any really exist. The bonus material here actually probably really highlights just how well managed the band were and the great job the label did in selecting the songs used on the album. It must have really rankled with the band that so much emphasis was placed on Wendy James and her image but in truth it is her personality which shines through the songs and made them great. The remixes on the bonus CDs tend to just see the original songs extended with more space age sounds mixed in. Its a pity as it would be great to see some of the tracks  given a true redefining mix to add something different. The live tracks, again perhaps suggest the short comings of the band and perhaps why they never really lasted beyond these two albums. Likewise the B sides tend to emphasise the quality of the lead tracks and show that the albums themselves are the homes to the really great songs.
Credit has to be given to the decision to re release both these albums and make them such an extensive coverage of the bands material. If there is anyone who had the original albums on tape this is the perfect opportunity to now go out and update them to CD. Both CDs are full of great Pop/Punk sounds, they may not be very sophisticated but they have a great bubble gum rock feel to them. In particular, when the big singles come on, the urge to jump up and dance around singing will be very, very hard to resist. Review by Paul Hastings 
Buckcherry - Confessions 
Hearing that this latest album, by rock band Buckcherry, was a collection of songs built around the theme of the seven deadly sins did raise initial concerns, as it has a whiff of Spinal Tap "The Gospel according to " about it!! The album actually opens with an absolute cracker of a first song called "Gluttony". It's a track which sums up all that is good about Buckcherry. It's 'in your face' but still has a strong melody. It's a rock song dripping with sleaze and in line with the sins theme makes you want all the things that are so good but you know are so bad for you.
The next song "Wrath" adds a bit more of a swagger and funk element to the song. This is a good Buckcherry song but not a great one. This is a problem which surfaces throughout the album. Many of the songs such as "Nothing left but tears", " Seven Ways to die" and "Air" are just too pedestrian and really just seem to be the band going through the motions.  They are not bad songs necessarily, but just don't have anything dynamic or different about them. This is a band who are capable of producing truly great songs and when touring the UK last year were brilliant.
Interestingly the better songs on this album are actually the slower ones. "The Truth" is an old school ballad and has a lighters aloft melody. Similarly "Sloth" again demonstrates their ability to write quality songs. They have always shown their Aerosmith influences on their sleeve and this is thankfully a classic ballad ala "Angel' or  "What It takes" rather than the rubbish syrupy ballads that this once great band now specialise in. There are some other really good songs on this album including "Pride". This brings a much needed change of pace.  It contains more of a spoken vocal technique and then leads in to a great sing along chorus. Special mention to "Lust" as well, now if there is one thing that Buckcherry should know about it's lust, as they have built a whole image and career out of it. This song has a great mix of sleaze and melody and you can guarantee it will be a live favourite. Buckcherry have  had a great habit of throwing out a surprise hit ("Lit up" and "Bitch" the best examples) and this could be the one on this album. This would be particularly true if it could be accompanied with the usual raunchy video.
Overall, it's not a case of on what day did Buckcherry invent the confessions album and why didn't they rest then as well, but its not a classic. Anyone new to the band will find some good tracks on here and probably enjoy it. However, for those fans who know the bands full back catalogue there will be the knowledge they can do much better. Review by Paul Hastings
Voodoo Swing - Fast Cars, Guitars, Tattoos and Scars
This is Voodoo Swings seventh album and they have built a reputation as an excellent Rockabilly influenced band. In many ways, the title of the album is almost all that is needed as a review. It kicks off with "Down at the Oak" which is a bar room blues song with that familiar rockabillly swing. This is quickly followed by one of the best songs on the album, "My Rockabilly Martian Girl", and it also has a really cool video which is worth checking out. It's a great fun song with cheeky lyrics about what certainly sounds like an appealing alien!
The album contains many songs where the band maintain a modern rockabilly sound. This is amply shown by "Cruisin With My Baby" and "If you ever want". The second of these features Pat Roberts who adds a real "croon" to the song. It has a real Elvis ballad sound to it and brings a nice change of pace. However, what is particularly pleasing about this album, is how the band have been really effective in widening that sound and bringing in a range of influences. This is first shown on "Lost Yesterdays" which is very different. It begins with a tribal drums opening and then develops in to a song with an almost "Doors" feels to it with it's whispered vocals over a sparse sound. In a similar way "Hot Rod Rhythm" is driven by an organ sound and has chanted vocals which is like the aforementioned Door's "My wild love" but the love here is for a hot rod! There are, however, plenty of songs that will appeal to their hardcore fans and any who love just plain rock n roll songs. This includes the title track which, as to be expected, is a dirty rock n roll song detailing the seedier (and fun!) side of life. Like wise "Devils Hot Rod" and "The State I'm In" add a good dose of punk attitude to their rock n roll sound. "When Death Comes" sees the band embracing a banjo and more of a country feel. This moves in to a good old boy, rocking country song which is just begging to appear on a Sons of Anarchy soundtrack.
Overall this really is a brilliant album and one which deserves to get some wider coverage. When a band has a proud rockabilly background there can be a danger they get pigeon holed and eventually themselves end up producing formulaic songs. This accusation certainly can not be aimed at Voodoo Swing who have made a brave and bold album. Anyone who is a lover of good quality rock n roll music, which is about having fun and a good time, will find plenty to enjoy here. Review by Paul Hastings
The Delta Bombers - Wolf
Over the last few years, a lot of garage or traditional blues influence bands i.e. Hives, Jack White and The Black Keys have risen to the fore in music. It is quite possible that the Delta Bombers could also be added to that list. The album opens with the title track which actually commences with a humming intro and then the vocals of what sound like an old school blues man who, in line with the title, barks out the lyrics. The next two songs, "So Lost" and "Baby Your Music" see more of a Garage feel, like the Hives. In fact, they go back even further to a more 60's sound and are more like Rolling Stones songs. They have a really loose blues rock n roll feel to them.
The album then takes a sidewards move with "Get Some', which is actually an instrumental track straight out of a Tarantino soundtrack. This would have been perfect on the score for Pulp Fiction. This is followed by " Love Like You" which has a more basic blues sound, like that popularised by the Black Keys, and at times, even recalls La Woman era The Doors. It is no surprise to see that the band actually include a cover of the Rolling Stones "The Last time" given their obvious influence on The Delta Bomber's sound. Credit really has to be given to the band as this doesn't sound like just a cover, but more like a long lost raw demo of the song done by the original band. The final track on the album "Smokestack Lightning" returns to the howling blues man from the beginning of the album. It has to be said, if the lead singer doesn't look like the bearded blues man/end of his career Jim Morrison, it will be very disappointing.
The Delta Bombers sound is certainly retro but it has a quality about it. It would only take the endorsement of Mr Jack White or a tour with The Black Keys and we could see them enjoying mainstream success. The whole album has a raw early sixties feel to it and really could be a long lost Rolling Stones album, which has been discovered covered in dust by Keith Richards in one of his drunken stupors. Review by Paul Hastings
Agnes Szelag and Jason Hoopes - October Pieces
Little, if anything vaguely classical tends to appear within the Mudkiss In-box and it's therefore with intrigue I approach Agnes Szelag and Jason Hoopes, 'October Pieces' released on March 4th.  My exposure to a perceived, more highbrow genre is limited to say the least, primary education many moons ago included relatively short pieces played in daily assemblies through crackling speakers, generally in vain attempts by Headmaster Clayton to instill culture on a hall full of snotty nosed Northern kids more interested in football, conkers, Marc Bolan and David Cassidy. That said, something registered, I still recognise pieces by Rimsky Korsakov, Khachaturian, Tchaikovsky and Mussorgsky amongst others (although the latter perhaps more due Emerson, Lake and Palmer) and delved slightly deeper in adult life via the Elgar and Jacqueline Du Pre or Goreckis 3rd Symphony.  While certainly no  expert, I do know my arse from an oboe.  This record however, proves far removed from symphonic compositions of yore, as Justin Bieber from Cannibal Corpse.  Split into seven movements, "October Pieces 1-5" plus "Shadow 1 & 2," Szelag and Hoopes undertake more a study of notes and sound than symphonic multi-faceted melodies, arpeggios and crescendos,  creating a bleakly sparse, yet thoroughly exquisite, calming listening experience with just piano and cello.  Single keyboard notes allowed to ring and reverberate by use extended rests, allowing time to ingest and explore each and every one, even while strings provide additional accompaniment through more complex structure or sustained drone, the effect one of minimalistic soundscapes embodying peace and tranquillity, albeit darkly on occasion. 
'October Pieces' proves a revelation, an album guaranteed numerous returns over the coming months, even years, such the impact on classically exposed ears in their infancy. The irony my next focus one of the best thrash metal albums I've heard in eons surely not lost, although hopefully highlighting a capacity to appreciate music on copious levels, however uneducated. Review by Andy Barnes www.trestlerec.com/artist/agnes-szelag