Gold Blade - The Terrors Of Modern Life
 This is the sixth album from these stalwarts of the UK punk scene, who were formed back in 1995 by ex Membranes frontman John Robb. One thing which is very clear from this album is that these are not punks who have mellowed with age or decided to take any cheap cop out by toning down their sound.
Their intent is quite apparent with the opening song "This Is War", where the title itself is indicative of the fast, powerful and aggressive sound.  This old school hardcore punk sound is evident on a number of tracks including "My Mind is Like an Atom Bomb" and "They Kiss Like Humans, Act like Machines" both of which would definitely lead to a furious mosh pit at their gigs. Indeed many of these tracks are likely to generate such a furious reactions at their gigs, that a few broken bones would appear inevitable. On many songs this album has a really dark sound. On "Someone Stole My Brain" it actually starts with a sound which is more akin to a thrash metal song and goes on to be a very dark and menacing song.
However, there is more to the band then just hardcore punk and they have the ability to still throw a few surprises in to the mix. If you have any doubts about this then you need to check out "Serious Business". The track starts off with a real reggae/ska sound and is a complete total change in pace and tone. For anyone who is unfamiliar with the band's sound it will come as quite a shock. Not so much of a shock, is the fact that the reggae sound gives a very Clash esque feel to the song. The band are also prepared to add the slightest touch of melody to the songs, as shown on "We're All In it Together" which has a strong chorus. Then on "Sick/Tired" it opens in a similar style to some Wildhearts songs before ramping it up in to a Ramones type punk song.
A mention must go to the final and title song "Terror Of Modern Life" which at eight minutes long is not your typical hardcore punk song. It isn't exactly what you would call a pleasant song or indeed sound! In fact it is so dark and evil it is definitely capable of inspiring the most horrible of nightmares in the listener!! 
Given that many punks have now settled down, and even turned in to singer song writers, it is commendable that Gold Blade continue to fly the flag for hardcore punk. Whilst some of the vocal may share a bit of the Johnny Rotten sneer, the sound of Gold Blade is far more brutal than many of the bands which are lumped in to the punk genre. The album isn't designed to be an easy listen and it's a full on aggressive punk assault. Review by Paul Hastings
Rockats - Rockin Together
This is the new album from the Rockats who were one of the key influencers of the modern Rockabilly scene back in the Eighties. The band have reunited and now bring out this excellent new CD, courtesy of Lanark Records. Full credit must go to Lanark records, who have a stated goal to introduce fans to the styles of music that major labels and media ignore, so more power to them!
This album opens up with "The Doubt" which is a good opening straight up rock n roll song, with the vocals demonstrating, that dark n edgy sneer which works so well for Rockabilly. This is followed up with "Rocking Together" which is a does what it says in the title kind of song. It has a real rock n roll 50s sound and is designed for getting people up and dancing.   This style is repeated on tracks such as " Pink & Black Cadillac", "Bad Love" and "Road To Hell" which bring to mind the classic early Sun Records sound.
The album really hots up with "Kitten With A Whip" (what a title!), which is actually an instrumental but has a darker tone built on a swaggering guitar line. It would have been good to have had some lyrics to match up to the title, but as it stands it would be a great accompaniment to a burlesque performance. This theme is maintained with "Red Headed Rockin Girl" which actually opens with a strip tease esque style with finger clicks and shivers. If ever a song was written for a girl to shake her tassels to then this is it, its a great song.
The quality and experience of the band is really clear to see throughout the album. On "Sweet Sweet Charlotte" they are able to slow things down which really brings out the warmth in the vocals. Whilst "Tear The Roof" with its refrain of "My heart thumping to the music, we're going to dance all night" sums the band up. This is a group with Rockabilly in their veins and not one just playing up to stereotypes, they clearly love and enjoy the music they are making.
The album concludes with "Reckless Rebel", a good time, dancing rock n roll song. It again has a tone and quality which prevents it having the throw away feel to it that many similar songs have.
The whole album is one of timeless rock n roll which highlights the bands considerable experience.  Credit is also due to Lanark Records, where the quality of production means it still has a contemporary shine to it. Overall, it is an album that has everything that you would hope and expect from a straight up Rockabilly band. Review by Paul Hastings
Waking Heroes - One Fight to Fight
This is a band which has risen from the ashes of a great band called the Crash Moderns. That band released a brilliant album full of great pop rock, melodic tunes. It is therefore perhaps no surprise to see that this EP also consists of a similar sound and level of quality. It is certainly not like your ordinary first EP, as it is far more brash and confident..
Opening song "Anywhere You Go" immediately demonstrates a great vocal sound which has an emotive and expressive quality that is missing from so many modern rock bands. That song and "Crazy Life" both demonstrate the ability for the Waking Heroes to deliver potential stadium anthems. They are designed to be played very loud, on a car stereo, on a warm sunny day whilst you imagine being in a convertible on a free way in California.
"Lights In America" has the line "Its a movie life and I want it back" which sums up the good time sound of the music. This song, like the rest of the EP, is not for you if you want to feel morose and introspective, this is a lift me up and forget about your problems track. As is "New York City" which begins with a nice technique of allowing the vocals to stand alone, before the guitars and drums come crashing in. The track then builds to yet another huge melody.
The final track "Something Like Tonight" slows things down for a touch before building in to  yet another big chorus. They could quite easily sell this song to a boy band a la One Direction and it would be a huge number one hit. This IS a compliment because it emphasises that they write quality pop songs.
This EP is full of excellent modern pop rock and reminds me of the great band, Marvellous 3. They perfect the use of melody mixed with crunching guitars and big drums. In fact I would love to see Waking Heroes hit the studio with legendary producer/song writer Butch Walker. The songs on this EP could be huge hits across the US rock radio stations. Sadly, there is no real equivalent in the UK and here it would be reliant, on say Ferne Cotton to pick one as her token rock song. It does,however, have a sound which would appeal to anyone who likes quality rock music built around a huge pop hook. These types of bands seem to struggle for the level of success in the UK that they deserve. This is certainly not due to the quality of the songs or the musicianship. In fact, it is probably just due to the crap weather which isn't conducive to this type of sound. However, if you want a bit of good time, artificial, Californian sunshine in your life, then get this EP to keep you going until Summer (or at least until the Waking Heroes release their first album).
Review by Paul Hastings
Mars Attack - Blood and Thunder
There would appear to be a far stronger Rockabilly scene in Europe than here in the UK, so it is probably not as surprising as you might think that Mars Attack are a Swiss/Austrian band. Although their influences are very clearly from the good old U.S. of A. In fact, on the opening two tracks, "Slow Man" and "Count to Three" you can hear a lot of Johnny Cash in the country rock n roll theme. The next couple of songs then see a hint of the main man, Elvis. "Outer Space, Inside A Bar" is a great song where you can't beat a rockabilly song about drinking. When you then add a space theme and remarks about "Martian girls being hot" then it gives it a real sense of fun.
One of the best songs on the album is "I Gave You My Life" which again has a real Elvis feel to the vocals and consists of a very simple but really charming melody.  It also benefits from some really cool female backing vocals and its a pity these don't feature on more of the tracks. It is followed by "Train To Hell" that offers a more slow paced sound that is really effective. These two songs combine to provide a really good mid section for the album.
Other highlights on the album include "Voodoo Lady" which, whilst essentially a straight forward Rockabilly number like may of the other songs on the album, also has a sense of fun about it and makes good use of a saxophone. Then there is "Over Reaction Blues" which has a more latin sound and sees the band relocating to the beach, to create an image of shaking maracas whilst Hawaiians play their instruments to pretty girls on the beach.
On " Lonely Nights" there is no way anyone could listen to the opening without thinking of the Pink Panther theme tune intro! It is again a slower, more emotive track, and again works really well.
Overall, this is a really solid album that will appeal to anyone who likes the old school rockabilly sound. It has a kind of feel of Elvis covering some Johnny Cash songs. It may not be wildly inventive but provides a good, broad representation of songs from this particular genre.
Review by Paul Hastings
Attic Lights - Super Deluxe
Glasgow may not appear the most natural of homes for a power pop band that deliver songs full of sunlight and fun but that is what Attic Lights provide on this new album. They waste no time in delivering an uplifting tune as the opening two tracks "Say You Love Me" and "Future Bounds" are both up beat, "sunny" songs. "Future Bounds" has a funky opening, before moving in to a very "pop" sound which actually has a hint of a more mainstream, clean cut Scissor Sister sound.
The quality of the Pop rock sound is really evident on "Break For Me" which brings to mind the "Dum Dums", who were in fact really just an indie precursor to Busted! This song really does have Radio One summer song written all over it.  Similarly, " Mona Lisa" has an opening keyboard sound which is very Scouting For Girls. It then moves into a slightly slower song where the sun beam dial is turned down a touch, but still retains that simple pop sound. The lyrics have references to Sunday morning and this is certainly a sleepy, Sunday morning, sunshine peaking through the curtains, wake up song.
"Hit and Miss" is another really great song which benefits from some catchy backing vocals. The band also manages a sense of "quirkiness" to the sound which is probably needed to offer some respite from the constant simple pop sound of the others. Unfortunately, this is followed by "Lock Me Out", which is a much slower track and whilst they were probably aiming for dreamy is actually more a bit dreary. Thankfully, the album ends with "Gabrielle" which is an arms a loft, end of gig song. It has a good use of Beatlesesque sounds and is quality power pop.
The album has a quality, modern, almost mature, pop sound. It actually has some songs of the  style that Robbie Williams started off doing very well. The whole genre of power pop has always been much more popular in the US than here in the UK. This is a shame as many of the songs on this album are good summer pop songs which are light, well crafted and easy to listen to. There are a number of songs on the album which could easily be singles and if picked up by one of the commercial radio stations, could provide Attic Lights with a surprise hit.
Review by Paul Hastings
Magnificatz - Running Late
Its great to know that the Magnificatz are a band with a real DIY ethic, who have done all they can to ensure that there music is made available for fans of classic Rockabilly. They are clearly a bunch of talented and determined individuals who are committed to the music they play.
Many of the songs on the album contain the essential elements of traditional rock n roll songs. This includes "Bopping With My Baby" where the title pretty much says it all and "Greasy Love" which throws in more of a Cash/country feel to it.
The song which first really catches your attention is "Dead Mans Ball" which begins with a B movie style spoken intro.  It has a real hint of Jailhouse Rock in the opening bars and there are some great female vocals on it. It also possesses the classic line " Take a chance on necromance at the dead man's ball"!
"Cat Come Scratching" and "Daddio" both demonstrate the quality double bass sound which is critically important to any Rockabilly band. The first of these has a good combination of male lead vocals with female backing. Whilst on "Daddio" the female vocals add a really good sultry tone to the song.
On "Trash" there is again, a really strong bass line but it has a more dark/menacing tone which works perfectly alongside the "worthless trash" lyrics theme. The more down beat tone is also repeated on "The Girl That Time Forgot" and again it works well and provides a contrast to the more straight forward rock n roll songs such as "Voodoo" and "My Magnificat".
It is not surprising to learn that the whole CD was recorded in a real live environment with all of the band just throwing down their parts together. It has a real traditional feel to it, with the focus on recording straight forward rockabilly songs without having to resort to the use of modern gimmicks. Importantly, it also means that there is no doubt that the band will be more than capable of delivering the songs in a live environment. In fact, I am sure that the songs will really come alive in a live format, with a suitably inebriated and up for it Rockabilly crowd.
Review by Paul Hastings
Restorations - LP2
There are sometimes record labels where you tend to know that nearly anything they release is going to be of a real quality. That is certainly true of Side One Dummy who have released albums from some brilliant artists such as Jesse Malin, Gaslight Anthem and Audra Mae. It is therefore not surprising to see that the Restorations album "LP2" has the Side One Dummy stamp of quality on it.
Right from the opening track "D" it is quite clear that the band have been heavily influenced by another great band, The Hold Steady. It is evident in this track from the way it has a slow build up in to the crashing guitars. It is also clear in the vocals, which have the sound of Craig Finn, in that it is a sort of speaking style although, to be fair, these are more tuneful! This is also evident on further tracks on the album including "Lets Blow Up The Sun" which again has a slow pace but still with crashing drums and guitars to produce a rather melancholy sound.
On other tracks they do also show some relation to their label mates the Gaslight Anthem. However, on songs like "Civil In Attention" and "New Old" we are not talking about the Boss influenced all American sound that the Gaslight specialise in, but more the band when they are at their most introspective and story telling mood. The most intense song on the album is "Quit" which has an almost Pearl Jam feel to it, with its wide open sound and a more screaming vocal approach. The crashing guitars are punctuated with wailing guitar solos. The whole effect for the listener is like being in the middle of a storm with waves crashing in all around you.
The album does contain some more lighter moments, including "Kind of Comfort" which has a bit more upbeat tone to it and even some "Woahhs" in the chorus. Similarly "The Plan" also has a much lighter sound. There is also a slight touch of a country twang which brings to mind another great American band, Lucero.
This album is certainly punk rock but is miles away from punk pop.Instead  it possesses a broody and menacing sound. It is a very intense sound which would be great to hear live and see how the songs come across in a live environment. The songs are not light weight but instead demand that the listener pays full attention. It could also see the band earn some considerable interest and have a similar impact as "The impossible Past" that was released by the Menzingers last year to great acclaim. The Restorations are also a band which are definitely likely to develop a hard core and dedicated fan base who are bound to worship every word and note from the band.
Review by Paul Hastings
Reddy Teddy Young - Fever Dreamin
Before even considering the songs themselves, you have to tip your hat to the way that Reddy Teddy Young has gone about producing this album. Not only does he play all the songs on the album, it is also self produced and recorded in a real traditional manner. It therefore provides a welcome change to the over produced sound of many modern songs. It is also impressive to see a young guy going out and delivering an album that is now available across the world. 
Reddy Teddy Young is proud of his Buddy Holly influence and this is loud and clear on "Cried Away" in both the sound and in particular the Hollyesque vocal "ticks". It is a simple drum less guitar sound as also seen on "Bucket Blues". This is a real low fi sound of a man and a guitar, and this would be a great camp fire song.
Other songs such as the title track "Fever Dreamin" also demonstrate a more country/folk/Americana sound. This along with "Drink It Over" have a more laid back feel which perhaps bring to mind the likes of Tim Barry. The track "Black Cadillac" is a very interesting song, as it was actually recorded with his former band. It is really good to hear a song with a full band backing it. There is no surprise that it is a more rocking sound but ironically not as well produced. It would certainly be good to hear more tracks recorded as a full blown rocking  band.
Over the last few years there have been quite a few singer songwriters who were formally punk rockers that have a similar sound to this, including Chuck Regan and Tim Barry etc. It is a move to a more traditional americana feel which can be performed by one man and a guitar. As already stated, the fact that this has been self recorded and produced is a great achievement and is an important stand against the over produced and untalented "artists" which sadly dominate the industry these days. Review by Paul Hastings
Jenny And The Steady Go's - Sweet Nothing
Jenny and The Steady Go's describe themselves as a female fronted Rock n Roll explosion which is a great description of their sound. It is certainly great to have the song in a traditional vinyl 7" format. "Sweet Nothing" is a really brilliant song. It consists of smooth and sultry vocals, against the backdrop of a classic sounding track with handclaps galore. The B side is called "Just Walkin" and is more of a Rock n roll sound. Faster paced, but equally great, it is a totally rocking track.
It's been a long while since a debut single has really sounded so good. From the very first listen it's a case of move over Imelda May there is a new candidate for the modern Rockabilly Queen. If Jenny and The Steady Go's can get anywhere near maintaining the qualities of these songs on a full album there is no doubt it is going to be a must buy. Review by Paul Hastings
Johnny Monaco And The Traitors - S/T EP
For most people Johnny Monaco will be an unknown name which is a tragedy as he is a talented songwriter, singer and guitarist who should really be a household name. He was previously in the fantastic pop rock band Enuff Z Nuff. Unbelievably, he eventually ended up replacing the original singer and founder member of the band and end up doing an even better job! As a solo artist, he has also had a couple of really high quality self produced albums. This latest album is one that he has made, with the assistance of his UK touring band. It comes as no surprise that all the tracks are high quality pop rock songs.
Opening track "So Into Me So Into You", not surprisingly, has an opening that is very Enuff Z Nuff esque with a chugging guitar line complimented with a sweeter vocal sound and classic use of Beatles esque "Ahhs". Despite being catchy, it still has a hint of something more sinister. Second track "Hello Happy" is an interesting mix of a retro sixties type pop sound but with a few electronica sounds thrown in. It has a real Beatles vibe to it and has a pop beat holding it all together. "Don't Think Of Me This Time" has a much slower vibe and is a timely reminder that Monaco's voice actually owes a lot to Elvis Costello. Similar to Costello, this is more of a ballad style but retains the element of quality songwriting. In fact, the more you listen to the song, the more you can see it being a missing track from a Costello album.
The final track "Always and Forever" sees a return to the sound of his former band and is again a mix of a catchy melody and sugary chorus but importantly never reduces to anything throw away. It peaks with a great mid song break with just vocals and guitar.
Against a back drop of numerous pop stars hitting the big time due to an appearance on a TV show or having been modelled by a record label it is tragic that a talent such as Johnny Monaco has not had the success he truly deserves. Hopefully, this EP will end up getting a wider release and most importantly lead to a full album.  Review by Paul Hastings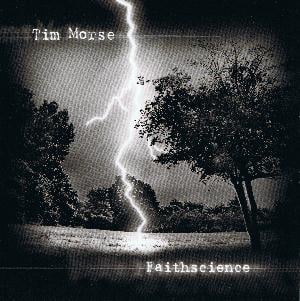 Tim Morse - Faithscience
Faithscience is the second album from Tim Morse; his debut 'Transfomation' appearing in 2005. With a solid pedigree in all things progressive – which include playing keyboards in a Yes tribute band (Parallels) and authoring a book on Yes (Yesstories) as well as working on collaborations  with legendary Yes singer Jon Anderson. Far from being a Yesophile, he has over the years performed with an assortment of rock and fusion bands and contributed to a variety of recording sessions.
Recorded over a two year period the album features an assortment of musicians although Morse himself is the key player and at the centre of the songwriting and playing. Of the contributors, Dave Ragsdale of Kansas adds a touch of violin on the track Rome, and Jerry Jennings plays some dazzling guitar, otherwise Morse also takes on the role  as producer as well  as performer making it very much a solo recording. The album began life as a conceptual piece based on the life of Charles Lindbergh, yet with time, the idea drifted away from the original vision although the lengthy  Voyager is one song which still clearly reflects the original concept and as the second track is quite typical of what follows – pleasant keyboards and melodies, a smattering of jazzy guitar and a shift in pace and moods. The shifting time signatures in the more extended pieces such as The Last Wave and Closer also show a more  ambitious element to the compositions.
There are lots of prog influences which are checked off during the course of the songs – any Yes fan might well be pleased to hear their favourite band being musically namechecked so extensively. Try as he may though, it's hard to get away from the obvious influences. There are time when the vocal sounds very much like the Trevor Horn 'Drama' period, and throughout, there are keyboard flurries and guitar runs and chops which take their influence from either the classic Yes period of the 70's or their more contemporary and more commercial rock sound of the 80's. Even to the inclusion of an acoustic guitar piece in Window mirrors the type of variation and digression  in an album which a classic prog band might sequence.
Overall, Tim Morse has created an album which sits comfortably within the AOR classic rock bracket. His commitment and contribution to the music has been immense – time consuming and all encompassing which is to be admired, yet the fact remains that his overriding control maybe holds back from allowing  the influence of other musicians and composers take the music off into something a little more original.
Review by Mike Ainscoe
Black Market Serotonin - Something From Nothing
Formed in 2010, Andy Pimblott (vocals, guitar, keyboards), Lee Campbell (bass) and Mike Colman (drums) make up Manchester 3 piece, Black Market Serotonin. Following on from their debut EP release in 2011, Deadbyfiveo'clock, their debut album sees the light of day on the Superstar Destroyer label. As with many debut albums, the material has been in gestation for some time. Making the most of Andy Pimblott's experience in studio techniques at Manchester's School of Sound and Recording and doing the inevitable 'working at home' (which is not to be sniffed at - all the big bands do it!), the band have been able to  make the giant leap of getting a physical CD out in the public domain. Preceded by video single Irons In The Fire, which has been available online for some weeks, the album Something For Nothing saw the light of day in early Spring with a launch gig at Manchester's Wahlbar which was attended by no less than Prog magazine.
Housed in a stark black sleeve with a Big Bang motif radiating out, it's a design which typifies the musical content. Their sound combines influences which range from the use of synthesisers and electronic sequencing and beats to some heavy riffing yet containing some almost mellow and spacey sections. Lyrically, Pimblott comes up with some quite dark and challenging themes of isolation and confusion, although in Purity which musically offers something a little more lighter on the ears, he offers a rare  glimmer of hope amidst the disconsolate  nature of the lyrical content ("White as snow I wish I were") before returning to a more common theme of the fragility of life and its passing.
If the opening instrumental Singularity shows what they do well in three and a half minutes, with its mid song change of pace and mood before returning to an all out driving climax, then they give themselves a chance to show what they can do in an extended piece with the 5 part title track. As Something For Nothing weaves its way across its 5 parts over the course of 20+ minutes, it gives the band the opportunity to showcase their ambition and appeal beyond the more hardcore rock and metal fans and into test out the prog audience. Some might argue that within the context of the rest of the album it's a bit indulgent, yet on parts 3 and 4 at least they attempt some diversity in creating something more atmospheric and extending their use of programmed keyboard sequences        though maybe the final part is more conventional in the way it builds to the climax of the arrangement.
All in all, quite an impressive debut which should accomplish its aims in making the public sit up and cock an ear in the direction of Black Market Serotonin and from such a solid beginning there will be those who will be monitoring  their progression.  The 'difficult' second album awaits! Review by Mike Ainscoe
Marsteller & Rhodes present - The Beautiful Old - Turn-of-the-century songs
To be released in June 2013, a project which was over a year in the making harks back to much simpler times. In the days before downloads, CDs, cassette tapes, vinyl and even wax cylinders on which to make a record of music, there was sheet music. The success of a song wasn't counted on downloads or GALLUP polls, but on sales of sheet music as the popular songs of the day were played out and performed in homes and passed on by ear in the folk tradition, crossing boundaries and oceans as they went.
This collection of songs originate from as far back as the early nineteenth century with Home Sweet Home (you know the one - "be it ever so humble there's no place like home") up to some more 'modern'  songs with two tunes from  1918 (Beautiful Ohio and the instrumental Till We Meet Again) being the most contemporary. The collection features a whole host of names – some instantly recognisable, some not so - which have been painstakingly put together to present these classic tunes in their best light. One of the duo behind the project, Gabriel Rhodes, plays throughout the album including a very evocative pump organ on several songs, and is accompanied most notably by Garth Hudson from former Bob Dylan backing group The Band, with his trademark piano as the centrepiece of each arrangement.
Kicking off the album with a 'biggie',  Richard Thompson adds his distinctive tones to the opening And The Band Played On, you could close your eyes and feel yourself  transported back to the Overlook Hotel (the one from The Shining) and see yourself relaxing over a cocktail in the Gold Room, while  Jack Nicholson sips another scotch on the rocks at the bar; a besuited Thompson crooning through the number for the dinner suited waltzing couples. It evokes  that sort of mood.
Adding their weight to the project are some other household names - Dave Davies (of The Kinks) and Graham Parker, while notable Texas singer songwriter Kimmie Rhodes takes a distinctive lead vocal on three songs. Like the care and timing with which the project was put together, the playing can't really be faulted and it's a testament to the quality of these songs, rather than simply their age, that they are able to translate to a present-day evaluation by modern day musicians.  The words 'tender loving care' spring to mind almost as if the songs are delicate antiques of a bygone era tinged in sepia.
How relevant are these songs today? Perhaps the best proof of the pudding comes with Heidi Talbot's performance on the century old  Love's Old Sweet Song from 1884, featuring the trademark fiddle of her partner John McCusker, which could fit quite comfortably on her 2013 Angels Without Wings album. Looking back at the title, maybe more of the 'beautiful' and less of the 'old'. Review by Mike Ainscoe
Honningbarna  - Verden Er Enkel 
For a band who released their debut EP just three years ago, much has occurred in the world of Honningbarna. On the plus side, their debut album "La Alarmana Ga" won a prestigious 2011 Spellmann Award  in their native Norway, although the tragic loss of original drummer Anders Eikas in a car accident  could have easily signified the end of a potentially glittering career . Instead, The Honey Children, as the name translates, regrouped with the blessing of Eikas family, signed to EMI Norway at the end of last year and release their sophomore album 'Verden Er Enkel' on May 6th.  It proves a second, blisteringly effervescent assault of intelligent punk rock, which pitches the band into the high echelons of a genre inhabited by luminaries such as The Bronx, who they've recently supported.
While hardcore edges materialise on a regular basis, "Fritt Ord, Fritt Fram"  (Free Word, Spoken Freely), the constant inclusion of hooks, melodies and unruly backing vocals provide the ultimate draw, proving lead singer, Edvard Valberg's classical training not wasted.  The further inclusion on occasion of Valberg's cello provides further entertaining diversion from the punk norm, although Honningbarna are far from just a vehicle to showcase the front man's talents as monster riffage and solos blast and shred from the speakers.
As wonderful as this album is however, I do find Honningbarna frustrating from a non, Norwegian speaker point of view. Their use of home language to verbally spit thoughts and ideas, although one I fully endorse, proves exasperating in not being able to appreciate the lyrical content, particularly as on occasion, political aspects arise as highlighted above and within earlier material as "Fri Palestina" also suggests.  Although this, a minor gripe, and doesn't stop my overall enjoyment or an ability to sing raucously along to choruses of "Ikke La Deg Rive Med" (Don't Let Yourself Get Carried Away) or "God Jul Jesus" (Merry Christmas Jesus) whatever the time of year. "Velkommen Tilbake," Honningbarna, it's more than a pleasure to have you around. Review by Andy Barnes

(Translations provided by Mudkiss Fanzine's own Norwegian Ice Queen, Teddie Dahlin)
Satan  - Life Sentence
Although a huge fan of much which emanated from the early 80's, NWOBHM movement, I must confess Geordie quartet Satan never materialised from their North Eastern underworld into my line of sound and vision. Upon hearing 'Life Sentence,' their follow up (if it can still be called as such) to 1983's 'Court in the Act' I feel I've woefully missed out.  Here, the band has successfully re-created an authentic sound from their original era, the album proving an absolute slashing collection of retro speed / thrash metal, brilliantly intricate riffs, licks and solos peppering the ten tracks with sheer fret work genius. While metal purists may bemoan the vocals of Brian Ross sounding tame compared to modern day, they fit perfectly with the overall atmosphere created, he may be no Rob Halford, but there's no doubting those highs are still impressively high. 
If like me, you missed Satan first time round or you wish to make an initial foray into an a classic period of British metal, 'Life Sentence' absolutely essential listening. Review by Andy Barnes
Kadavar – Abra Kadavar
May is turning out a month where bands re-visit the past to introduce something brand new.  German trio Kadavar not only possess an extraordinarily inspired bearded look of a 60's / 70's hard rock band, an image obviously cultivated over years not months, they further establish their appearance with suitably genuine psychedelic blues. To try and capture the live sound  'Abra Kadavar' was predominantly recorded in a single room, incorporating that beautiful bleed of sound found only within analogue tones, rather than the more clinically clipped digital tones we've come to accept. 
Everything about Kadavar's 2nd full outing screams classic rock, from the snaking riffage through the deeply popping bass lines, eschewing the need for heavy duty effects, to the relentless drum rhythms, again focusing on subtlety and precision rather than sheer unadulterated power.  As the album draws to a close, mind altering aural aspects arise, keyboards meld and swirl within "Liquid Dream" before the Wah Wah holds court in "Rhythm for Endless Minds" an hallucinogenic Strange Brew concocted with the confines of a Planet Caravan, Cream and Black Sabbath clashing and interweaving within a kaleidoscopic Berlin cellar, before the instrumental title track brings proceedings to a suitably frantic maelstromic ending.
While Kadavar are certainly retro rock, I much prefer the description Retro Chique, music which never goes out of fashion. Review by Andy Barnes
Mudhoney - Vanishing Point (Sub Pop)
Back in 1991, I was in my local second-hand record store and plucked two interesting-looking 12" singles from the pile – 'Burn It Clean' and 'You Got It' by Mudhoney. It was the perfect introduction to a band who took the ride in the back seat throughout the grunge movement, while the Nirvanas and Pearl Jams basked in the limelight. This secretly pleased me as I always thought Mudhoney were the better band, and it allowed me to see check them out in much tighter quarters without any of the hubbub that goes along with trying to purchase sold out concert tickets. I did eventually get to see the band at the super-tiny Highbury Garage in September 1998. I couldn't hear for a week after and the show was partially responsible for a reoccurring ear problem that I suffered over the next couple of years. It was worth every single minute of pain though.
The group formed in Seattle in 1988, borrowing their name from the Russ Meyer movie of the same name. A number of independent releases for Sub Pop followed until they signed with Reprise in 1992. Albums like Every Good Boy Deserves Fudge and My Brother the Cow are widely respected, with the Seattle four-piece earning a cult following worldwide as a result.
This month sees them return with a new album on the Sub Pop label, which is accompanied by a trailer involving the bizarre destruction of a Walkman. Um, an album that has its' own trailer? A little pretentious maybe… or is it tongue in cheek? Thankfully, Vanishing Point is the (non) hype, and more, and is probably their best post-classic line-up release to date.
'Slipping Away' kicks off with Dan Peters (long-time drummer and one-time member of Nirvana) rattling out a beat that is guaranteed to have the middle-aged "Mudfans" moshing around in the bedroom while the missus and kid are out shopping. Singer Mark Arm is back in loud and throaty form (fifty-one years clearly hasn't mellowed the man) and by the time the song is done, you've already sat through a lengthy barrage of trippy texturing.The album is peppered with equal measures of punk, old school grunge and acid rock psychedelia: 'Chardonnay' is a demoey but full-on angst stomp, delivering the scolding hate and sarcasm that we have come to know and love from the band. Both 'The Final Course' and 'I Don't Remember You' hark back to Mudhoney's "heyday" and you'll be rocking it like you did in 1991 all over again.
The closing 'Douchebags on Parade' is the money shot here. While it retains the more mature sound of recent efforts, the vibe overall is wholesome and earthy, and, at times, a little bit "dusty road." Mudhoney haven't really changed their game a great deal over the years but they somehow keep it fresh enough to remain on top musically every time. Plenty of fuzz and slide are the main courses on Vanishing Point and it's always a pleasure to see the boys back on the road. I find it amazing to think this quirky, acerbic little outfit from Seattle are still delivering the goods twenty-five years on. If you love Mudhoney, or only just like a little, you know life wouldn't be the same without 'em. Review by Brett Dunford