After dipping my toe into the water I have decided to paddle a little further out and interview my other favourite man on the planet, Mick Geggus,  about his record and promotions label GnR London. Began in 2007 with Andy Russell, the company really seems to be taking off.

LORRAINE:  What is the history behind yourself and Andy that lead to this partnership, was it chance happening or the planned realisation of a longer term goal? 
MICK: 
Andy and I have known each other since the Rejects salad days of the late '70's and after hooking up after a lengthy absence at a rejects gig in Glasgow some years back, we decided that we both had the ambition and nous to have a pop at forming our own label and promotions wing catering for acts right across the board as a major would, and not to just specialise in specific fields as most independent labels would do.
LORRAINE: It was a bad time for record companies when you began GnR, How easy has it been and has there been times when you have felt like throwing in the towel.
MICK:
Oh yes, we probably started this when the industry was at its lowest ebb (and still is!)
But the trick is, we figure, to adapt to the changes the industry has undergone
and embrace the download culture as best we can. Of course there have been times when we have questioned our sanity, but we've always been stubborn bastards who liked a fight so we carry on regardless.
LORRAINE :Do you now feel that you are beginning to see the fruits of your labour??
MICK:
Still early days, but we have had a series of relatively successful promotions and releases to date, and whilst chart success has eluded us so far we sure ain't giving up now!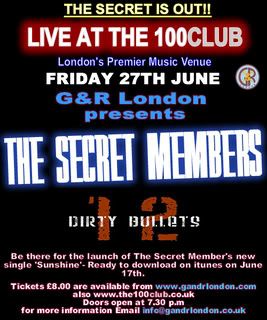 LORRAINE:  I was surprised that 'Sunshine' by The Secret Members is only now up for release as that catchy tune has been in my head for some time. The music you are presenting seems to come from a quite a diverse range of styles. Is this a reflection of personal taste or shrewd business sense?
MICK:
As I said earlier, we don't wanna be pigeon-holed; Rock, punk, indie, soul- an amalgamation of everything we have grown up listening to for over 30 years apiece is welcome here at G&R.
LORRAINE:  I see that GnR sponsors a few young men at the West Ham Boxing Club. How important do you feel it is to give something back to your community if you can, especially as you have always stayed in the East End.
MICK:
Very important. Boxing is in our blood, and along with football (before it became a middle class plaything) it gave us stability and a sense of identity. Although the old East End has changed almost beyond recognition, the sweet science has changed very little and nor has the kids who practice it.
And I we truly believe that is worth investing in.
LORRAINE: I, of course can not ask about The Rejects and what plans are in store?
MICK:
Aha! Lots happening there. Japan and Australia/New Zealand before the end of the year, and next year the big one...... The Rejects 30th! Big European tour, major London show, new release.......watch this space!

LORRAINE: Now , you all got a tattoo while in Brazil recently, what was it and where?.....and none of that "on me tackle nuff said malarkey! :-) 
MICK:
We all had my '72 Les Paul with the Rejects logo on various parts. I had mine on me leg. Honest! Too big a guitar to get on anyone's knob, I reckon.
LORRAINE: You will still be wanting  one of my West Ham glass paintings of-course ? ha
MICK:  
Still waiting! Would look great in the G&R office.
LORRAINE:  Is your mum still attending your gigs, as after the recent outbreaks of violence at Punk and Oi gigs , this must be a great worry?
MICK:
Is there a recent outbreak of violence at punk and oi gigs? I cant say I've noticed anything like that at rejects gigs (I don't frequent punk gigs these days.)
If that's what's happening that's a real shame. I really don't understand why idiots pay good money to see a show and then want to fight all night. Them twats will kill the scene stone dead. And my mum would probably knock most of them out anyway.
LORRAINE:  Well thank you for your time Mick as I know you are extremely busy. Will we ever see Mick Geggus retired to the seaside and playing a round of golf at Pimms O'clock???
MICK:
Thanks Lorraine. I'm crap at golf, but if i could put a decent weights set at a Dorset retirement home when the time comes, that's where you'll' find me!