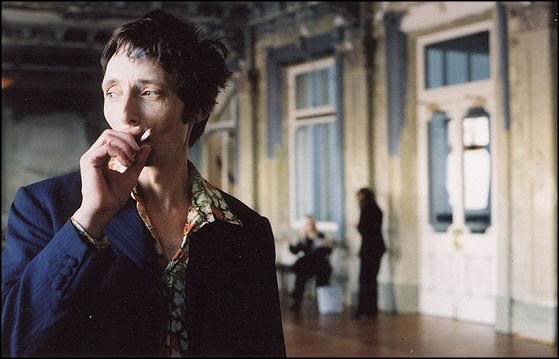 Dream's the skeleton key. Chaos, chance, my beautiful ones, my best girls. Marry me. Wed me to possibility. I, Jacob Marley, do take the soul of the night. The beauty of contradiction and paradox, is my bride. She, in turn, will give me a wild, wild ride."-from Rowland S Howard's unpublished manuscript, Etceteracide
Australia's 'Little Band scene' stoked the late 70s for new music lovers in the Fitzroy and St Kilda suburbs of Melbourne, and produced a surge of experimental bands, of which The Boys Next Door were one of the most consistently stirring. Initially largely a bunch of choir boys who'd met at school, the band quickly evolved into the perfect line-up: Nick Cave on vocals, Mick Harvey on guitar, Tracy Pew on bass, Phill Calvert on the drums and Rowland S. Howard, also on guitar. The extended coterie included local musicians Anita Lane, Marie Hoy and Pierre Sutcliffe.
"Rowland emerged into the scene with everything intact, and I know a lot of people will say this about him but he was just Rowland.  He dressed in a certain way, he had all his influences in place, he knew exactly the way he way he wanted to play, he knew exactly the way he felt things should be and sound, he knew absolutely what he hated and despised and there was no way ever you could play him anything to change that. He locked into a concrete view about things and this is hugely inspiring" -- Nick Cave.
According to interviews with his brother and sister in Autoluminescent, a DVD covering the life and times of this savvy singer, songwriter and guitarist, Rowland S Howard was born in Melbourne in 1959 to an independent and adventurous mother and an emotionally absent father. Taking refuge in his music and writing from an early age, he created a singularly wanton and exotic guitar sound. As is so often the case, his strength was in his tumbledown vulnerability. His eyes revealed his searching, dependent nature, and his upturned mouth his ready wit. He wore his heart on his sleeve.  His beloved Fender Jaguar was his alter ego, along with the MXR distortion pedals he used to torture the uninitiated. His fear of bananas was well known (and much teased by bandmates). The two most recurring descriptions of Rowland S. Howard in the documentary take in these characteristics - a caustic, black wit and an uncompromising sense of romance.  "He was always insanely in love with somebody who wasn't in love with him." - Bronwyn Adams 
"I find it remarkable that most people don't seem to see the world as being actually a very sad place, because I think it is." Rowland S. Howard 
Autoluminescent is directed by Lynn-Maree Milburn and Richard Lowenstein - who directed Dogs In Space (1986), a film about the Little Band scene starring Michael Hutchence and featuring the music of The Boys Next Door, including Rowland's classic song Shivers.  In Autoluminescent the filmmakers have compiled new and old footage and interviews with Genevieve McGuckin, Nick Cave, Mick Harvey, Lydia Lunch, Thurston Moore, Henry Rollins, Wim Wenders, Rowland S. Howard himself and various other family members and collaborators.  The result is a beautiful and often bittersweet portrait of a life. 
Rowland's first band, with Ian 'Ollie' Olsen was The Young Charlatans, and it was during this incarnation that he wrote the viciously droll romantic ballad Shivers, aged 16 and still a schoolboy. When he first heard Shivers, Henry Rollins felt "his heart was not only bleeding, but stabbed in several places and bleeding horribly." And this teenage plea was subsequently banned from radio play.  
Once Rowland joined The Boys Next Door his unique guitar sound immediately monogrammed their sets.  Early suggestions of what came to be his later trademark effects such as the use of feedback, vibrato and lots of pedalwork were in evidence. "It was certainly a way of releasing a lot of anger and emotions that I had no other way of releasing" he says in the documentary. His scruffy dandy wardrobe and feminine features, along with his open hearted songwriting made him so evidently the least macho of the group, and yet he was the one responsible for the assaulting new raw sound in their live shows, as he staggered around with the ever-present cigarette glued to his lips and his Fender Jag a howling electric belly.   
He recorded his powerhouse guitar track for the song The Friend Catcher in one take, his guitar sounding like an overpopulated beehive that's been sprayed with Altamont-grade acid. "Feedback and chaos" was how it was described by house engineer Tony Cohen, who went on to work with the group for several years after recording their first album, Door, Door.  
Following their next album, The Birthday Party and now renaming the group the same, they were to head off to London where they naively believed creative pastures were greener.  They returned for a while to Melbourne to record their second album Prayers on Fire and shoot a video for one of the tracks, Nick The Stripper which did wonders for their reputation with local police who tried to close down the shoot which featured Cave in a nappy with 'Porca Dio' (fuck god) written across his chest, and an amateur arsonist backdrop. 
The London sojourn was a disaster. The band and all their partners were living in a one-bedroomed flat with their equipment, strung out on drugs and malnutrition, and every one of them broke. "We went from being big fish in a tiny pond to being frog spawn in an ocean" said Rowland, who sank into a profound creative torpor amid the disappointment of the capital's grey conservatism, his pregnable heart taking a vicious beating at the indignity of unexpected artistic obscurity. 
"Rowland took London personally" says Nick Cave, who himself considered the London bands of the time "retarded" and was horrified by the elevation in places like the NME of the new synth pop scene and bands like Culture Club, Haircut 100 etc. The Birthday Party, a lanky set of drainpiped corvines were seen by the London music papers as out of date and (amusingly, in retrospect) 'rockist'. This sharp rejection just made them more violent in their stage shows as a reaction. Cave upped the volume on the dramatics, Rowland set his pedals for full confrontation and the (literally) epileptic Tracy Pew's bass antics smashed merrily through the decency barrier expected of the Smash Hits brigadiers. 
Even more disheartening was their New York 'tour' in 1981. Their first gig was so well received by the club's management it resulted in them having the power turned off after a mere 10 minutes. At the second gig they managed 15 whole minutes before being shut down and accused of trying to start a riot. It was estimated that of their three gigs in the Big Apple they managed to play a cosy 25 minutes in total. However, and on the back of this, their hell-raising reputation gathered some momentum, so that by the time they arrived on the West Coast the clubs were packed. Lydia Lunch was one of the few stragglers in attendance at one of the New York shows and she was instantly mesmerised by Rowland's smoking guitar and antsy stage presence. She flew to England to ferret him out of his London warren and eventually they cut some tracks together including one of the more tasty cover versions of Lee Hazlewood's Some Velvet Morning.  
When the Party left England and headed for Berlin in the mid-80s they felt like they'd finally found their European garrison.  Berlin at the time was still a city divided by a wall, and the closer to the wall (on both sides) the more spontaneous and intense the arts scenes.  Many or most of the people they knew were squatting empty buildings, and the lack of political clarity in those years meant an awful lot passed under the radar of the authorities.  Booze was available round the clock, for one thing.  The scene was still very post-punk and industrial. Most importantly the young Aussies felt it had a sense of Melbourne to it, with the receptive audiences of the makeshift clubs alive to the concept of possibility, experimentation and unrestrained expression.  It was also where Nick met Blixa… 
Blixa Bargeld, the singer and guitarist from Einstürzende Neubauten relished The Birthday Party's penumbral image, and became especially obliging towards Nick Cave.  At the same time Rowland was feeling increasingly distant from Cave, particularly with regard to his songwriting which he felt wasn't being given the prominence it merited.  Mick Harvey too felt the band was no longer working and it was decided that Blixa would replace Rowland on guitar (The Birthday Party swiftly ripening into The Bad Seeds), while Mick Harvey and Rowland colluded with Crime and the City Solution's fey frontman Simon Bonney, who had just breezed in to Europe from Melbourne.  
Wim Wenders had been living and working in the US for several years at this point, and shortly after completing Paris, Texas (a soaring exercise in abject melancholy) he returned to Germany in 1984 to find himself dazzled by the changes in Berlin's arts scene. He immediately perceived the impact The Birthday Party and Crime were having on the music crowd there, and he too fell under the spell of Rowland's guitar offensive.
Rowland by Kirsten Borchardt (taken in Cologne, 1992)
"There was a hush when they showed up somewhere.  They were the biggest thing in Berlin"-Wim Wenders 
So by 1987, when Wenders came to make Wings of Desire (Der Himmel über Berlin), Crime and the City Solution and The Bad Seeds were the two significant bands on his antennae. According to Wenders, Rowland was definitely the exquisite centre of Crime's live performances, and during filming he claims he watched him more than he watched anyone else in the entire scene.  Rowland is instantly recognizable in the few moments he is noticeably on camera, even when filmed from behind.  Wenders famously used cinematographer Henri Alekan (who had done Cocteau's Beauty and The Beast) to capture Berlin from the point of view of a group of angels - in the black and white scenes - and he achieved the moth-eaten and balletic tone of these scenes by using his grandmother's antique silk stocking as a lens filter.  The result is curiously graceful. 
Rowland's brother Harry had joined Crime on bass, with Epic Soundtracks (ex-Swell Maps) on drums, and Bronwyn Adams on violin.  After recording one album together in Berlin, Room of Lights (1986) the Howard brothers and Soundtracks split and formed These Immortal Souls with Rowland's long term girlfriend Genevieve McGuckin on keyboards. For the first time Rowland felt contented with how band life was going and his songwriting was fully reanimated again. "One of his songs weighs ten more pounds than any of anybody else's" - Henry Rollins 
Another of Rowland's great collaborations around this time was the album with Nikki Sudden, Kiss You Kidnapped Charabanc which they recorded and toured in 1987. 
"Women write about sexuality in a far more poignant and sensitive and incisive way than any man ever has" - Rowland S Howard 
In 1990 Rowland travelled to New Orleans, where Lydia Lunch had recently decamped to. "It felt more like my natural environment" he said of the heat and swampier vegetation, the all-round more powerful presence of nature. He and Lydia put together their album, Shotgun Wedding, in 1991, which featured several of her compositions (as well as Led Zeppelin's In My Time of Dying).  Her songs included Solar Hex with its vacillating desires (Staring at your face at the foot of my bed frame/You're defying me to take you back again). The album was Lydia's hymn to living in New Orleans.  
But by now Rowland's ailing and mismanaged organs were heaving sighs.  Genevieve, who was in a similar shape, felt the only way to get better was to move away from her soulmate. After years in each others company as soulmates (Cave called them "a trip..impenetrable" as a twosome) and artistic collaborators she called it a day, so she could clean herself up.  A crumbling Rowland thrashed out the lyrics for Shut Me Down ("I'm standing in a suit as ragged as my nerves") in response to her departure. With his London life in threads he knew it was time to return to Australia, and the family he was missing.   
I am dangerous/I cut like the sharpest knife/I'm going nova/And I hope I can hold her/In - Rowland S. Howard, Autoluminescent
 Back in his homeland and reunited with Mick Harvey, Rowland put together and recorded a 1999 solo album, Teenage Snuff Film. He wrote most of the lyrics, like the wounded Dead Radio and I Burnt Your Clothes, and his use of Rowlandesque language "I was strictly insomnimaniacal" was in full force.  The album also featured his cover version of Billy Idol's White Wedding. He was also writing a novel (Etceteracide, as yet unpublished) and in interviews was now saying he bitterly regretted wasting his earlier years on bad lifestyle choices. He felt he'd lost so much, in terms of relationships, health and creativity during the often lost London years. 
A new album, Pop Crimes, was recorded and released in 2009, at a time when he seemed finally to have found himself in a peaceful space in his life.  He was in a new relationship with a woman called Bianca who was already one of his greatest fans, his musical collaborations were going well and he'd finally managed to get the upper hand in his long battle with drugs and weak health. But on 30th December 2009 the Fender Jag was hung up for the last time.  After falling sick again while planning tours of Europe and America, Rowland S. Howard stepped out of his own picture, having just made it past 50… 
A petition has been organised to have a lane named in Rowland's honour in his home town.  Shane MacGowan, Nick Cave and Henry Rollins have already signed it.  Mick Harvey, Harry Howard and JP Shilo recently performed with many other local musicians at a tribute concert for Rowland's memory in St. Kilda.
"When I'm 60 years old I want to be living in the house down the end of the street and at 3am there'll be feedback and stuff coming out of the house and all the little kids will cross the road when they walk past my house and I can be as rude and obstreperous as I like to people because I'll be old."-Rowland S Howard
Feature by Helen DonlonMain photo "Much Ado About Snuffing" by KezOther photo of Rowland taken by Kirsten Borchardt, (journalist and author of the Neubaten biography)